Bidders in Shanghai's car license auctions declining
Share - WeChat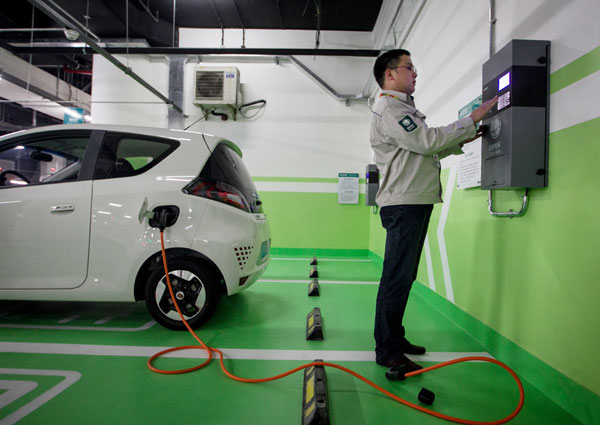 Thousands of Shanghai residents have withdrawn from the battle for hard-to-get Shanghai car license plates in each of the past 10 months, signaling that the market for new energy vehicles may be maturing, according to industry insiders.
In the March monthly plate auction for private cars, the number of participants dropped by more than 13,000 from February to 150,000. In June, there were 220,000 participants.
Meanwhile, the number of NEVs in the city rose to nearly 240,000 - nearly 10 percent of private vehicles in the city - according to the Shanghai Municipal Transportation Commission. In 2015, there were only about 35,000.
"I cannot provide exact numbers, but I strongly feel the trend," said Ji Jun, a sales manager at a car dealership. "A certain proportion of people switched to buying NEVs in the past year."
Many car buyers are willing to pay around 100,000 yuan ($15,000) for a license plate, Ji said. "But the success rate to get one from the monthly auction has been staggeringly low for years."
Some clients have turned their eyes to the NEVs after failing in the bidding for a year or two, he said. NEVs have developed quickly in recent years, with more choice of brands and car types available, more friendly prices and more accessibility of charging facilities."
Shanghai has offered an attractive perk to car buyers since late 2016: NEV owners can get a license plate free.
Shanghai license plates are dubbed as "the world's most expensive sheets of iron" by residents as the transaction cost skyrocketed from 50,000 to 60,000 yuan in 2012 to around 90,000 yuan two years ago, after the city launched the monthly auctions in 2000. The city issues about 9,000 license plates each month.
The transaction cost has remained at around 90,000 yuan since it first hit that price in May 2017.
"Though the chance of an applicant winning a bid still looks low this month, it has generally climbed from its lowest point of 4 percent in May 2017. In December and January, it reached nearly 8 percent," said Wang Wenchao, a manager at another dealership.
You Hao, who purchased an electric car from domestic automaker BYD in July, said he believed more buyers, including young people and middle-aged families, will opt for NEVs in the future, especially with the establishment of the Tesla Shanghai Gigafactory, which will begin production by the end of this year.
The domestic auto market began to decline in June because of the cancellation of preferential tax policies and the general economic slowdown. However, the new car market in Shanghai has continued to grow.
Last year, Shanghai-based SAIC Motor Corp achieved a year-on-year sales increase of nearly 2 percent, mainly from the sale of 140,000 NEVs - a year-on-year increase of more than 120 percent.
Chen Hong, Party chief and chairman of SAIC, said earlier this month that China has become the world's largest and fastest-developing market for NEVs. In 2018, sales of new energy passenger vehicles accounted for 40 percent of the global market, Chen said.