Nansha Bridge to bolster Greater Bay Area
Share - WeChat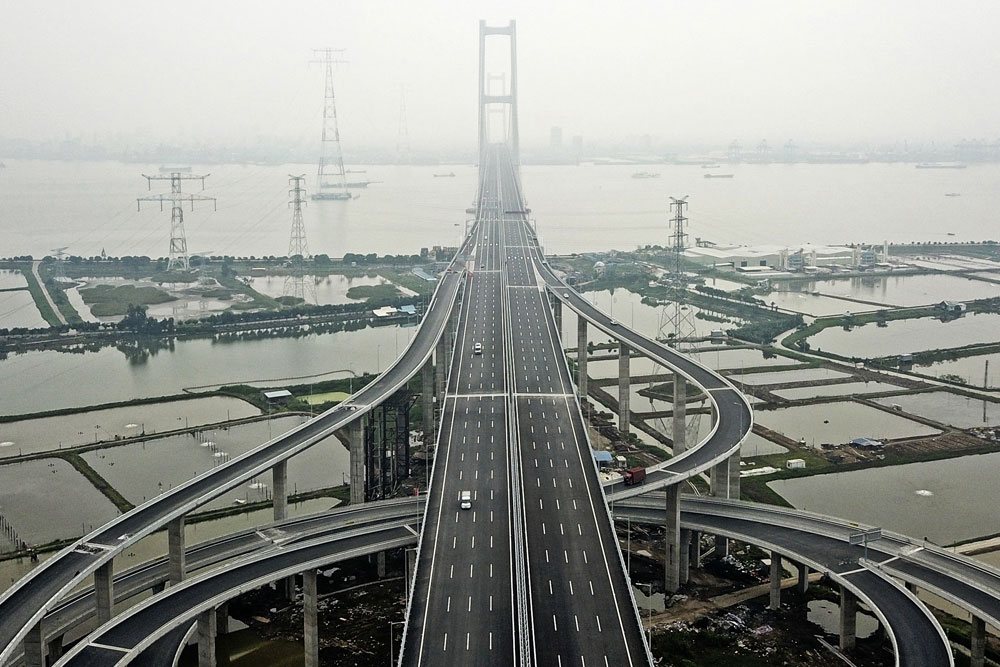 A new bridge across the Pearl River estuary officially opened on Tuesday, and it is expected to play an important role in accelerating economic cooperation and infrastructure connectivity among cities in the Guangdong-Hong Kong-Macao Greater Bay Area.
The Nansha Bridge is the first innovative megaproject to begin service after the central government unveiled development plans for the Bay Area in February, according to Liu Xiaohua, general manager of Guangdong Provincial Communications Group Ltd.
"It is a major passageway that links the large cities of Shenzhen, Dongguan and Huizhou in the eastern part of Pearl River Delta to Foshan, Zhuhai, Zhongshan, Jiangmen and Zhaoqing in the western part," Liu said at the launching ceremony on Tuesday.
The central government's development plan for the Bay Area encourages Guangdong province cities, plus Hong Kong and Macao, to further expand their cooperation and exchanges to become a world-class Bay Area in the coming years.
"Completion of the bridge also marks a milestone in expressway construction in Guangdong province, one of the country's economic powerhouses," Liu said.
Guangdong, the nation's first area to launch reform and opening-up, now has over 9,000 kilometers of expressways in service, thus taking the lead in expressway construction on the mainland, he said.
The Nansha Bridge connects Guangdong's expressway network-from Dongchong in Guangzhou's Nansha district where Nansha Port is located, to Shatian in Dongguan, known as "the world's factory".
Drivers transporting goods can shorten their travel by at least 10 km, or 30 minutes, when they drive from Guangzhou's southern areas via the Nansha Bridge to Dongguan, Liu added.
Construction of the massive project started about five years ago, and has cost more than 11 billion yuan ($1.64 billion).
The 12.9-km Nansha Bridge has eight lanes and is designed to handle 100,000 vehicles per day, greatly easing congestion on the Humen Bridge, another crossing at the mouth of the Pearl River. The Humen Bridge was designed to accommodate 80,000 vehicles daily, and has suffered from major traffic jams during rush hours.
The Nansha Bridge is designed allow vehicles to reach speeds of 100 km/hour. And the service life of the bridge is expected to last over 100 years.
Experts have forecast daily traffic volume over the Nansha Bridge will exceed 60,000 vehicles during the Tomb Sweeping Day holidays from Friday to Sunday.
Peng Shengxian, a business representative from Dongguan, said the bridge is an amazing project that will greatly help local businesspersons and drivers save time and money.
Peng, who frequently travels to Zhongshan for business, said it will now take him about an hour to drive to Zhongshan from Dongguan via the new bridge. "But previously, it took me about two hours," he said.
Also, businesses in Dongguan can save on production costs when they transport cargo to Nansha Port via the Nansha Bridge, he added.