Australian mission in China promotes writers from Down Under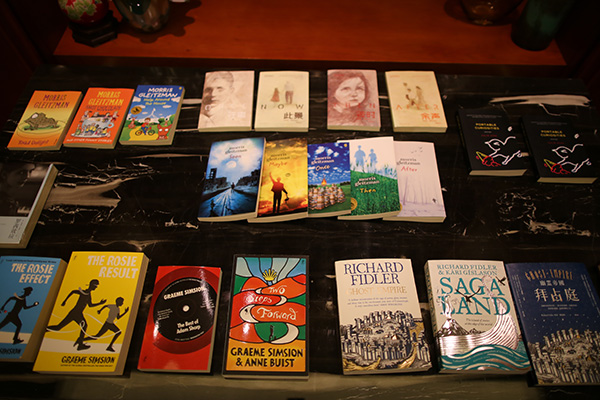 Australian literature has become more known to Chinese people in recent years. To further promote Australian literature in China, the 12th Australian Writers Week was held from March 20 to 27.
The Australian embassy in Beijing and consulate generals in Shanghai, Chengdu, Guangzhou and Hong Kong, among others, organized a series of activities in their respective cities with the participation of four Australian writers: best-selling author Graeme Simsion, short novel writer Julie Koh, children's author Morris Gleitzman and nonfiction writer Richard Fidler.
Australian Ambassador to China Jan Adams says, "Many famous writers who represent the variety of modern Australian literature gathered for this year's writers week. They shared Australian stories so that Chinese people could better know modern Australia, and the writers, in turn, could better understand Chinese literature."
Three of the four writers quit their original jobs and turned to a career in writing. Koh is no exception. She studied politics and law at the University of Sydney, before leaving a career in corporate law to pursue writing.
"I knew I could be a good lawyer, but I thought I could become an even better writer," she says.
She wanted to write an "ambitious" long novel at the very beginning, but discovered at the time that her writing skills could not give full play to her ideas. Therefore, she wrote some short stories to improve her writing first, but then her short stories were published as a collection and won her a literary prize.
Set in Australia, her stories feature rich imagination, oddness, thrills and a sense of dark satire. For example, in one story she depicts a girl with a third eye in her belly, through which she can see gods and ghosts. The other is about a fleet of ice cream vans that go around Sydney selling ice cream that have a 50 percent of chance of killing the buyer.
Koh is the only author among the four who has some blood relationship with China. She was born in Sydney to Chinese-Malaysian parents and her grandparents moved from East China's Fujian province to Malaysia. Although she cannot speak Chinese, except for some greetings, she has still heard some stories from her Chinese family.
The blood connection has also influenced her writing. "I don't write what is stereotypically expected of migrant literature, but I still write from the perspective of someone who is between cultures, or an outsider, commenting on the culture which I'm in."