Radio silence rules strengthened for huge telescope
Share - WeChat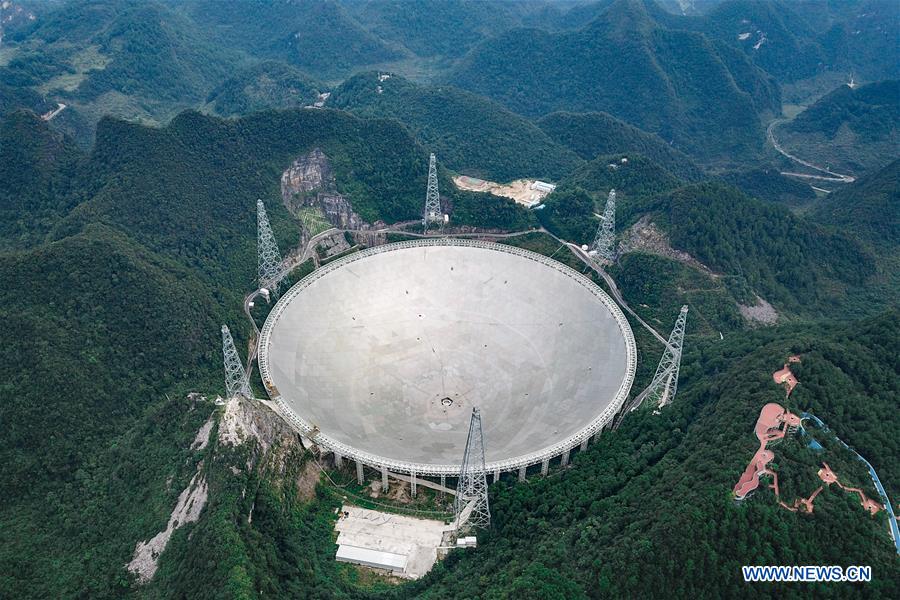 China has tightened its regulations in areas surrounding the world's largest single-dish telescope in Guizhou province - the Five-Hundred-Meter Aperture Spherical Radio Telescope, or FAST - to protect it from electromagnetic signals that might interfere with its scientific research.
The latest rules, which took effect on Monday, increased punishments for violators. Those who produced harmful radio interference can now face fines of up to 200,000 yuan ($30,000), much higher than the previous 5,000 yuan penalty cap.
The new rules also said people who carry or used electronic devices without approval in the core radio silence zone will be slapped with a fine between 1,000 and 30,000 yuan. The core radio silence zone refers to areas within a 5-kilometer radius of the telescope.
The rules define the intermediate zone as a radius of 5 to 10 kilometers, and the external zone as a radius of 10 to 30 kilometers. Air routes near the region have also been changed to avoid radio interference with the telescope.
Sun Xuelei, Party chief of the Guizhou Department of Justice, said the new rules upgrade those established in 2013. Since the old regulations had some management and supervision problems, they needed to be amended to better protect the telescope's electromagnetic environment, Sun said during a news briefing on Thursday.
"The telescope is a key instrument of national importance," Sun said. "It is a vital tool in basic research for fields ranging from astronomy to national defense."
Since trial operations began in September 2016, FAST has discovered 55 new pulsars - superdense, superbright cores of massive stars that have gone through the supernova phase and died. The telescope is set to be fully operational by September, and it will find more pulsars that can help scientists understand the origin and evolution of the universe, navigate spacecraft, find gravity waves and possibly alien life forms.
These scientific goals have drawn tourists around the country to Pingtang county - the telescope's home - to witness one of China's greatest engineering wonders. The remote county has become the epicenter for astronomy tourism, with star-themed parks, restaurants and hotels hoping to capitalize on the stellar enthusiasm and boost the local economy.
During the first half of last year, Pingtang received more than 5.13 million visitors and earned more than 5.5 billion yuan in revenue, a 38.7-percent year-on-year increase, according to the local tourism bureau.
However, the influx of tourists has also meant introducing more electronic gadgets, including cellphones, laptops, digital cameras and GPS devices that produce electromagnetic signals. They can interfere with FAST's ultrasensitive receivers, said Jiang Peng, the telescope's chief engineer.
"The signals produced by distant celestial bodies are very faint, so a clear radio environment is key for FAST to make effective observations," he said. "We must reduce the source and frequency of radio interference. These are the key basic requirements for FAST to do great scientific work."
Wang Shijie, vice-governor of Guizhou, told Science and Technology Daily in March that the province will put in more effort to keep the radio environment for FAST clean, adding that the three counties closest to the FAST site have all adjusted their economic and social development plans.
Guizhou also scrapped a planned airport in Luodian county out of concern for possible electromagnetic interference, he said. More than 2,000 rural households have been relocated, at a cost of several billion yuan.
Wang said FAST is to be used mainly for scientific exploration and that Guizhou will not rely on it for tourism. A tour currently offered at the site, available to 2,000 visitors daily, is aimed at promoting science. All visitors must hand over their electronic devices before entering the core radio silence zone.
Yang Jun contributed to this story.