Metal, lacquer and clay
Share - WeChat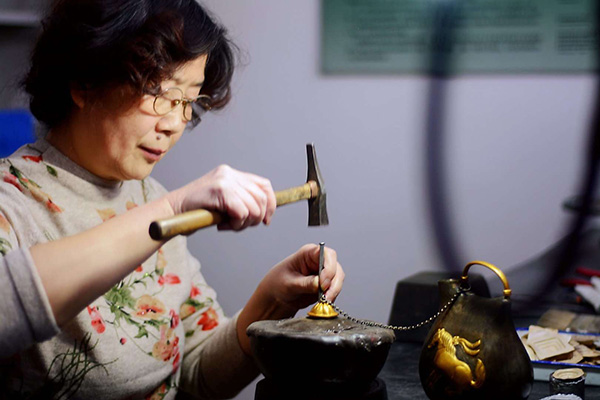 Three masters share their thoughts on the development and promotion of traditional handicraft, Wang Ru reports.
Wu Zhongfeng was impressed by mengxiang, or Mongolian-style craft of inlay, which "can turn metal into doughlike soft things" at the age of 16, when she started to learn the craft of making such work in metal and other materials from craftsman Kang Wensheng in Beijing in the 1970s.
Wu's devotion to the craft for the past 40 years has turned her into an official inheritor of the intangible cultural heritage called "Beijing Mengxiang". Along with two other masters, who specialize in lacquerware carving and clay figurines, Wu participated in an activity held by a Beijing-based association to promote the development of cultural heritage in the city on March 20.
The Mongolian-style craft of inlay comes from the nomadic tribes of the Mongolian and Tibetan groups, who inlay precious stones for decorative objects by chiseling, carving, welding, gilding and polishing. The craft uses metal. Wu calls it a fire art, and stresses the importance of temperature in this craft.
In 1862, some artisans who were good at chiseling copper, established the Ronghe Copper Shop with the help of Zaobanchu (Bureau of Imperial Production) located in the Forbidden City to make figures of the Buddha, ritual instruments, gold and silver wares used in the then royal court. The handicraft used was called mengxiang.
Since this craft had royal patronage, the works are often exquisite.
"That is the taste of mengxiang. We try to create works that have shine - gold or silver in them - but also a sense of history," says Wu.
She usually uses the craft to replicate cultural relics while also trying to discover their deeper meaning when traveling.
She once found a cultural relic at the Sakya Monastery in the Tibet autonomous region, and she tried to replicate it and created a Mongolian-style inlay work.