Cities emerging into new post-Brexit financial centers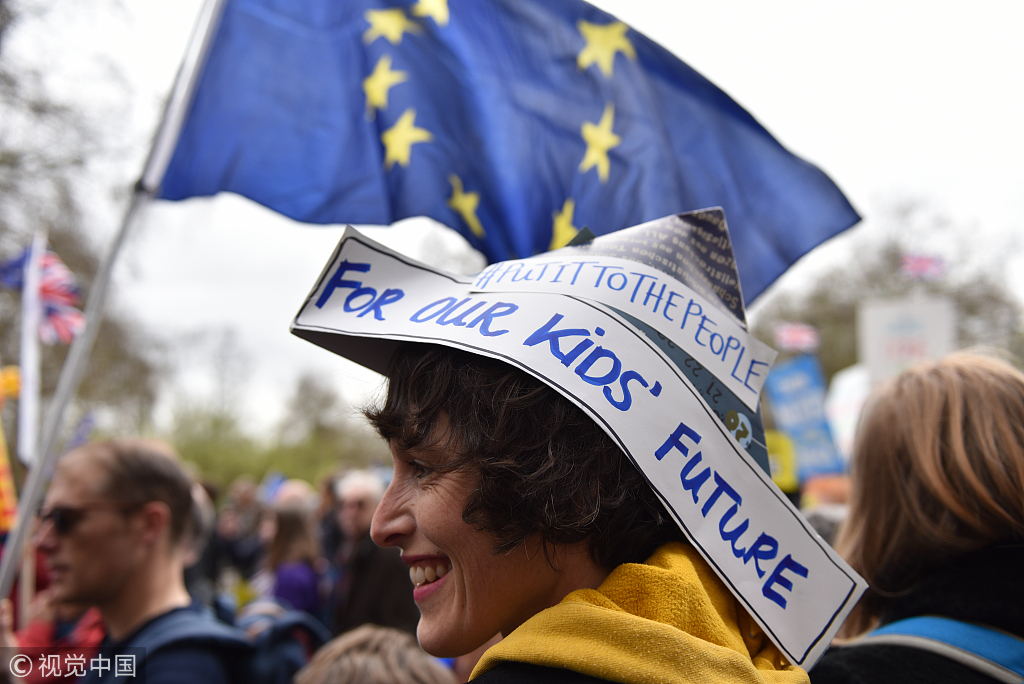 The United Kingdom's decision to leave the European Union has led major financial companies in London to move assets and staff to continental Europe, meaning the post-Brexit landscape is likely to be far more "polycentric" than it is today and far less centered on one location.
According to a recent report by think tank The New Financial, more than 40 companies have shifted staff or operations to more than one financial center within the EU, with 100 choosing the Irish capital as a post-Brexit location, which was the most popular choice ahead of Luxembourg, with 60, Paris with 41, Frankfurt with 40, and Amsterdam with 32.
William Wright, principal author of the New Financial Brexitometer report, said: "One of the most striking findings of our analysis is the extent to which Europe will become a much more 'multipolar' world as a result of Brexit."
Companies are migrating to, or expanding in, multiple financial centers, with many either establishing a dedicated division for EU business or spreading their staff more evenly throughout the EU.
The study shows that nearly 20 large enterprises have split their business by locating the post-Brexit hub for one division in Frankfurt or Paris, and another in Dublin or Luxembourg. The most obvious example is Bank of America Merrill Lynch, which has chosen Dublin as the EU hub for its banking business, and created a new entity in Paris, which will be the hub of the its markets business.
Kieran Donoghue, the global head of international financial services, strategy and public policy at IDA Ireland, an agency responsible for attracting foreign investment into that country, attributed the "multipolar" scenario to the fact that no single financial center in Europe has the full and unique set of capabilities that London has.
"What makes London unique is that it has such a deep and broad set of capabilities in servicing the insurance, the asset management, and the investment banking industries, and none of the European financial centers has the same range of capabilities that currently reside in London," Donoghue explained.
Nearly half of asset managers, hedge funds, and private equity companies in the report have chosen Dublin as the location for their post-Brexit operations, while more banks have chosen Frankfurt as their main EU hub. Many are also expanding their markets business in Paris or adding staff in Amsterdam, Madrid, or Milan.
"For example, banks tend to gravitate to Frankfurt because it is already a banking center in the European context, plus a clearinghouse. Also, Frankfurt has the European central bank, which is now the regulator for all banks in Europe. So, the banks want to be closer to the major regulator," Donoghue said.
As for asset management, insurance, and funds companies, Donoghue said, they are relocating to Dublin because the city has a very broad and diversified set of capabilities in running funds and managing assets.
Andrew Pilgrim, associate partner at consultancy Ernst & Young, which is known as EY, said it is probably not in the EU's best interests to have financial services concentrated in one location.
"From policy and political perspectives, there is an argument to say that actually having a balanced financial sector across many EU jurisdictions means that you have less risk concentrated in one jurisdiction," Pilgrim said. "And it also means that you get a more balanced regulatory and supervisory environment across all the EU member states, as opposed to all of that being focused on one."
According to EY consultancy, financial services have relocated around 1 trillion pounds ($1.32 trillion) worth of assets, up from 800 billion pounds last quarter, from London to elsewhere in the EU since the 2016 Brexit referendum, and more than 2,300 new workers have been hired locally by financial services companies in mainland Europe.
Pundits are still optimistic that Brexit will not significantly change London's role as a global financial hub, arguing that companies are relocating in response to the wishes of their clients, not because of Brexit.
Donoghue said: "Major global financial firms, they are not abandoning London as a consequence of Brexit. They are merely carving out the European Union side of the business that is currently domiciled in London and relocating that element only to EU domicile because that's what the customers require and that's what they need to do to preserve the market access to the EU."
Catherine McGuinness, City of London corporation policy chair, is confident that, in the long-run, London will retain its role as a leading international financial center because it has a dynamic cluster of financial and professional services that are used by the wider world, and not only Europe.
"Europe alone is not what makes London the number one center for foreign exchange, for example. We clear more dollars than New York, and are the largest center for RMB trading outside greater China. London is strong and international," she said. "The long-term fundamentals of London and the UK still remain strong."
Alex De Ruyter, director of the Centre for Brexit Studies at Birmingham City University, echoed the view of McGuinness, saying: "Whilst I think Brexit has clearly had a significant impact, it must be remembered that London is a global financial center and the majority of assets held by the financial services sector are outside of the EU, with the US, China, and other emerging economies particularly important markets.
"The 800 billion pounds figure only comprises about 10 percent of the estimated total assets of the UK banking sector," he said. "So, the total volume of business affected has been relatively small."