克隆警犬 (kèlóng jǐngquǎn): Cloned police dog
Share - WeChat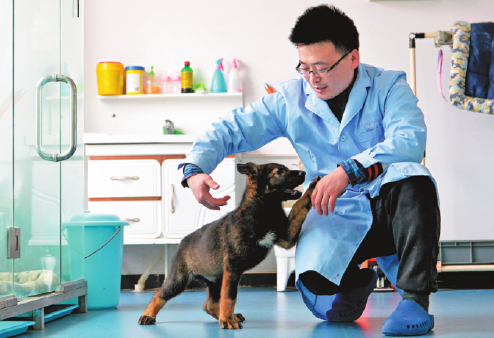 Kunxun, a 3-month-old dog that was cloned from a 7-year-old female police dog called Huahuangma, has started receiving training in a police dog base in Kunming, Yunnan province.
If all goes well, Kunxun will begin to serve as a police dog after three months' training, making it the first cloned police dog in China.
Generally speaking, cloning technology is applicable to animals, and applying the technology to breeding good police dogs better serves the people and society. That's why Kunxun was cloned, and it is believed if Kunxun proves to be successful, more cloned dogs will join the police force.
Kunxun was cloned in Beijing late last year and all of its health indicators were normal when it came into the world. Huahuangma is one of the most famous tracking dogs in China, winning her the nickname of the "Sherlock Holmes of police dogs".
It takes about four to five years and costs about 200,000 yuan ($29,802) to 300,000 yuan to cultivate a distinguished police dog such as Huahuangma, and many dogs are weeded out in the process. Cloning is expected to provide a shortcut to cultivating outstanding police dogs.
Although Kunxun and Huahuangma are physically the same, it also entailed arduous training and practice for the former to become a good police dog.
It costs $100,000 to clone a police dog, which is twice that of normal breeding. And it is expected that the advancement of relevant technologies can bring down the costs in the near future. The Republic of Korea cloned the first police dog in 2007 and the cloned dogs have performed well in the police service.
Most Viewed in 24 Hours
China Views