Man wearing kimono-like costume 'attacked' by Wuhan University security
Share - WeChat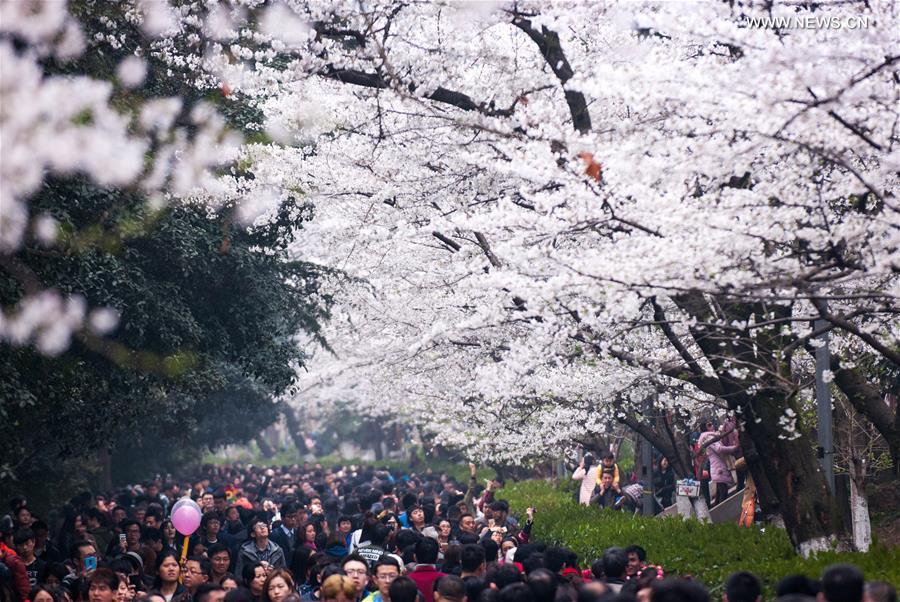 Police in Wuhan, Hubei province, said on Monday they were investigating an incident in which a man dressed in kimono-like costume came to see cherry blossom trees at Wuhan University was reportedly attacked by security personnel on campus, Shangyou News reported.
The man showed up at the university in a costume that resembles the traditional Japanese garment kimono, and was refused entry by the campus security staff, according to a witness who talked to Shangyou News.
After several rounds of verbal arguments, the man was allegedly shoved to ground by security personnel. His companion, another man dressed in plain casual outfits, was also reportedly pushed on his knees.
The man said he was wearing tangzhuang, a traditional Chinese costume, not kimono, and repeatedly asked them why they were physically attacking him.
Police said they were looking into the matter, trying to verify whether he was wearing kimono or tangzhuang, and other details.
They have tried to reach the two men involved in the case and retrieve surveillance camera footage.
A police officer, whose name was not disclosed, said Wuhan University is a first-class educational institution in China, and wearing traditional Japanese costume to enter and see cherry blossoms was inappropriate. Thus, there was nothing wrong with barring the man from entering.
There are about 1,000 cherry blossom trees at Wuhan University, part of which were gifts from Japanese government to mark the friendship between China and Japan.
When the trees are in full bloom from late March to early April, a large number of local residents and tourists come to enjoy the view.
The university has recently created an online booking system to control the number of visitors.