Italy's joining bodes well for Belt and Road
Share - WeChat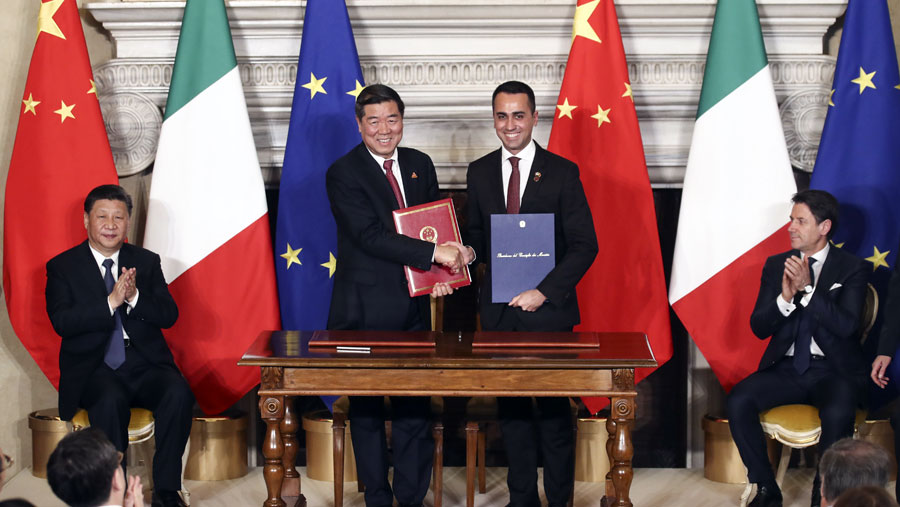 More European countries expected to follow its lead as huge potential seen in connectivity
With Italy becoming the first of the Group of Seven industrialized nations to sign on to the Belt and Road Initiative during President Xi Jinping's state visit to the country, the China-proposed connectivity plan might gain more participants, observers said.
Xi and Italian Prime Minister Giuseppe Conte witnessed the signing of the intergovernmental memorandum of understanding on joint construction of the Belt and Road after they held talks in Rome on Saturday.
The two sides realize the huge potential of the BRI in promoting connectivity, and stand ready to strengthen the alignment of the BRI and the European Union's Trans-European Transport Networks and deepen cooperation in ports, logistics, marine transportation and other areas, according to a joint communique issued by the two countries.
During his talks with Conte, Xi said China's and Italy's historical status as nations at either end of the ancient Silk Road made it natural for them to cooperate on building the Belt and Road.
The two countries should take the memorandums of understanding as an opportunity to connect the BRI with Italy's own development plans, including building seaports in northern Italy, Xi said.
He called for upgrading bilateral cooperation in such priority areas as space technology, infrastructure, transportation, environment and energy, and also expanding third-market cooperation in relevant fields.
Conte said he considers participation in the BRI as a historic opportunity for Italy, and trusts the move will help the two countries tap potential for bilateral cooperation.
Conte added that he expected to attend the second Belt and Road Forum for International Cooperation, which will be held in Beijing next month.
Italian economist and China expert Michele Geraci hailed the memorandum of understanding signed between the two countries as "a win-win-win for Italy, the rest of Europe and China", and said he believes more European countries will follow his country's lead and sign up to be involved in the BRI.
He recalled the concerns that the United States expressed in 2015 when the United Kingdom tried to join the Asian Infrastructure Investment Bank, a China-initiated multilateral financial institution, and said it was only when all other European countries signed up for it that those concerns began to dissipate.
"I expect the same thing to happen now (about the BRI)," he said.
Sun Zhaolong, a researcher at the Academy of Contemporary China and World Studies, wrote in an article that Italy's involvement in the BRI will play an exemplary role in attracting more countries to the platform for international cooperation while allaying concerns of some countries over the initiative.
Former Italian Prime Minister Romano Prodi also said in an interview with China News Service that Italy could be a protagonist in Belt and Road cooperation with China.
During their talks, Xi and Conte also agreed that the two countries should jointly uphold multilateralism, promote free trade and cement ties between China and the European Union.
The two countries should work together to promote free trade and facilitate investment, continue to enhance communication on major global issues, help push reform of the World Trade Organization, fight climate change, safeguard global governance and jointly uphold multilateralism, Xi said.
Conte called Xi's visit to Italy highly significant, and said it would bring the bilateral relationship to a higher level.
He said Italy firmly supports multilateralism and free trade, and his country would like to enhance communication and coordination with China to promote the healthy and stable development of EU-China relations.
During his Italy visit, Xi also had separate meetings with Italian Chamber of Deputies member Roberto Fico and Italian Senate President Maria Elisabetta Alberti Casellati, and pledged to strengthen legislative exchanges and cooperation between the two sides.
Chen Weihua contributed to this story.