Hungary for TCM experience
Share - WeChat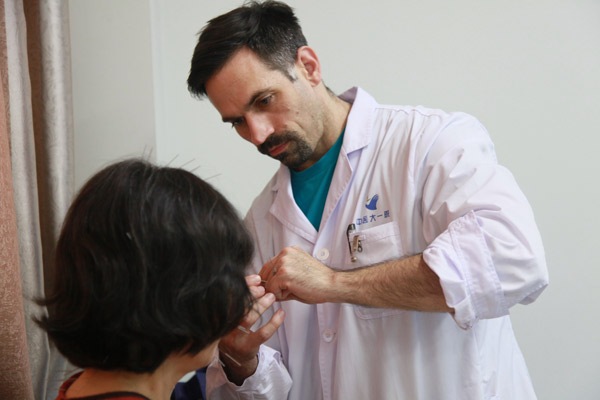 Every day in the 100-square-meter acupuncture clinic, Ivan Susanszky appears quite busy with his patients.
Recording duration, observing the patients and pulling out needles, he is always walking around the clinic, almost without rest.
Susanszky, 42, an overseas college student from Hungary, is now an intern at the First Affiliated Hospital with the Heilongjiang University of Chinese Medicine in Harbin, capital of Northeast China's Heilongjiang province.
Although it's not his first time studying at university, Susanszky is still eagerly looking forward to the coming summer, when he will obtain his bachelor's degree in Traditional Chinese Medicine, with a major in acupuncture and tuina (massage).
He started learning traditional Chinese medicine in 2013, taking part in a course conducted by the university in his hometown of Budapest.
Students of the program study four years there, then they travel to Harbin to complete their training with a one-year clinical practice.
"I became familiar with TCM as early as 20 years ago," he says. "At that time, a good friend of mine studied tai chi with an experienced TCM doctor from China. He often told me interesting stories about what he had learned from him. "Since I participate in a couple of full contact sports, I often suffer from sports injuries and my friend advised me to try a couple of TCM rehabilitation methods," he adds, noting: "It really relieved my pain, and helped with other, not necessarily sports related, issues as well."
However, it was not until 2012 that he started thinking about delving deeper into TCM.
"Up until that time I was working as a journalist, or rather, a critic, but I got pretty bored with it, and since my interest had shifted toward sports medicine, physical therapy and diet coaching, I decided to change profession. Getting a TCM degree seemed like the reasonable thing to do."
He started to learn Chinese at a local language training school as the first step.
"Due to TCM being a part of the traditional Chinese cultural heritage, I thought learning Chinese was an absolute necessity," he explains. "As it later turned out, having learned Chinese a year before starting the university program was the single best decision I could have made. It gave me such an advantage that nothing else could have."
However, despite his language proficiency, Susanszky admitted that studying TCM is not easy for him and some other foreigners.
Susanszky doesn't remember how many thin needles he inserted into himself during the process of learning acupuncture.
"I think everyone learning acupuncture first practices on themselves, then on some friends and family-which in my case was my 86-year-old grandma, who, like a lot of the elderly in Hungary, suffers from all sorts of musculoskeletal problems, like arthritis, scapulohumeral periarthritis and slipped discs," he says.
"The illnesses have caused her difficulty with walking and surgery didn't seem to be the best solution for her. Mainly because of her age," he notes, "so, since she didn't have anything to lose, really, and she's quite an adventurous type, we decided to give her some TCM treatment, including acupuncture, tuina and moxibustion, which involves burning dried mugwort on strategic points of the body.
"In Hungary we usually conduct treatments in 10 sets, so we did that, and her condition improved pretty quickly. She can walk without pain and is able to work in the garden," he reports.
In 2017, Susanszky had the opportunity to get a one-year internship at the Affiliated Hospital with the Nanjing University of Chinese Medicine in Jiangsu province.
"It was quite a precious experience, even if it meant that I graduated a year behind my classmates," he says. "Getting as much clinical experience before starting one's own practice is an absolute necessity. In a Chinese hospital, due to the vast number of patients, I got the chance to see and learn a lot of things and gain practical experience that otherwise would not be possible."
"Ivan is really one of the hardest-working students that I have ever met," says Zhao Jun, head of the clinic. "He always listens carefully when I treat patients and sometimes writes down what he has learned.
"He became familiar with the working procedure in less than one month and has been warmly welcomed by the patients because of his professional performance as well as his gracious bedside manner," she says, adding, "once he quoted a passage from the Chinese medical classic Huangdi Neijing (Inner Canon of the Yellow Emperor) to a patient who suffered from insomnia, which greatly surprised me, as well as all the patients in the clinic."
Susanszky hopes that he will get more clinical opportunities and experience of employing his newfound skills in different regions of China, concluding: "The valuable experience will better prepare me for fulfilling my dream of opening my own clinic back home in Budapest."
Most Popular