Students in Italy thrilled by Xi's praise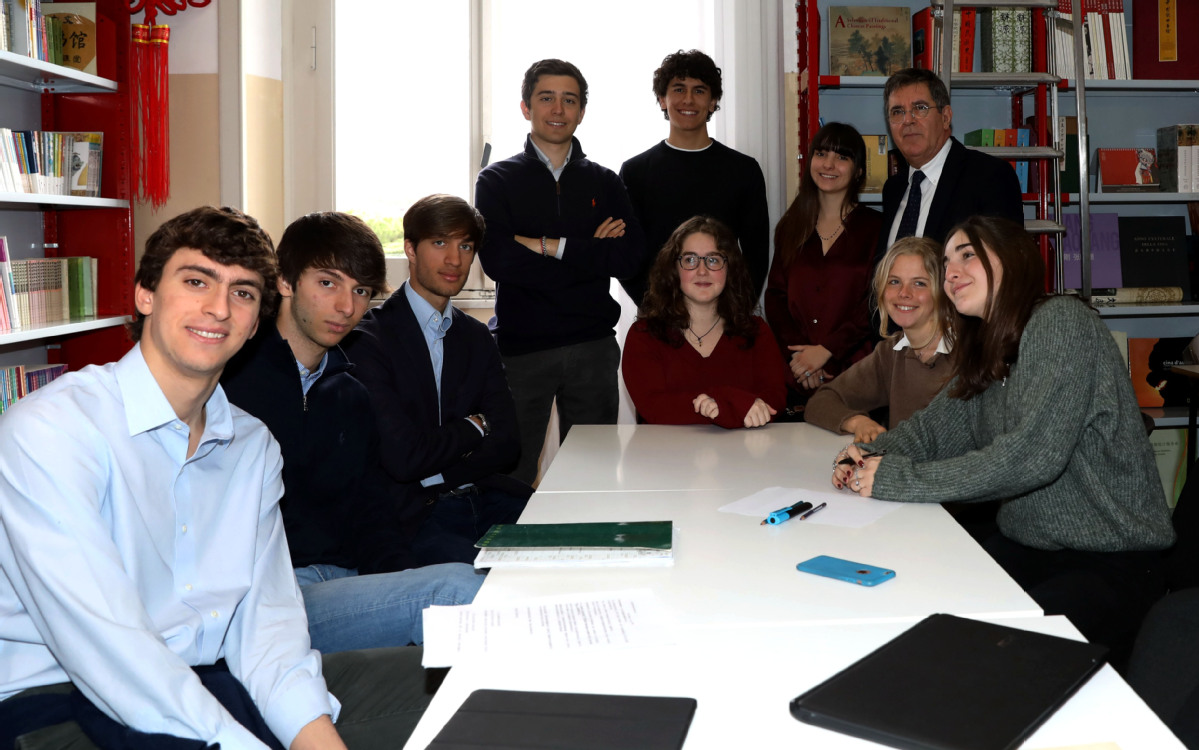 Confucius Classroom enriches lives; Chinese language takes center stage
When students at Rome's Convitto Nazionale Vittorio Emanuele II international high school wrote to President Xi Jinping, they did not expect he would reply. But days before his arrival in Italy, he did.
In the letter to Xi, the school's president Paolo Reale, and eight students explained how they had been able to gain a better understanding of China through the school's Confucius Classroom, as well as an appreciation of the vastness of the world and the value of cultural diversity.
They expressed their excitement about Xi's visit to Italy (he arrived on Thursday) and their willingness to develop friendship between their country and China.
In his reply on Sunday, Xi encouraged them to be the Marco Polos in the new era-a reference to the 13th century Italian merchant who marveled at China's wealth and size in recording his travels in Asia.
"We are all very excited and happy," Nicholas Kovacich, one of the students who wrote the letter, said on Thursday. He likes to be known by his Chinese name, Qi Yuanhang.
The boarding high school on the banks of the Tiber River in the northwestern part of the city houses the biggest Confucius Classroom in Italy. Students immerse themselves in Chinese language, culture, history and geography as part of the curriculum.
Luca Caroselli, who introduced himself by his Chinese name, Kang Qiao, said most Italians know little about China, including his own parents, who didn't understand his desire to study Chinese.
"But they understand now," he said, speaking in Chinese, as did all the students who were interviewed.
Caroselli has visited China four times for summer camps. He was impressed by the modern sections of Shanghai and the ancient parts of Beijing.
"I like them both," he said, adding that he hopes his parents will also have the opportunity to visit China soon.
Doriana Bruno (Chinese name Ru Duoer) talked about her discoveries in China's restaurants.
"The dining traditions in China and Italy are very different," she said, noting that Chinese share food and the restaurants in China have more noise.
"I tried scorpion, and it was delicious," she said when asked what weird food she had tasted in China.
"We ordered takeout on WeChat all the time," said Alessandro Cocomazzi, describing his life in Shanghai and Beijing and ordering food delivery on the popular Chinese app.
Kovacich picked xiaolongbao, a juicy Chinese steamed bun from the Shanghai area, as his favorite local delicacy. He is going to study economics next year at Duke Kunshan University, not far from Shanghai.
His mother, an economist, graduated from Fudan University in Shanghai more than 20 years ago. "I hope also to have the job opportunity in China," he said.
Each year, around 200 of the school's students go to Shanghai and Beijing for three-week summer camps. Many also take the Chinese proficiency test known as the HSK.
Francesco Alario, the high school's coordinator for the Confucius Classroom, has visited China nearly 20 times. He said that, years ago, the idea of students passing the HSK seemed an impossible dream, but now the pass rate is 100 percent. Italy and China, he added, are two ancient civilizations with a long history of cultural exchanges.
"We want to build on that base and open a door for our students to the Eastern world," he said of the school's decision to launch the Confucius Classroom 11 years ago in collaboration with the Confucius Institute based at Sapienza University of Rome.
"We want to help them understand different cultures, receive better education in diverse cultures and cultivate youth leadership," he added.
Alario is proud that the school's Chinese program has become a model in Italy, with many institutions trying to replicate its success.
Zhang Hong, the Chinese director of the Confucius Institute at Sapienza University, which runs the Confucius Classroom and five others in Italy, called it a "landmark" that Chinese language has become part of Italy's national education program after the high school introduced it in 2014.
Chen Chen, a Chinese teacher, praised her students for studying hard. Extra time is required to take the classes.
"I feel a sense of accomplishment," said Chen, recalling her seven years working at the school.