Xi's message welcomed in Italy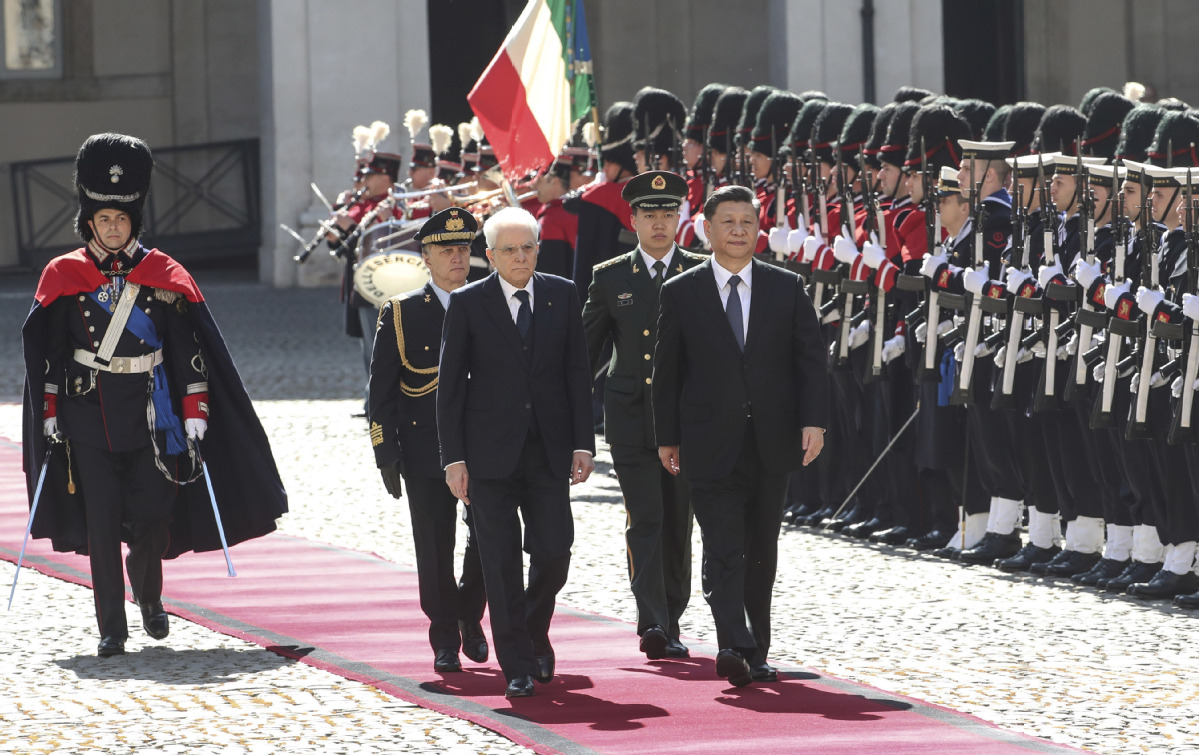 Countries strive to replicate historic Silk Road's world-changing impact
China would like to make joint efforts with Italy to revive the ancient Silk Road and bring more benefits for the people, President Xi Jinping said on Friday.
Xi made the remark while speaking to the media with Italian President Sergio Mattarella in Rome. Xi left Beijing on Thursday for state visits to Italy, Monaco and France. His trip will conclude on Tuesday.
The ancient Silk Road boosted interconnectivity between Asia and Europe, and it encouraged exchanges between civilizations, Xi said.
Xi told reporters that his discussion with Mattarella was fruitful and the two leaders reached a wide range of consensuses.
China and Italy should connect their developmental strategies and enhance cooperation in such areas as infrastructure, seaports, logistics and maritime transport while promoting practical cooperation under the Belt and Road, Xi said.
China would like to increase trade and investment with Italy, Xi said, adding that Italy is welcome at the second China International Import Expo as an honored guest. China would like to import more products of high quality from Italy, and more domestic companies are being encouraged to invest in Italy, he said.
Xi said he agreed with Mattarella's proposal that Italy and China should be good partners with inclusive interests and pursue common development. Xi called on the two countries to boost mutual political trust, enhance communication of policies and support each other's major concerns and core interests.
China appreciates Italy's contributions to promoting relations between China and Europe, Xi said, adding that China would like to enhance cooperation with Italy under multilateral frameworks, including the United Nations and the G20, to support multilateralism and free trade.
Saying that the world is facing unprecedented challenges, Xi added that China would like to make joint efforts with the international community to build a more beautiful world.
This year is the 15th anniversary of the China-Italy comprehensive strategic partnership, and next year will be the 50th anniversary of the establishment of diplomatic relations between the countries.
China and Italy have respected, trusted and helped each other for nearly half a century, and the two countries have strengthened high-level exchanges and boosted strategic mutual trust, Xi said.
Mattarella said that Italy supports the Belt and Road Initiative that was put forward by Xi, and the initiative is expected to promote the interconnectivity of the Eurasian continent.
The BRI is also a road of cultural exchanges, he said, adding that Italy would like to enhance cooperation with China in tourism and culture. Italy admires China's achievements in economic development, and it appreciates China's opening-up policies, he said.
Both Italy and China are ancient civilizations, and the people of the two countries have sufficient wisdom to deal with challenges nowadays, he said, adding that China's rejuvenation will bring new contributions to peace and prosperity.