Belt, Road high on visit agenda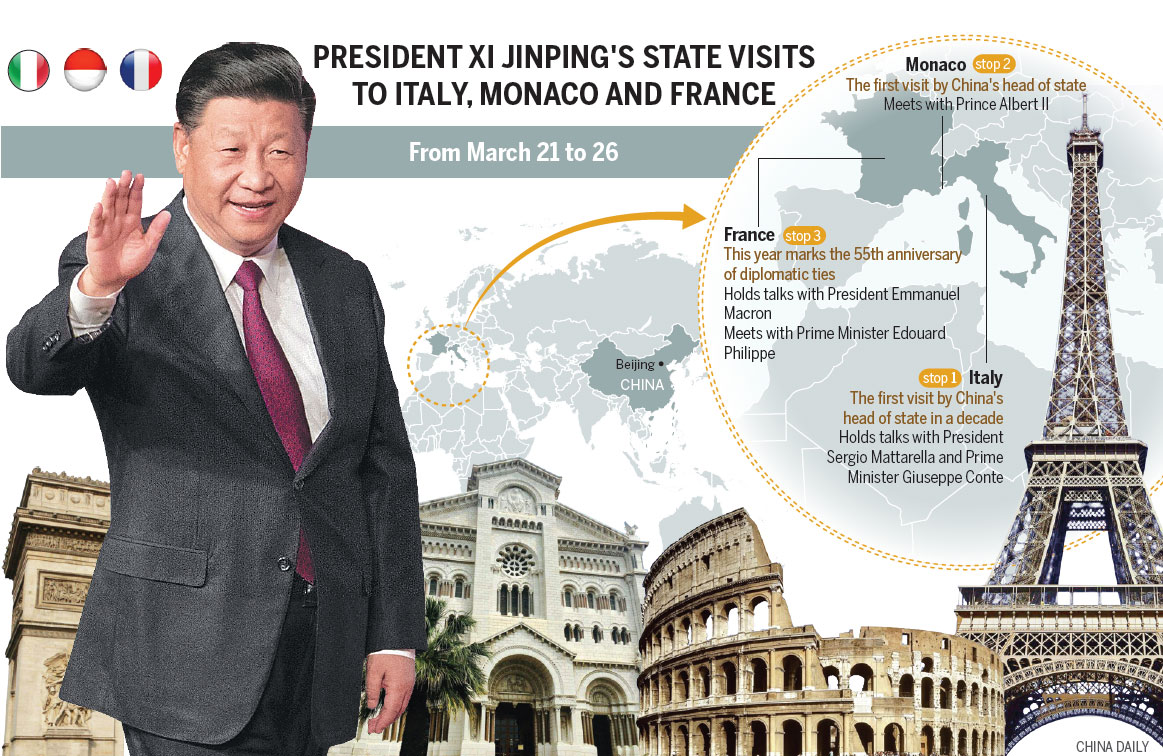 Ambassadors anticipate reinforced cooperation, boosted multilateralism on Xi's trip to Italy
President Xi Jinping left Beijing for Rome on Thursday, kicking off his first overseas trip of the year — one that is aimed at broadening areas of cooperation and injecting new impetus into Sino-European ties.
During his state visit to Italy, the first stop of a six-day tour that will take him to three nations, Xi and Italian Prime Minister Giuseppe Conte will jointly witness the signing of intergovernmental cooperation documents in fields of diplomacy, economy and trade, and culture, as well as commercial agreements in infrastructure, machinery and finance.
The two countries will also work to strengthen Belt and Road cooperation.
The ambassadors of the two countries said they also hope Xi's visit will send out a clear signal that China and Italy are joining hands in promoting open and fruitful cooperation, and will serve to uphold multilateralism and rules-based global trading.
"It is in the interest of the two peoples as well as the entire international community," said Italian Ambassador to China Ettore Sequi.
"We need to work together within a fair, rules-based international trade system on a level-playing field to pull the global economy back on a path of strong, sustainable, balanced and inclusive growth," Sequi told China Daily in a written interview.
Further opening up of our economies, societies and cultures is also conducive to the development of the two countries, he added.
The Italian ambassador described the two countries as good trade partners whose bilateral trade has been growing steadily.
Last year, bilateral trade volume reached $54.23 billion amid a global economic downturn, and two-way investment between China and Italy exceeded $20 billion, according to sources at China's Ministry of Foreign Affairs.
"We want to expand our exports to China, rebalance our trade deficit and bring more products and services from Italy to the Chinese market," Sequi said.
"Italy can offer the Chinese people quality, innovation, design, and customer care among other things," he added, noting that Italy has been closely watching the reforms and policies made by the Chinese government related to market access for foreign products and services.
Calling Italy "a trusted friend and good partner within the European Union", Chinese Ambassador to Italy Li Ruiyu said Xi's visit will open a new chapter in the bilateral relationship — one that has already been on a fast track for many years.
He described bilateral cooperation in various areas as being "full of vitality" and described high-level contacts between the two countries as "maintaining sound momentum".
The Italian government has responded positively to the Belt and Road Initiative, a move that Li said shows Italy believes there is much to explore in terms of win-win cooperation between the two countries.
Paolo Gentiloni, then prime minister of Italy, attended the first Belt and Road Forum for International Cooperation in Beijing in May 2017.
Italian Deputy Prime Minister Luigi Di Maio signed a memorandum of understanding with China covering third-party market cooperation during his visit to China last year.
Li said many Italian port cities are increasingly interested in participating in the infrastructure and logistical cooperation associated with the BRI, and that they have noted the investments made by China COSCO Shipping Ports and Port of Qingdao in expanding and modernizing the port of Vado Ligure, near Genoa.
Contact the writers at zhoujin@chinadaily.com.cn