UN praises China's progress in human rights
Share - WeChat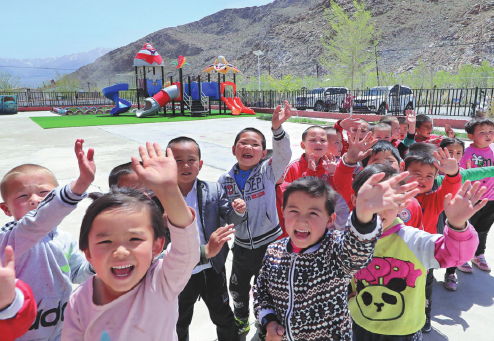 China's achievements in advancing human rights in recent years received the United Nations Human Rights Council's recognition when its human rights report was discussed at the Universal Periodic Review on March 15. The report, which was delivered to the council on Nov 6, 2018, includes details about how China had made progress in legislation on protection of human rights and the rights of special groups of people, and developing human rights in other areas.
The fact that China received 284 of the 346 suggestions in the review speaks volume about the progress China has made on the human rights front. The suggestions China received accounted for 84 percent of the total, among the highest for big countries, said Le Yucheng, head of the Chinese delegation. In his keynote speech delivered at the UN-UPR meeting, Le made clear China's stand, principle and road map for advancing human rights with Chinese characteristics.
The development of human rights in China is based on its own national conditions and the needs of the Chinese people, as there is no universal or ideal model for advancing human rights. China's achievement in poverty alleviation is a case in point-it has lifted more than 700 million people out of poverty in the past four decades since the launch of reform and opening-up.
The UN Millennium Development Goals Report 2015 says the number of people living in abject poverty in China dropped from 61 percent in 1990 to less than 30 percent in 2002, meaning China reduced its impoverished population by half in 12 years. And by 2014, it reduced the impoverished population to 4.2 percent, contributing more than 70 percent to global poverty reduction.
China has outperformed all countries in poverty alleviation and fulfilled the UN Millennium Development Goals ahead of schedule, an achievement the international community has praised. China's poverty reduction work could be used as an example by other developing countries, said Mozambique's representative to the UN-UPR. Maintaining, safeguarding and promoting the fundamental interest of the majority of people form the core principle of China for advancing human rights.
Instead of making empty promises, China believes in making gradual progress in human rights development, because that is what brings people concrete benefits. For example, China has allocated special funds to pay for women's pre-pregnancy and other medical checkups and labor charges, which benefited 12 million women in 2017, that is, 91.7 percent of the targeted women.
China has also developed human rights by promoting the rule of law. The Anti-Domestic Violence Law promulgated by China was hailed by Mali's representative to the UN-UPR as an important move to promote human rights. Also, China has implemented the third State Human Rights Action Plan to promote human rights through the implementation of law and policies.
China believes that scientific legislation, strict law enforcement, judicial fairness and public awareness about strictly abiding by the law play important roles in the development of human rights. By promoting the rule of law, a country can meet its people's need for leading a happy life. And that is exactly what China has been doing.
When it comes to promoting global human rights, China strictly adheres to the principles of the UN Charter, develops win-win cooperation with all countries, big and small, on the basis of equality. At the Universal Periodic Review meeting, the Mauritius representative praised China's inclusive development, and the Nepal representative complimented China for adhering to interactive contact in developing human rights.
The multilateral human rights values China proposed were well received at the UPR meeting. For instance, the global governance model characterized by consultation, common development and shared benefit which China proposed has been internationally recognized and so has its notion of building a community with a shared future for mankind.
The UN-UPR has praised the progress China has made in advancing human rights, and China has vowed to continue advancing human rights with Chinese characteristics.
The author is a professor of human rights studies at Southwest University of Political Science and Law.
Most Viewed in 24 Hours
China Views