As Belt and Road opens new doors across globe, Italy to play a key role
Share - WeChat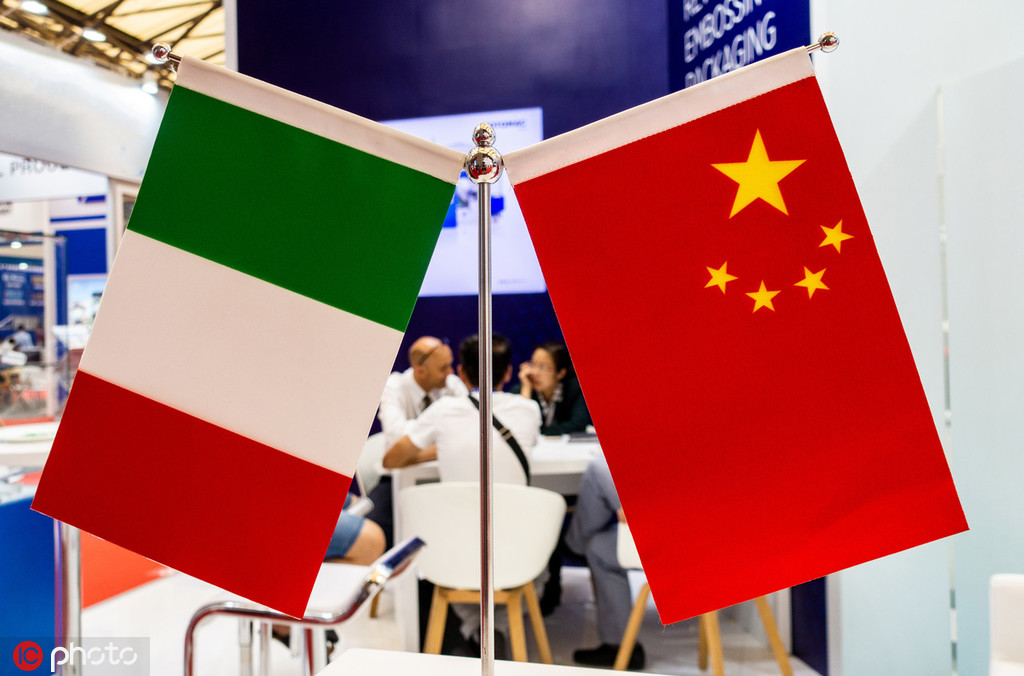 East-West relations have entered a new phase. Global integration, with sustained increases in crossborder exchanges of goods, technology, knowledge and resources, has reshaped international relations, spurring economic development of traditionally marginal regions and encouraging economic convergence among poorer and richer areas.
The phenomenon has received great impetus from the possibilities offered by technological progress and the increase in physical and digital connectivity, strongly enhanced by the modernization and innovation efforts of Asian countries. What we have seen and are still seeing, indeed, is not a simple shift of production from the West to the East, but a real change in production models. The production and consumption of goods and services have followed value chains that are no longer confined to a local scale, but are extended globally, with activities distributed and organized in different phases, located in different areas, and very far from each other.
Recently, however, globalization seems to have slowed, due to recent crises and the revival of protectionist measures but also to a probable natural process of gradual saturation. This is a worrying trend, as stepping back from economic cooperation, although temporarily, could entail several economic, financial and political risks.
The Belt and Road Initiative launched by the Chinese government in 2013 represents an opportunity to revitalize and expand the global economic integration process, including many areas left behind.
In order to spur a virtuous cycle of satisfactory and widespread growth, the need clearly emerges for global governance of the integration process, through dialogue and fair cooperation between world macroeconomic areas. International relations and global cooperation are in particular required to properly manage the world's public goods (such as peace and environment) and international spillovers, as well as to create common rules to avoid contradictory or inconsistent national actions and to remove all kinds of barriers (not only tariffs, but also legal, regulatory and bureaucratic ones).
Italy and China indeed have important and growing commercial, productive and financial interconnections. In 2018, the value of bilateral trade between the two countries amounted to 43.9 billion euros ($49.8 billion), an increase of more than 14 percent in two years.
Foreign investment between the two countries also grew strongly in recent years. Chinese investments in Italy include financial investments in large Italian companies, strategic investments (mainly in the energy sector), acquisitions of Italian companies and greenfield investments.
According to Commerce Ministry statistics, the stock of Italian investments in China in 2015 amounted to $66.63 billion, with 205 Italian companies making new investments ($372 million) in 2015 alone.
Institutional relationships and dialogue between the two countries have strengthened significantly over time.
In September, the Italian government signed a memorandum of understanding with China's National Development and Reform Commission for joint cooperation in third countries. This way, Italy and China are committed to collaborating in important geographical areas such as Africa, which in the near future will be a top actor for demographic reasons and due to its prospects for economic growth.
Playing a role in building and restoring large infrastructure is an invaluable opportunity for Italian companies. There is an astonishing variety of areas of expertise where Italy can provide a competitive, paramount contribution. Beyond those more strictly linked to the physical construction of infrastructure (machinery, logistics and plant construction), Italy has strong capabilities in the provision of high-quality technical services such as consulting, feasibility studies, design, engineering services, security, finance and insurance.
Italy believes in the prospective cooperative development of the BRI. This process will help to identify the paths of action and the main projects. Italy also enjoys a strategic geographical position along the current and future frames of commercial relations between the East, the West and Africa. Located on the Mediterranean Sea, Italy is the second-largest manufacturing country in Europe, leading in technological innovation and equipped with high-quality ports and road and rail networks. These features make Italy the ideal southern gateway to continental Europe and for the trade routes between Europe and China.
By opening new connections and intensifying trade relations, the BRI will help improve the competitiveness of Italian and Chinese companies operating in each other's markets and together toward third markets, leaving the respective governments with the task of providing adequate support to foster a business-friendly climate that can enhance their expertise, strengths and innovative approaches.
I believe that developing physical connections, while enlarging and strengthening cooperation networks and partnerships, represents a valuable opportunity to face the challenge of sustainable growth and to avoid backtracking toward protectionism and nationalism. Commercial synergies and relationships of trust represent the path we want to take to counter international tensions and to favor wider and more widespread global well-being.
The views do not necessarily reflect those of China Daily.