Shanghai 5G network brings dreams to life
Share - WeChat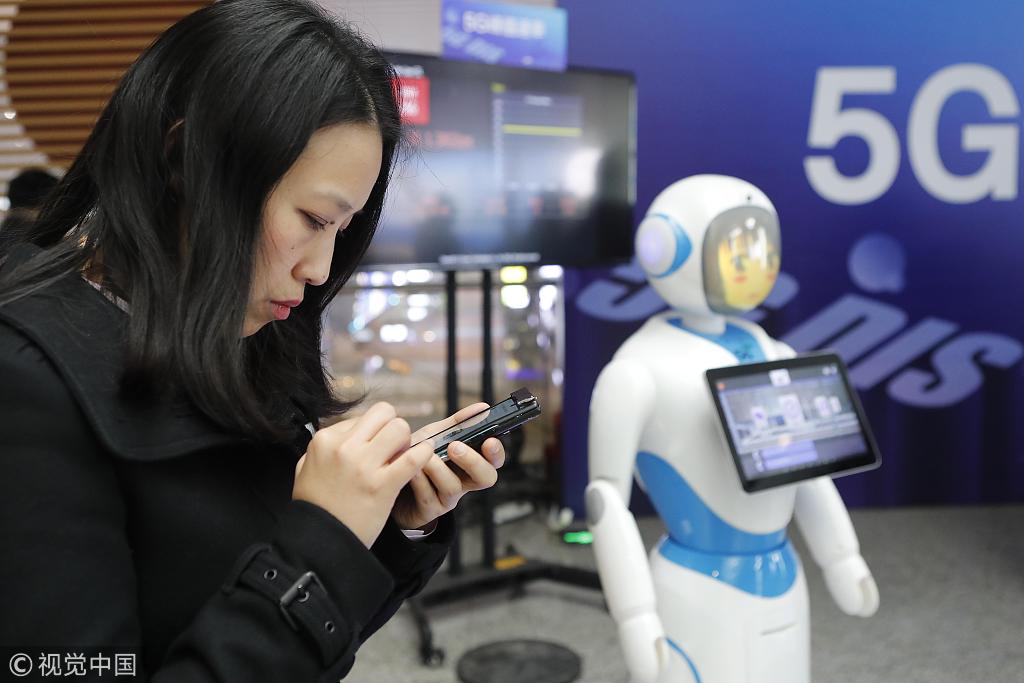 Railway station partnership with Huawei points the way to future
From smooth conference calls in a crowded train station to live broadcasts of townhall meetings and lightning-quick downloads of high-resolution movies, Shanghai's superfast 5G network is turning technological dreams into reality.
In the latest development, the city's Hongqiao Railway Station, one of Asia's biggest traffic hubs, has launched a 5G network that will allow passengers to experience data speeds up to 100 times faster than what is available now.
The railway station's 5G network, the result of teaming up with telecommunication equipment maker Huawei Technologies, is seen as a milestone in Shanghai's commercial 5G deployment to become a dual-gigaband city, with gigabit network speeds on mobile as well as fixed networks.
"Hongqiao Railway Station is leading the 5G commercial deployment in Shanghai," said Zhang Jianming, vice-chairman of Shanghai's Commission of Economy and Information Technology. "It will help speed up digital transformation for all sectors across the digital economy."
As the 5G era approaches, one of the key concerns for telecom operators will be how they can use 5G networks to meet the needs of high-density areas with thousands of people simultaneously using the network to make phone calls, access the internet and make mobile payments.
China Mobile's Shanghai branch tapped Huawei's 5G Digital Indoor System, which is currently the industry's only commercially available system for 5G indoor coverage. The product, developed in Shanghai, is now ready for mass delivery.
"China's 4G deployment has already allowed me to watch live broadcast shows even during subway rides, which is unthinkable elsewhere," said Chen Ziying, a 33-year-old banker in Shanghai who frequently travels overseas. "It's amazing simply to imagine what 5G can help us achieve."
5G railway stations are just one of the many ways in which the network can be applied. With characteristics such as high data rate, energy savings, cost reduction, higher system capacity and massive device connectivity, 5G will bring a range of new services, from virtual reality and artificial intelligence to ultra-high-definition video.
Meanwhile, the 5G race is on across the globe. Research house Analysys Mason has said China, the United States, South Korea and a handful of telecommunications companies are rolling up their sleeves to develop, test and deploy the technology that will drive the world's economy in the decade to come.
In South Korea, for instance, SK Telecom has acquired spectrum in the 3.5 GHz and 28 GHz frequencies in anticipation of deploying 5G.
According to Nikkei Asian Review, Japanese mobile phone operator NTT DoCoMo and Sohgo Security Services demonstrated an advanced security service based on 5G network technology to determine the effectiveness of the service in handling security for the opening ceremonies of the 2020 Olympics.
According to Analysys Mason, China has a narrow lead over South Korea and the US in overall 5G readiness. It attributes the country's advantage to a combination of proactive government policies and industry momentum.
China is already a leader in antenna and base station architecture with Huawei and ZTE, whose only global competitors are South Korea's Samsung, Finland's Nokia and Sweden's Ericsson.
Visitors at large events often encounter difficulty with call connectivity and slow data speeds due to a high call volume and data usage. To tackle this problem, carriers have installed multiple signal boosters inside exhibition halls and in surrounding areas to bolster network coverage, according to Weng Zhenxiang, a member of the engineering department of China Mobile's Shanghai branch.
Likewise, 5G technologies have been adopted for news broadcasts of major events, such as the China International Import Expo in November.
China Unicom said in a news release that the internet connections in such venues have been upgraded to the IPV6 protocol, which supports more addresses than its IPV4 predecessor and thus allows more devices to be connected to the internet.
With its capabilities to deliver reliable and highly responsive connections, 5G is also expected to influence the way consumers communicate with one another and will affect their daily lives by transforming smartphones.
Handsets capable of delivering 5G speed will be available in the second half of this year, said Zhang Yunyong, president of the China Unicom Research Institute and a member of the 13th National Committee of the Chinese People's Political Consultative Conference, the nation's top political advisory group.
As the next-generation wireless technology covers more areas, 5G-enabled smartphones are projected to achieve mass adoption in early 2020, allowing consumers to download a 1-gigabit movie in three seconds, Zhang added.
China is forecast to spend 900 billion yuan ($134 billion) to 1.5 trillion yuan on 5G network construction from 2020 to 2025, according to research from the China Academy of Information and Communications Technology. In comparison, Chinese telecom operators spent 720 billion yuan on 4G network construction from 2014 to 2018.
The country is conducting trial operations of 5G systems in a number of cities and aims to fully commercialize the superfast technology by 2020.
Governments at all levels are also scrambling to launch ambitious plans to offer high-speed broadband and mobile network services. Shanghai, for instance, is sprinting ahead to become home to some of the world's best internet practices. The city announced at the end of last year that it had completed a gigabit broadband network. This means that customers of China Telecom, the carrier behind the 1 billion yuan network, can enjoy faster broadband speeds of up to 10 gigabits per second at home.
"Becoming the first gigabit city demonstrates Shanghai's bid to turn China into a cyber power," said Ma Yimin, general manager of China Telecom's Shanghai branch. "Life in Shanghai has become easier thanks to higher internet speeds, smarter infrastructure and better accessibility to the world through technologies," he said.
Zhejiang province is also scrambling to jump onto the 5G bandwagon. Zheng Jie, chairman of China Mobile's Zhejiang branch and also a deputy to the 13th National People's Congress, the nation's top legislature, which concluded its annual plenary session in Beijing on Friday, said the company has already built the country's largest 5G trial network in Hangzhou, the capital of Zhejiang. It covers tourist attractions and key business zones, as well as universities and research institutes, Zheng said.
Edison Lee, an equity analyst at investment banking firm Jefferies, said China is on course to become the world's first country to launch 5G stand-alone networks, which can accelerate the adoption of an industrial internet of things, cloud computing and artificial intelligence and be a key tool for stimulating investment and consumption.