Li's upbeat message is seen as sign of new confidence
Share - WeChat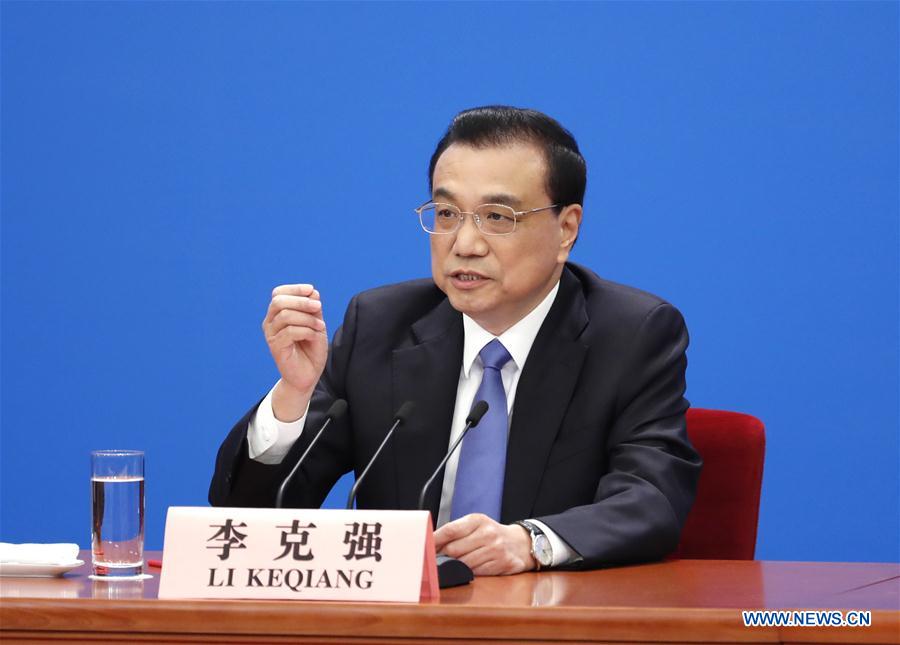 Premier Li Keqiang said the Chinese economy continues to provide vital support to the global economy despite concerns of a slowdown.
He was addressing a news conference that followed the conclusion of the second session of the 13th National People's Congress, China's top legislature, on Friday.
"China's economy will remain an important anchor of stability for the global economy," he said.
Li, who answered 18 questions from Chinese and international media in a two-and-a-half-hour conference, ruled out resorting to quantitative easing to achieve the 6 to 6.5 percent growth target he set in the Government Work Report on March 5.
He said that some of the growth would be driven by the private sector. There are 100 million market entities in China, and when their "vitality was fully unleashed there would be incalculable energy created", Li said.
Ding Yuan, vice-president and dean of China Europe International Business School in Shanghai, said Li's upbeat message reflected a new confidence in the Chinese economy that has emerged over recent weeks and might not yet be reflected in the headlines.
"There was a lot of negative sentiment at the end of last year, but perhaps we will all come to realize that this was perhaps the darkness before the dawn," he said.
"There were encouraging signs about consumption in January and February, and we recently held a roundtable debate of heads of multinationals in China and they were optimistic about prospects for this year," he said.
Li also said the nearly 2 trillion yuan ($298 billion) in tax cuts, many of them targeted at small and micro businesses, would boost the economy this year. The corporation tax rate for businesses with turnover of less than 1 million yuan will fall from 10 percent to 5 percent.
Russell Brown, managing partner of Lehman Brown, a Beijing-based accountancy firm, and also a former chairman of the British Chamber of Commerce in China, said rates on the mainland were now competitive with those in Hong Kong.
"These are now very competitive rates that should have an overall benefit for the economy. They should also lead to less tax avoidance, and so there might not be a reduction in the overall tax take in the longer term," he said.
Li said that despite the scale of the tax cuts, which also include major value-added tax reductions, they would increase the budget deficit by only 0.2 percent, which would still be within the norm for developed countries of around 3 percent. He said some of the deficit would be financed by profits from State-owned enterprises.
"To fund the deficit using the dividends from the equity ownership of State-owned enterprises is a logical choice," said Zhu Ning, Oceanwide professor of finance at Tsinghua University.
"Central and local government borrowing is beginning to reach its limits, so this is probably the right way to go. His message on quantitative easing will also perhaps alleviate some market concerns."
Li also spoke about US-China trade tensions, and despite what he called "twists and turns" in the relationship, he said he believed the shared long-term interests of the two countries far outweigh their differences.
He said he did not believe the two economies could ever "decouple" and hoped the current talks between the two countries would deliver results.
He Weiwen, a senior fellow at the Center for China and Globalization, a Beijing-based independent think tank, and a former economic and commercial counselor in the Chinese consulate generals in San Francisco and New York, was confident the dispute will be resolved.
He pointed out that trade between the two countries had hit a record of more than $600 billion in 2018 despite the tensions.
"Over the past 40 years, there have been political tensions between the US and China but bilateral trade volume has increased more than 200 times, which is unprecedented in human history," he said.
He also pointed out that the huge profits of some of the US multinationals that are coming from their operations in China-particularly in semiconductors, such as Qualcomm and Intel-helped fund these companies' global research and development efforts.
China also passed a new foreign investment law on Friday. It will take effect on Jan 1, 2020.
The law will mean that foreign companies will receive "national treatment" and be dealt with the same as domestic companies.
They will also receive greater intellectual property protection, and forced technology transfers will be forbidden. In addition, the so-called negative list of sectors in which overseas companies cannot operate will be reduced.
Li said the new law will be important in China's further opening-up of its economy and also will help it in its pursuit of high-quality development.
Maurice Greenberg, chairman and CEO of Starr Cos, the US insurance and investment group, said the law and the premier's comments are "a positive step".
"If these measures can be carried out as intended, that would make a significant difference to US-China relations," said Greenberg, who received the China Reform Friendship Medal last year.
Mats Harborn, president of the European Union Chamber of Commerce in China, welcomed the new law but said that how it will be implemented remained vitally important to his group's members.
"More than anything else, foreign companies want equal treatment and opportunities," he said. "While not all of our concerns were addressed in this law, it is time to move forward. We will closely monitor the law's implementation to ensure that it is fully respected at all levels of government and in all corners of this country."