Xi sends condolences to New Zealand after shooting
Share - WeChat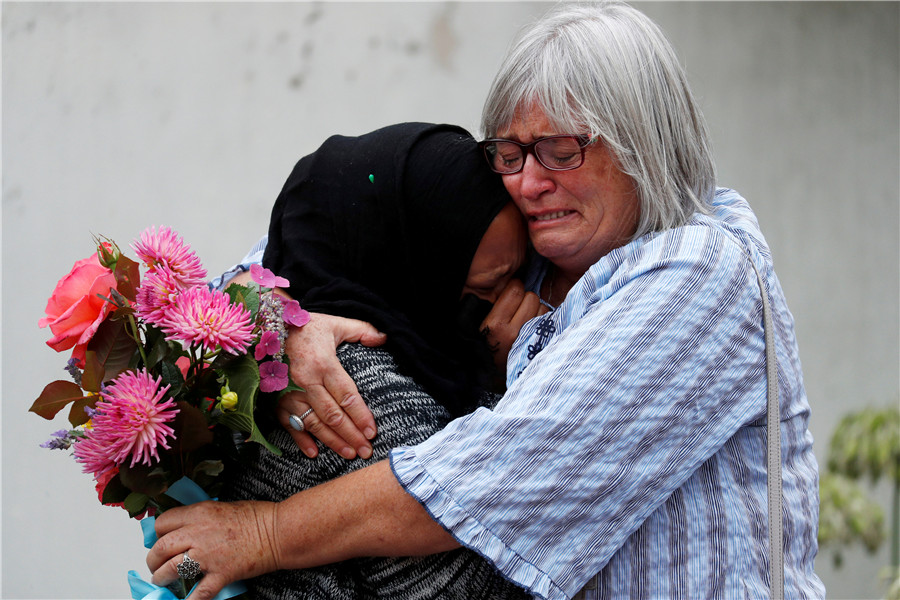 President Xi Jinping extended condolences to New Zealand Governor-General Patsy Reddy on Friday after a mass shooting in Christchurch.
In his message, Xi said he was shocked to learn about Friday's tragedy, in which 50 people have so far died and dozens were left injured.
Xi said that on behalf of the Chinese government and the Chinese people, he expressed deep sympathy with and sincere condolences to the New Zealand government and the people of New Zealand, while expressing grief for the victims and wishing that the injured might have an early recovery.
Also on Friday, Premier Li Ke­qiang sent a message of condolence to New Zealand Prime Minister Jacinda Ardern, expressing grief for the victims while extending sincere sympathies to the injured and the bereaved families.
A gunman opened fire at two New Zealand mosques on Friday, killing some even as they were kneeling in prayer.
The suspect in the shootings, wearing handcuffs and a prison jumpsuit, appeared calm during an appearance in a local court on Saturday, when he was charged with murder.
Authorities said he will face further charges, according to Reuters.
Brenton Harrison Tarrant, 28, who was born in Australia and was living in New Zealand, gazed around the packed courtroom but did not speak during his three-minute appearance.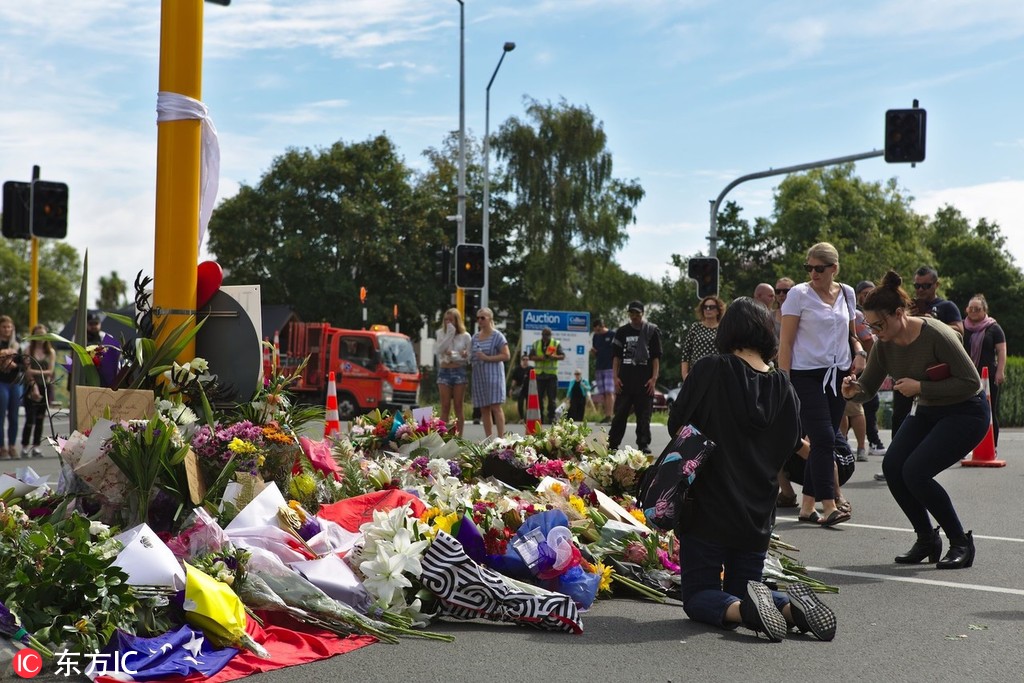 As condolences flooded in from around the world, Prime Minister Ardern reiterated her promise for changes to the country's gun laws on Sunday, saying at a news conference that laws need to change and "they will change". She said her Cabinet will discuss the policy details on Monday.
The suspect legally owned his semi-automatic rifle and ammunition, and underwent training.
His online "holy" rambling, a 74-page manifesto railing against Muslims and immigrants, prompted Ardern to call the document "disturbing" at Sunday's news conference.
Friday's massacre was a "turning point" for New Zealand as the focus shifts to right-wing extremism long overlooked in this cricket and rugby loving nation of less than 5 million people, Paul Buchanan, a former US government intelligence and defense policy analyst now living in the island country, told China Daily.
What the Christchurch killings highlighted was the threat posed by white supremacists — the bigots and racists — who hide behind the internet.
"Friday's gunman told his followers he would livestream the attack. As he moved through the mosque killing people, he was being cheered on by people on the internet watching," he said.
"That was not free speech. It was an incitement to violence … to kill people. Yes, the sites can be taken down but after the dust settles, they are back up and people advertise on them. People make money out of this stuff. … That has to stop."
Andrew Jakubowicz, a professor of sociology at the University of Technology Sydney, believes the rapid growth of hate speech on the internet has overwhelmed the "capacity of states, corporations or civil society to limit its spread and impact".
Clive Williams, a visiting fellow at the Strategic and Defence Studies Centre at Australian National University in Canberra, said while social media's role needs to be looked at, he felt that in time "you may find what happened on Friday was a major intelligence failure. … They (intelligence specialists) were looking in the wrong place.
"While the focus was on Islamist extremists, the intelligence and security services overlooked what was happening with the extreme right," he said.
On Saturday, two anti-immigration websites — the Dominion Movement and the National Front's website host Simplehost — were taken down after complaints that they were carrying hate speech. But they are just two circulating in New Zealand.
Around the world thousands of sites can be found spewing forth their particular brand of hate and bigotry.
In a note to clients on Sunday, Stratfor Global Intelligence, a leading geopolitical analysis service, said other platforms such as 8chan, which carried Tarrant's vile rampage, have refused to engage in censorship as part of their business model.
In another development, New Zealand police confirmed on Sunday that Dunedin Airport, also on the South Island along with Christchurch, has been closed after a suspicious package was reported.
At 9:55 pm, the airport received reports of a suspicious package on the airfield, and police and specialists were now at the scene to determine the nature of the package, Xinhua News Agency reported.