And then there was one
Share - WeChat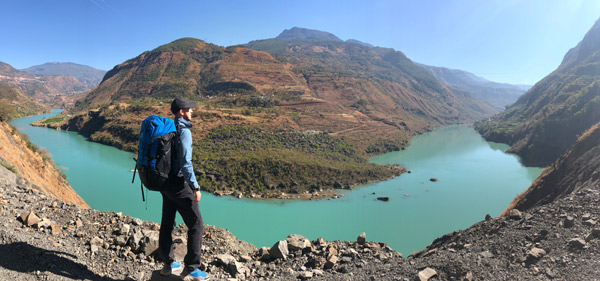 Nature takes its toll as a team of 11 takes on 6,400-km trek from mountain to sea
By the time Ash Dykes had reached Chongqing in Southwest China 178 days after setting out to trek the Yangtze River from its source to the sea he had shed 10 kilograms.
"The most difficult part of the journey is over," the British explorer, 28, told China Daily in Chongqing on Feb 27, nine days after he had reached the city.
To that point Dykes had completed about 3,900 kilometers of the expedition along the river throughout Qinghai, Yunnan and Sichuan provinces, and "all" he now needed to do was to cover the next 2,500 kilometers in 187 days or less to complete the entire journey within a year, a feat no one, absent recorded evidence, is believed to have accomplished.
Weighing 63 kg, 1.78 meters tall and dressed in a blue outdoor jacket and a pair of jeans, Dykes looked in fine fettle, even if a little skinny, as he chatted with China Daily in a cafe on the sidelines of a book-signing tour in Chongqing. "Chongqing is the first big city along the Yangtze, which is a milestone of my journey," he said.
On August 26 last year a three-men team, including two guides and a horse, hit the road at the starting point, the source of the Yangtze in the southwest of Zadoi county at an elevation of 5,170 meters in southern Qinghai province. Then at different times for the next two months after starting, different people had come to join him.