Zhanjiang aiming to be first port of call for businesses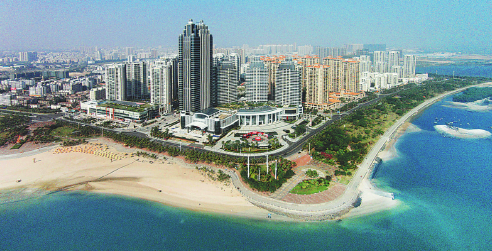 City devoted to developing modern coastal economic belt and free trade port to help connect wider area with Belt and Road Initiative
Positioned as a sub-center in western Guangdong province, the coastal city of Zhanjiang has strategic plans to play a more important role in regional development.
"Zhanjiang is on a fast track pushed by unprecedented positioning and unparalleled support from the State and provincial governments," said Zheng Renhao, Party chief of the city.
The city aims to connect surrounding areas with countries and regions involved in the Belt and Road Initiative, and function as a free trade port and a pioneer in the marine economy, he noted.
Located on the west wing of Guangdong - one of the most affluent provinces in China - Zhanjiang was given the same importance as Shantou, on the east wing, as one of two new engines to bolster the province's economic growth by developing a modern coastal economic belt.
In brief, the ambition of the city will be realized through the construction of "a passageway, a free trade port and a pilot zone", Zheng said.