Remarks by H.E. Ambassador Liu Xiaoming at the Welcoming Dinner for Chairman Zhou Xiaochuan: Join Hands to Forge Ahead for A New Chapter of China-UK Financial Cooperation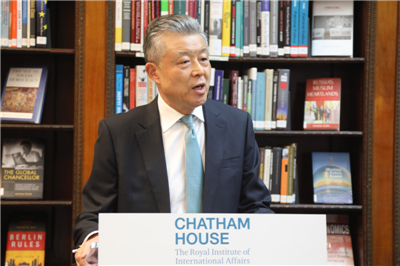 Chairman Zhou,
Governor Carney,
Lord O'Neill,
Chairman Fang,
Chairman Tucker,
Ladies and Gentlemen:
Good evening!
It is a real delight to join you at this dinner jointly hosted by the 48 Group Club and the China Chamber of Commerce in the UK. On behalf of the Chinese Embassy, I would like to begin by extending a warm welcome to Chairman Zhou Xiaochuan and his delegation!
Chairman Zhou was Governor of the People's Bank of China for 15 years, the longest-serving governor of China's central bank.
In those 15 years,
Chinese economy hit new records;
China's financial sector stood the test of the Asian financial crisis in 1997 and the international financial crisis in 2008;
And China-UK financial cooperation made big strides forward.
Last month, the London-based Central Banking publication honoured Chairman Zhou with the 2019 lifetime achievement award. He was recognized for his "high levels of integrity, intellectual rigour and bold reforms that have served the public interest in China and elsewhere".
I would like to see this award as more than just recognition of Chairman Zhou's achievement. It is an award for China's financial sector. It is also an award for China-UK financial cooperation.
In recent years, China-UK financial cooperation has enjoyed a strong growth with three new salient features:
First, financial cooperation has increasingly become a "new engine" for China-UK business cooperation.
Let me give you a few examples:
China-UK Economic and Financial Dialogue produced 72 outcomes in 2017. More than half are in the financial services sector.
The PBOC and the Bank of England have initiated the G20 Green Finance Study Group to encourage green finance innovation and enhance cross-border connectivity between green-bond markets.
Preparations for the Shanghai-London Stock Connect are well underway.
And our two countries have issued the China-UK Strategic Plan for Financial Services. This has laid a solid foundation for closer cooperation on financial supervision and business partnership.
Second, China-UK financial cooperation has found a "new platform" in the Belt and Road Initiative (BRI).
Recent years have seen fruitful results in China-UK financial cooperation on BRI. Among major Western countries, the UK was
the first to apply to join the Asian Infrastructure Investment Bank (AIIB);
the first to contribute to the AIIB special fund;
the first to sign the Guiding Principles on Financing the Development of the Belt and Road;
and the first to appoint a BRI special envoy and set up an Expert Board.
In 2017, Chancellor of the Exchequer Philip Hammond attended the first Belt and Road Forum for International Cooperation as the personal envoy of Prime Minister May. At the Forum, Chancellor Hammond called the UK a natural partner of China in advancing BRI. I fully agree with him. And I would like to add that the financial sector is a natural area for China-UK cooperation on BRI.
Very soon, China will host the second Belt and Road Forum. We welcome the UK delegation to the Forum. We look forward to joining hands with the UK and taking our cooperation on BRI to a new stage.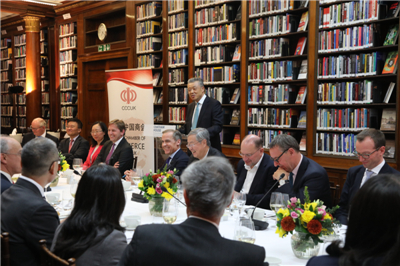 Third, RMB internationalisation has created "new opportunities" for China-UK financial cooperation.
The UK has always played an important role in RMB internationalisation. It is only natural that London becomes the world's largest offshore RMB market outside Asia.
In fact, London has set a number of records in RMB internationalisation.
It was in London in 2014 that the British Government issued RMB sovereign bond for the first time in the world;
It was in London in 2015 that the People's Bank of China issued the first RMB-denominated central bank bill;
It was in London in 2016 that the Ministry of Finance of China issued the first overseas RMB sovereign bond;
It was also here in London, again in 2016, that the Bank of China issued the first Green Covered Bond.
I am confident that as China accelerates its pace in RMB internationalisation, there will be more new opportunities for China-UK financial cooperation.
Ladies and Gentlemen:
President Xi Jinping has made a solemn pledge to the world, "China will not close its door; instead, China will open its door even wider to the world."
In line with this pledge, it is expected that in the coming 15 years, China will import more than $30 trillion in goods and over $10 trillion in services.
Amid the sluggish economic growth, rising uncertainties, and surging protectionism and unilateralism in the world, a more open and constantly growing China will bring more confidence to the world, create more opportunities for other countries, and open a broader prospect for China-UK business cooperation.
It is my sincere hope that people from all walks of life in our two countries will join hands to forge ahead. I hope we could translate our confidence in China-UK cooperation into concrete actions, and turn the opportunities into mutually-beneficial results. Working together, we can make even greater contribution to the China-UK "Golden Era"!
In conclusion, I wish Chairman Zhou a most successful visit to the UK!
Thank you!