Working together with AI can create value
As a tech reporter, I have often been asked by readers whether artificial intelligence is a threat to their jobs. I used to assure them that such concerns are unfounded - in the next decade at least - as it will take a long time to develop a general AI that can compete with humans.
However, I suffered a big blow to my confidence at the ongoing two sessions. As news outlets scramble to use cutting-edge technologies to cover China's biggest annual political event, an elegant female-looking robotic news anchor emerged, and looked and behaved just like its human counterparts.
Suddenly, I found myself worrying that professionals - even tech reporters - are highly likely to be replaced more quickly than I predicted, and that is the last thing I want.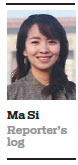 The robotic news anchor, jointly developed by Xinhua News Agency and tech firm Sogou, can mimic human facial expressions and body movements to present stories about National People's Congress deputies and members of the 13th National Committee of the Chinese People's Political Consultative Conference arriving in Beijing or giving their suggestions.
Named "Xin Xiaomeng", the AI-enabled robot had short hair and wore a pink blouse during a one-minute video presentation. Apart from sounding a little machine-like, it was able to gesture, smile and speak far more naturally than "Qiu Hao", a male-looking robot news anchor Xinhua unveiled in November.
I was quite impressed by the technological advances made in just a few months. With rapid progress being made in machine learning, big data and other cutting-edge technologies, robot news anchors are becoming smarter and more capable.
More importantly, AI-enabled robots are capable of doing more nowadays.
Undoubtedly, mistakes can happen and robots in unstructured environments may be mere machines, but it dawned on me that they do not need to be versatile and conscious to take jobs from humans. As long as they excel in one area and their manufacturing cost decreases, our jobs may be in danger.
Instead of clinging to the optimistic notion that humans can outshine machines for decades to come, a more productive way of thinking may be that we need to learn how to use AI and robots to better serve us.
Humans, for instance, can learn how to operate smart machines such as the collaborative robots used in warehouses to boost productivity.
When interviewing NPC deputies and members of the CPPCC National Committee at the two sessions, I have found that some of my peers are using an AI-enabled recorder to facilitate their work. The recorder, developed by Chinese tech company iFlytek, can recognize voices and automatically transcribe oral speech into written words. It can also translate Chinese into English in real time. This is a good example of how to work with AI to create value.
Also, if a robot or algorithm-enabled automated software can do the "churnalism" - churning out routine, dry hard news based on news releases, financial data and official statements - I think I will be free to focus on producing more in-depth interviews, research-based analyses, 360-degree features about trends and developments, and insightful columns. That is an AI-enabled robot I am eager to partner with.
Contact the writer at masi@chinadaily.com.cn
(China Daily 03/13/2019 page5)