Top judge: Justice system progressing
Share - WeChat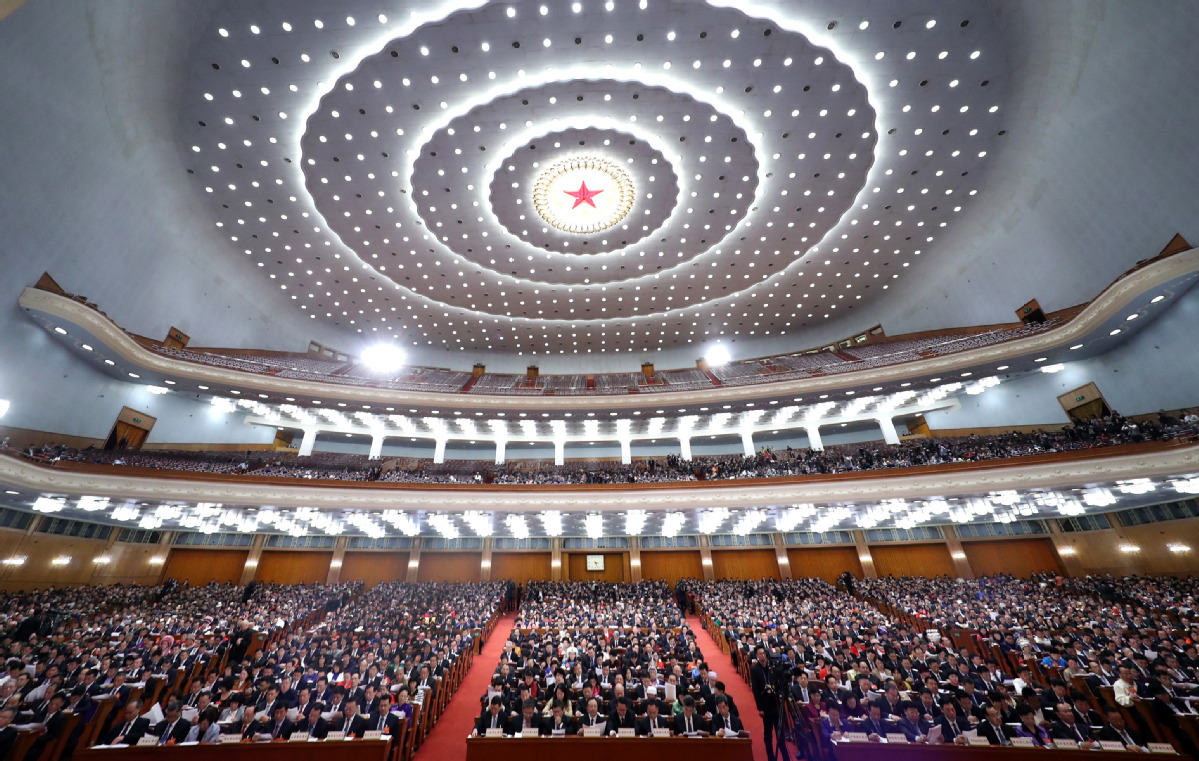 Courts to focus on preventing wrongful convictions by keeping eye on process
Chinese judicial authorities have strived to prevent wrongful convictions and better protect human rights in the past year and will continue to do so this year, according to the work reports of the top court and top procuratorate, which were released on Tuesday.
In 2018, 819 defendants were declared not guilty and 10 high-profile wrongful convictions were overturned, Chief Justice Zhou Qiang said in the annual work report of the Supreme People's Court to the top legislature.
He said judges have upheld two key principles: that no punishment should be handed down in cases where doubt exists, and evidence obtained illegally should not be allowed.
Procuratorates across the country have also intensified their efforts to supervise other law enforcement agencies to prevent wrongful prosecutions.
Prosecutors decided not to formally arrest 168,458 people or to file charges against 34,398 others because of insufficient evidence, or because an accused person's actions didn't constitute a crime. The figures represent respective year-on-year increases of 15.9 percent and 14.1 percent, according to the work report of the Supreme People's Procuratorate.
In addition, prosecutors issued written opinions to police in 58,744 cases of suspected illegal collection of evidence or improper use of coercive measures, an increase of 22.8 percent over the previous year.
They also protested 8,504 court verdicts that they considered wrong, up by 7.2 percent year-on-year. As a result, higher courts changed the verdicts or ordered retrials in 5,244 cases, an increase of 8.4 percent, the report said.
In June, for example, Li Jinlian, a villager who was jailed for 19 years in Jiangxi province, was found innocent because existing evidence could not prove intent to kill after the SPP protested the original ruling and asked for a retrial.
"The aim of such supervision is to adopt a people-oriented approach and work hard to let the public feel fairness and justice in every case," Procurator-General Zhang Jun said during his report.
In the past year, the top court has also attached more importance to protecting the rights of entrepreneurs and private enterprises.
Zhang Wenzhong, former chairman of Wumei Holdings Group, parent of major retail chain Wumart Stores, was cleared of bribery and fraud in May.
Jiang Bixin, vice-president of the top court, said the retrial of Zhang's case could be considered a landmark, adding that judges nationwide will continue making such corrections.
Courts plan mainly to review cases in which defendants were convicted of contract fraud or making use of their positions to illegally take possession of assets. They will also strictly distinguish misconduct from crimes, Jiang said on Tuesday during a group interview.
"Economic disputes should not be handled as crimes, and civil liabilities must not be treated as criminal liabilities," Jiang said.
Zhou, the chief justice, also said in his report that the top court has been careful in approving death penalties. At present, all death sentences must be reviewed by the Supreme People's Court before being carried out.
"We have looked into such cases very carefully to ensure that capital punishment is only given to a very few people who committed extremely serious offenses," he said.