An advocate for high quality education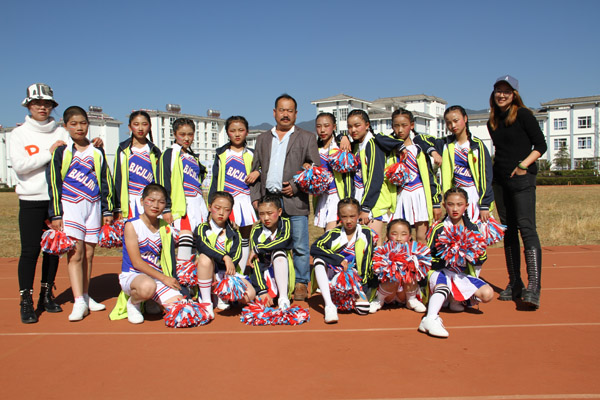 Bai Hailun knows that being a volunteer teacher in the remote regions of China is hard work that comes with little remuneration.
The 23-year-old is currently a teacher at Shujie Primary School in the rural township of Wuyin, Weishan county, in Dali Bai autonomous prefecture, Southwest China's Yunnan province. She teaches 21 classes of English, physical education and music every week.
She gets paid only 3,200 yuan ($476) per month, far below the median income of Beijing where she was born.
Bai is one of many individuals who have volunteered to teach in rural parts of China through Teach for China, an NGO that focuses on improving the quality of education in remote areas of the country. She first learned about TFC in her senior year at NYU Shanghai in 2018 when she participated in one of their programs aimed at improving the reading skills of children living in rural areas.
"I love reading, so the prospect of being able to do so while helping another person was appealing to me," she says.
For two months, Bai was paired with a 12-year-old girl from Guangxi Zhuang autonomous region. They would read the same book separately in their hometowns before sharing their reviews in a weekly phone call. Following the conclusion of the program, Bai received letters from the girl detailing her family, school and life in the remote area.
"I was touched by her story and wanted to learn more about the life children like her are living," says Bai who applied to volunteer with TFC immediately after the program.
Before starting work, Bai underwent a two-month course on teaching that was provided by TFC. Despite what she said seemed like ample preparations, she was still shocked at the reality of education in the province.
In Yunnan, Bai was forced to hit the ground running. There was no guidance offered by the local full-time teachers and she had to prepare for the lessons herself. She also had to take on other roles such as a school counselor, a cheerleading coach, a dance teacher and a food safety monitor. The school has 187 students but only 11 local teachers. Every teacher's workload is the same or heavier than hers.
"Many music, art and PE teachers also have to teach Chinese, math and science. A local art teacher who taught math too once sought help from me to teach a class for her," she says.