Hunan bans advertising of betel nuts
Share - WeChat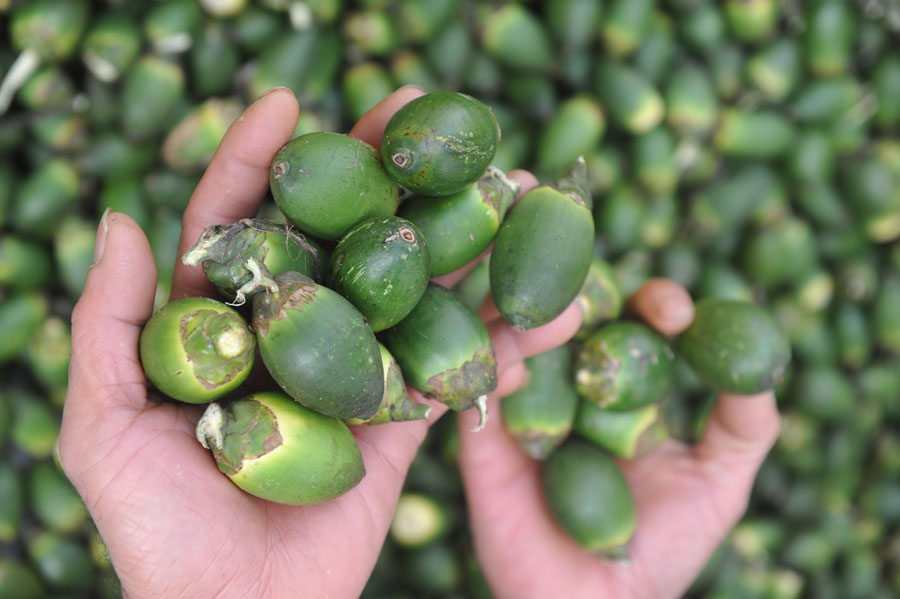 Health concerns are not cause of order, says head of industry organization
Betel nut producers in Hunan province - famous for its robust betel nut processing industry and widespread consumption - have been told to remove all forms of advertising this week.
In a notice issued on March 7 and circulated online, the Hunan Betel Food Industry Association ordered related enterprises in the province to halt advertisements by Friday. The ban encompasses all media channels as well as any form of promotion in public places.
Yang Xun, head of the association, said the ban aims to regulate the emerging betel nut industry in the province and enhance the self-discipline of producers, and is not tied to rising concerns about the betel nut's role in causing oral cancer, China News Service reported.
Lin Ye, vice-president of Peking University Hospital of Stomatology, said there is enough evidence to validate the connection between betel nut chewing and higher rates of oral cancer.
He said the date-shaped fruit is often taken with lime powder for better taste, and thus damages delicate tissue in the chewer's mouth and results in increased risks of developing malignant mouth tumors.
A World Health Organization study in 2003 found that the rate of oral cancer was highest in Asia, where chewing betel nuts is a widespread habit. The processed fruit has been classified as a carcinogen since then.
In China, the National Health Commission released an action plan in February to promote oral health, which called for campaigns to promote oral checkups in regions where the chewing habit is popular.
However, the concern has had little impact on betel nut chewers, especially in Hunan province, where the custom is time-honored - and generates massive profits.
Cen Shangyi, a resident in Changsha, said he chews two packs of betel nuts a day.
"The ban is unlikely to affect most consumers' habits, but it reminds me of the potential harm to my health," he said. "I will still chew betel nuts, but maybe cut down a bit."
More than 80 percent of fresh betel nuts harvested in the southern province of Hainan are supplied to Hunan, home to more than 4,000 processing plants and enterprises that distribute or sell betel nuts, according to an industry report released by Zhiyan Consulting group in 2017. The industry's output value is estimated to exceed 30 billion yuan ($4.5 billion).
Wang Di, a sales employee with the Jiuzong Betel Nut company, said he has seen no impact on sales so far, but in the long term the ban is sure to drive down sales in the province.
Wang Xiaodong contributed to this story.