BRI hailed as force for sustainable development
Share - WeChat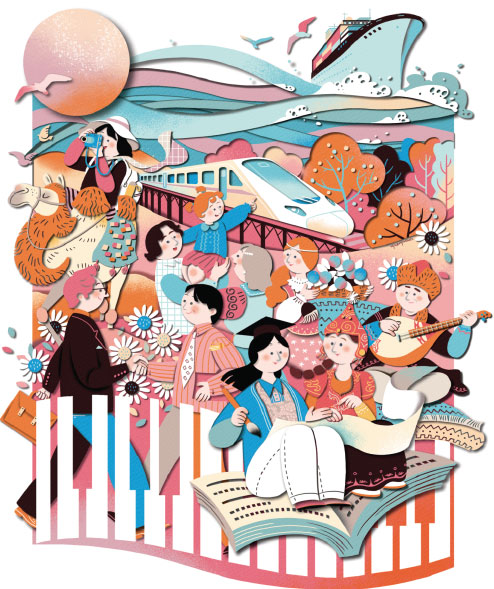 The initiative is providing opportunities across the globe as more countries agree to participate. Cao Desheng reports.
As part of China's opening-up drive in the new era, the Belt and Road Initiative has won broad international participation as a result of its open, inclusive, win-win nature.
The BRI - an important platform for China to develop international cooperation via the principles of extensive consultation and joint contributions for shared benefits - has been transformed from an ambitious plan into concrete results.
Of the 279 items on the outcome list of the inaugural 2017 Belt and Road Forum for International Cooperation, 269 had been completed or carried out on a regular basis by the end of last year, according to the National Development and Reform Commission, the top macroeconomic regulator.
The remaining 10 items are being advanced, and will be completed or turned into regular work before the second Belt and Road Forum for International Cooperation, which will be held next month, the NDRC said.
Second forum
The forum will see Beijing firmly in the spotlight again as it hosts the country's biggest diplomatic event of the year, aimed at strengthening partnerships in the next stage of the BRI.
With the theme "Belt and Road Cooperation: Shaping a Brighter Shared Future", the second forum aims to bring about high-quality cooperation under the initiative, said Wang Yi, State councilor and foreign minister, at a news conference on Friday on the sidelines of the annual two sessions.
China will build consensus with other parties on high-quality development, champion an open, transparent and inclusive approach to BRI cooperation, and strive for green and sustainable development, Wang said.
He added that China will seek greater synergy with participating countries and their development strategies, agree key cooperation projects, promote implementation of the UN 2030 Agenda for Sustainable Development, and emphasize the improvement of people's lives while deepening cooperation.
"We will act in the spirit of win-win partnerships, focus on improving infrastructure connectivity, build stronger momentum for common development and forge even closer partnerships," Wang said.
In the meantime, China will uphold open and inclusive cooperation, support economic globalization, uphold multilateralism and join hands with its partners to build an open global economy, he added.
President Xi Jinping will attend the opening of the forum, deliver a keynote speech and also chair a leaders' roundtable, he said.
Noting that the second forum will be a much bigger gathering than the first, Wang said there will be more side events, including 12 themed subforums focusing on practical cooperation, and, for the first time, a conference organized specifically for the business community.
The inaugural forum, held in Beijing in May 2017, was attended by state and government leaders from 29 countries, as well as more than 1,600 other participants from over 140 countries and 80 international organizations.
Xi proposed building the Silk Road Economic Belt and the 21st Century Maritime Silk Road, known collectively as the Belt and Road Initiative, during visits to Kazakhstan and Indonesia in the autumn of 2013.
The following year, China announced that it would contribute $40 billion to establish a Silk Road Fund to support Belt and Road projects and turn the initiative into reality.
In 2015, China initiated the Asian Infrastructure Investment Bank. The number of approved members from nearly every continent has risen to 93, representing broad support for the institution.
In the past three years, the AIIB has approved financing worth $7 billion for development projects in Asia and Africa, with the aim of promoting sustainable economic development through infrastructure investment.
"As President Xi has said, the BRI originated in China, but its benefits are shared by the world. We have reason to hope and believe that the second BRF will be a great success and another milestone in BRI cooperation," Wang said.
A report published on the website of Belt and Road Advisory - a consultancy that facilitates engagement with the initiative - said the forum will provide an opportunity to take stock of the initiative five years on, and lay out a new road map for the coming years.
As the BRI is now well-known globally, there is less need to engage in self-promotion, the report said, and, as a result, the forum is expected to focus more on implementation of the initiative and make greater reference to "we have done this" and "we will do this".
It will also present an opportunity to refute some international skepticism of the initiative and garner further support, the report said, noting that businesses, both Chinese and foreign, have shown a growing appetite for tapping into the commercial opportunities the BRI presents.
International impact
Addressing a symposium to mark the fifth anniversary of the BRI in August, Xi said the initiative offers new solutions to improve global governance and has met demands for change in the global governance system.
The BRI is an initiative for economic cooperation, rather than a geopolitical alliance or military league, and it is an open and inclusive process rather than an exclusive bloc or "China club", he said, adding that the initiative does not differentiate countries by ideology or play a zero-sum game.
Twenty-nine international organizations and 123 countries, including developed and developing nations, have signed 171 cooperation documents with China on the initiative, official statistics show.
In its five-plus years, the BRI has grown from a concept into a well-received international public force that helps to promote world peace and common development, observers said.
On Wednesday, Ning Jizhe, vice-chairman of the NDRC, told a news conference in Beijing that the trade volume between China and participating countries and regions has exceeded $6 trillion.
He added that China-Europe freight trains, considered a significant part of the initiative, had made 14,000 trips by the end of February.
With growing international participation in the BRI, a large number of infrastructure projects have become landmark points of cooperation between China and several countries.
Zhang Qiyue, China's ambassador to Greece, pointed to Sino-Greek cooperation at Piraeus Port, which has received investment from China's COSCO Shipping, as a good example of a win-win partnership.
Last year, container throughput at the port reached 4.9 million TEUs (Twenty-foot equivalent units), creating more than 3,000 jobs for local people, said Zhang, who is a member of the 13th National Committee of the Chinese People's Political Consultative Conference, the top political advisory body.
The CPPCC's meeting of more than 2,000 political advisers, and the ongoing session of the National People's Congress, the top legislative body, are important events in China's political agenda.
The Piraeus Port project has also indirectly provided more than 10,000 job opportunities at a time when debt-laden Greece has a high unemployment rate, Zhang said, adding that it has also injected impetus into the sluggish economy and helped it emerge from a financial crisis.
Noting that Greece is an important country for Belt and Road cooperation, Zhang said there is great potential in the southern European country's development strategy of building a regional transportation, energy and services hub in alignment with the BRI.
She said Greece is a staunch supporter of the initiative, and took the lead among European countries in signing the intergovernmental BRI cooperation document last year.
Speaking in Beijing last week, George Katrougalos, Greece's foreign minister, said his country stands ready to deepen bilateral cooperation under the initiative, and build Greece into a bridge linking China and Europe, and China and Africa.
Even though some developed countries are still skeptical about the BRI, Italy has taken the lead among the Group of Seven major industrialized nations to embrace the initiative to find ways to boost its sluggish economy and revive its stalled construction sector.
On Friday, Italian Prime Minister Giuseppe Conte noted that the BRI infrastructure plan could be good news for Italy, and said his country may sign an accord with China on the initiative later this month, Reuters reported.
Closer to home, Myanmar has also signed a BRI cooperation document with China.
The Southeast Asian nation has established a steering committee for the implementation of tasks relating to the BRI. It is chaired by State Counselor Aung San Suu Kyi, with Vice-President U Myint Swe serving as vice-chairman and other ministers and regional chief ministers serving as members.
Last month, at the committee's first meeting, Aung San Suu Kyi said the initiative could bring opportunities to Myanmar and the region, according to a report by Xinhua News Agency.
Aung San Suu Kyi added that the BRI could promote cooperation with her country in many sectors, including infrastructure, and called for concrete work on projects under the BRI in accordance with the development priorities of the country.
At the 2018 Beijing Summit of the Forum on China-Africa Cooperation in September, Xi announced eight major initiatives to enhance cooperation with African nations, in such fields as industrial promotion, infrastructure connectivity, trade facilitation and green development.
Xi called on African countries to actively participate in the BRI and advance the synergy of the initiative with the African Union's Agenda 2063, the UN's 2030 Agenda for Sustainable Development, and African countries' development strategies.
Richard Sezibera, Rwanda's foreign minister, hailed the BRI as a good illustration of the mutual benefits prompted by the initiative.
Speaking last Tuesday at a news conference in Kigali, the Rwandan capital, Sezibera said the BRI is mutually beneficial as it addresses Rwanda's development challenges and also meets the development requirements of its Chinese partners, a Xinhua report said.
Skepticism rejected
Despite its tremendous achievements, the BRI faces concerns and skepticism, with some Western countries blaming China for creating "debt traps" in other countries by promoting the initiative.
Foreign Minister Wang rejected the accusations at Friday's news conference, and listed BRI projects that have brought win-win outcomes for the countries involved.
Thanks to the BRI, East Africa now has its first motorway, and the Maldives has built its first inter-island bridge, Belarus is able to produce passenger vehicles, Kazakhstan is connected to the sea, a high-speed railway is being constructed in Southeast Asia, and the Eurasian continent is benefiting from the longest-distance freight train service, he said.
The Mombasa-Nairobi Railway, built with Chinese assistance and dubbed "a project of the century", has created nearly 50,000 jobs for locals and boosted Kenya's economic growth by 1.5 percentage points, he added.
In Uzbekistan, Chinese construction workers and local people built a 19-kilometer railway tunnel through high mountains in just 900 days, Wang said.
"Plenty of facts have proved that the BRI is not a 'debt trap' that countries may fall into, but an 'economic pie' that benefits locals. It's no 'geopolitical tool', but a great opportunity for shared development," Wang told reporters.
Belt and Road construction has accelerated the development of participating countries, improved the livelihoods of their peoples and opened up the prospect of mutual benefits and win-win cooperation, he added.
The Foreign Ministry has said on a number of occasions at its regular new conferences that developing countries have debts for historical reasons, and Chinese investment in these countries only accounts for a small proportion of the money owed.
The ministry said decisions on BRI cooperation are made jointly by all participating parties, whether it is project selection or investment and financial cooperation.
Extended reach
Zhou Li, vice-president of the Chinese People's Association for Peace and Disarmament, said the BRI's scope has extended from the Eurasian continent to Africa, Latin America and the Caribbean, the South Pacific and other regions.
The initiative has enhanced trust and friendship between countries and strengthened people-to-people bonds, said Zhou, who is a member of the 13th CPPCC National Committee.
Given the profound changes in the international situation as a result of protectionism and unilateralism, countries should firmly uphold multilateral cooperation and vigorously advance the democratization of international relations, Zhou said.
He added that the BRI is significant in uniting the international community by advancing a new form of international relations, featuring mutual respect, fairness and justice, and win-win cooperation, in addition to the building of a community with a shared future for mankind.
Amid the growing global challenges, President Xi has called for the building of an open, inclusive, clean and beautiful world that enjoys lasting peace, universal security and common prosperity, as he advocates the building of a community with a shared future for mankind.
The BRI has great global value as a force for cooperation, not confrontation, and has prompted a broad consensus in the international community to pursue stability and development, Zhou said.
He added that the initiative is China's solution to mounting global problems.
Zhang, the ambassador, called for the strengthening of cultural and people-to-people exchanges in the process of promoting the BRI.
"Cultural exchanges and dialogue between different civilizations are critically important, as they help to eliminate differences and misunderstandings and increase common ground," she said.