School administrators asked to eat with students to strengthen food safety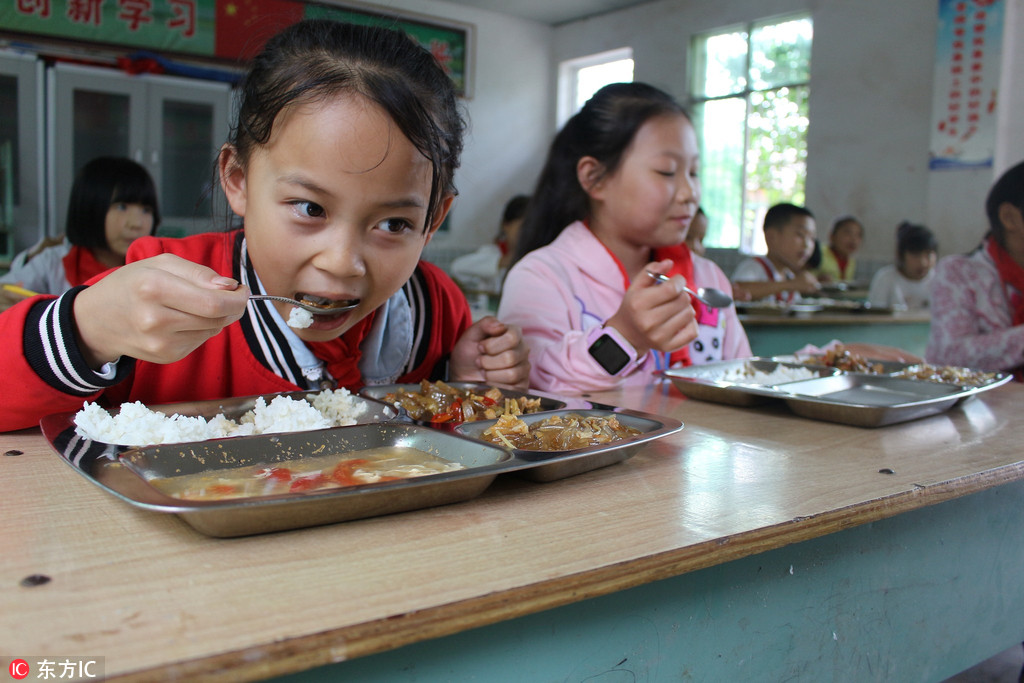 People in charge of kindergartens, primary and secondary schools in China should eat with students at school canteens to strengthen the safety of campus food, according to a notice issued on Monday.
The notice, jointly issued by the Ministry of Education, State Administration for Market Regulation and National Health Commission, will take effect on April 1.
It requires that administrators should keep record of each meal and resolve any food problems as soon as possible. Parents can also eat with students at school canteens and give suggestions to the school on food safety and nutrition, it said.
The schools should publish the sources of the food to the public and invite parents to participate in the management and supervision of food safety and nutrition, the notice said.
There should be no small food shops at campuses, those shops that have obtained permits should avoid selling snacks that have lots of salt and sugar, it said.
Canteen staff should undergo health checks every year and maintain good sanitary habits; the school should keep full and accurate record on the sources of the food and leave samples of each food for inspection, it said.
Canteens that do not leave food samples, purchased or stored nitrite and sell food with high health risks, including sprouting potato and wild mushrooms, will be fined ranging from 5,000 to 30,000 yuan, ($744 to $4464), according to the notice.
People responsible for food safety will be warned, striped off their post or handed over to law enforcement if caught profiting illegally by purchasing substandard food, handling job irresponsibly and posing health risks, causing physical harm to teachers and students and failing to report food safety accidents, it said.
Those who lie about food safety accidents, hide, destroy, fabricate evidence to avoid investigations and fail to cooperate with authorities to investigate food poisoning cases will be given relevant punishment, it added.