China's overseas development aid is crucial support
Share - WeChat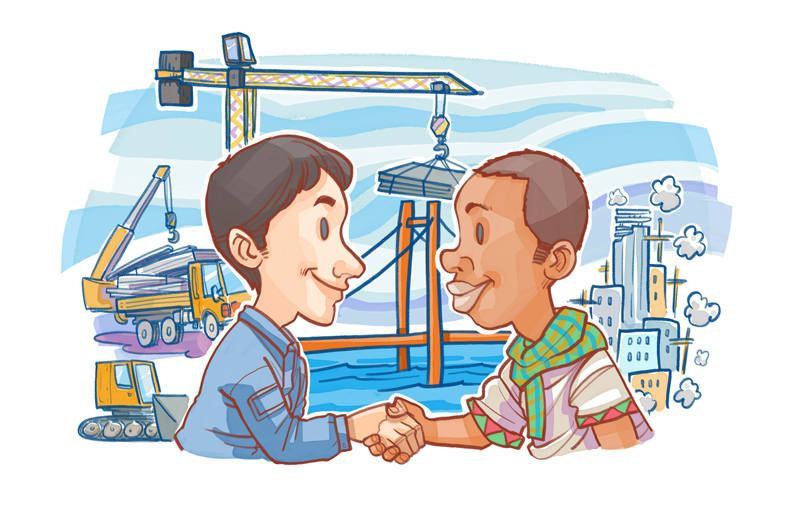 Editor's note: Some Western media claim that China's foreign loans are a "debt trap" for the recipient countries. In an interview with 21st Century Business Herald, Shen Wei, a researcher with the Institute for International Development Studies in the United Kingdom, argues otherwise. Excerpts:
Traditionally, a country's foreign aid is mainly official development assistance, including direct monetary assistance and interest-free or low-interest loans. According to AidData, China's overseas development aid was less than $9 billion in 2014, less than that of Germany, Japan, the United Kingdom and the United States. Why China is labeled by some foreign media as the largest donor of overseas aid, because various kinds of export credit provided by China's policy bank are calculated into China's overseas development aid.
Most foreign media fail to understand the true nature and connotation of such credit. Unlike overseas development aid, the purpose of China's preferential export credit is not to directly improve public welfare such as promoting local people's livelihoods, education and poverty alleviation. The loans provided by China's policy bank must go through strict risk control procedures and not ignore repayment risks or pursue local political influence.
Such kind of bilateral policy-based development finance instruments are not China's invention, and major Western countries have all had similar institutions with a longer history. For example, since its establishment in 1934, the Export-Import Bank of the US provided trade and export financing services similar to what the Export-Import Bank of China does. The waning business of the Western policy banks highlights their Chinese counterpart's better performance.
Different from Western assistance that is either free aid or completely pursues commercial profits, China's foreign aid model is based on both policy considerations and commercial purposes, and has increasingly been recognized worldwide. It is the basis for China's long-standing adherence to win-win and reciprocal relations.
Infrastructure projects supported by China have helped African countries establish upstream and downstream raw material markets and develop local industries, thus boosting overall economic development. China's loans have no preconditions attached to them requiring local governments to enhance their governance capacity, but this often improves as their markets develop.
Most Viewed in 24 Hours
China Views