Latest tech continues to shape news coverage
When the two sessions kicks off every year, it is also the time to show some of the latest technologies that could potentially change our lives in the near future.
As the biggest event on China's annual political agenda, the two sessions - the annual meetings of the country's top legislature and top political advisory body - doubles as a testing ground for innovation as the growing demand for multimedia coverage, livestreaming and big data transmission has opened up new opportunities for new technologies to be used.
I have covered the two sessions for five consecutive years, but was still surprised to see gear I had never seen before as I walked through a horde of peers from other media outlets holding all kinds of hightech gadgets before the Chinese People's Political Consultative Conference's National Committee opened its session on Sunday.
To me, the east square of the Great Hall of the People - where the media gather before every major session - has become a Chinese version of CES, an annual trade show held in Las Vegas to launch new consumer electronics devices and technologies.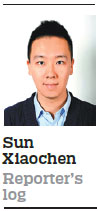 With product upgrades diversifying the way we conduct interviews and capture footage, the imminent use of fifth-generation telecommunication - 5G - will dramatically change the way we present and consume news. Given the enhanced speed and expanded data transmission volume available through 5G connection, I imagine that editing a video news clip will no longer take an entire afternoon because uploading footage and exporting the final production will be done in the blink of an eye.
With 5G signal coverage, livestreaming is also expected to run much more smoothly. I still remember the embarrassing moment on the first day of the two sessions in 2017 when hundreds, maybe thousands, of reporters gathered at the east square, all preparing their mobile phones to do live broadcasts of the opening session, only to find that the network speed was simply not fast enough to support livestreaming on so many devices.
Advanced information technology has also become a valuable tool for CPPCC National Committee members all year round, through an online system with an interactive interface that they can use to hold consultations, discuss key issues and make proposals. Since the system was introduced in August, the top political advisory body has held three remote discussions through videoconference calls, allowing political advisers to join the meeting on their computers or mobile phones via a specially developed app.
Without having to physically sit under one roof, political advisers can now meet online whenever a social development demands attention, and they can voice their opinions at any time.
With everyone envisioning a future with 5G technology, I expect it will bring more changes to the two sessions. Maybe one day, there will be no need to have all those deputies and members physically present in Beijing once a year. Their 5G-enabled lifelike 3D holograms could be projected in the Great Hall of the People for the all-important gathering.