High-tech fueling rise of Chinese sci-fi
Share - WeChat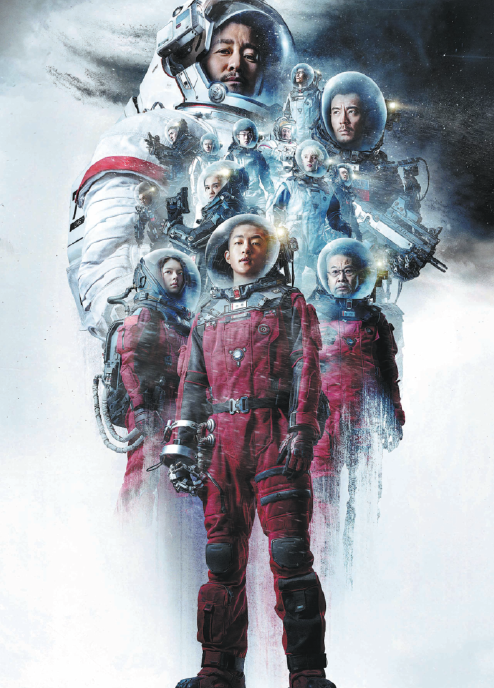 Building on the know-how gained in the making of The Wandering Earth will be key to developing the genre in the future, Kong Wenzheng and Judy Zhu report in New York.
Guo Fan is taking the Chinese sci-fi movie industry to a place where it has never been before.
The director of the box-office smash The Wandering Earth told China Daily before a screening event on Feb 24 that he is optimistic about the ability of China's movie industry to catch up with Hollywood, using the help of modern advanced technology.
Having already grossed$650 million, The Wandering Earth, adapted from Hugo Award winner Liu Cixin's short story, is the second highest-grossing film in China's box-office history and considered by many as a pioneer of a new era in Chinese sci-fi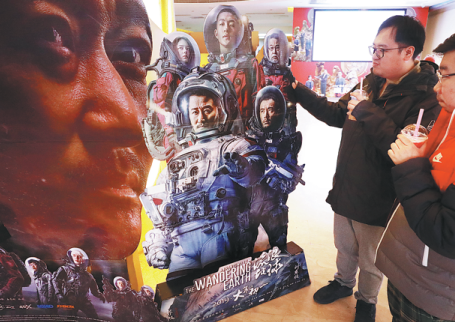 The film plots a desperate mission to save planet Earth from being devoured by the dying sun by propelling it out of the solar system and into a new star system in the remote galaxy.
Guo, 39, is humble about the film's success and positive about the future. He believes that the current gap between the Chinese film industry and Hollywood is too wide.
"Looking back, we find ourselves equivalent to the Hollywood of 25 or 30 years ago", in terms of production standards, Guo says of the Chinese film industry.
Ten years-that's the time needed by the Chinese film industry to narrow the gap with the help of modern technology, he says.
Even in terms of special effects, a better-developed area of the Chinese film industry, there's still a 10 to 15-year gap, he says.
Guo witnessed the speed of development of the Chinese film industry's technical capabilities during the production of The Wandering Earth.
"I think this is the equal of a Hollywood film," in terms of acting, scriptwriting, production design and cinematography, film critic Daniel Eagan tells China Daily. "There's no question about it."
The Wandering Earth reflects a major investment in special effects and postproduction enhancement.
The film has over 2,000 special effects scenes based on more than 3,000 conceptual designs, involving 10,000 specially designed props.
It also relied on two of China's best physical special effects companies, according to Guo.
"I believe if we have more opportunity to create these types of films, and if more of our Chinese peers join the trend to create sci-fi films, we will really pick up speed and can match, or even surpass, Hollywood," he says.
Continuous production of high-quality sci-fi films is needed to develop a "Chinese sci-fi" film genre, Guo says.
"I definitely hope we can see several good sci-fi films coming out of China every year like we do from Hollywood," he says. "Chinese people are not short of imagination. What we lack today is the capability of transforming our vision into actual scenes in a film."
Localized industrialization
The"Hollywood model" is not fully adaptable to the Chinese environment, mainly because of cultural differences, says Guo, and China needs to develop a Chinese-style industrial process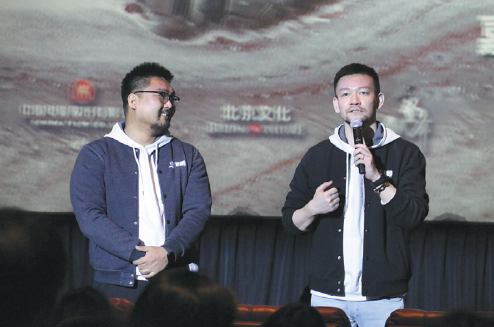 "I hope more Chinese directors and producers can pay attention to industrialization," he says, referring to the standardization and digitalization of information.
To Guo, the lack of industrialization in the Chinese film industry is evident in its movie scripts.
"Scripts for Chinese films are lacking in universal standards in every perspective: fonts, font sizes, line spacing, usage of punctuation marks, language used for depicting motions and dialogue, you name it," Guo says.
"We need more large-scale, visual effect-highlighted productions to practice and test out the industrialization process of Chinese films."
According to Guo, these kinds of films have very different production procedures and logic compared to more traditional types of films.
"Only if we see an increasing number of these(sci-fi) films can we train more talent of this kind who can further the development of this film genre- it comes as a loop," he says.
The industry should keep pursuing what The Wandering Earth has made possible, Guo says.
He says that the success of their film has created new possibilities for the Chinese film industry, and Chinese sci-fi in particular. He hopes that more investment flows into the field and he is keen to encourage more Chinese directors to produce their own sci-fi films.
"The Chinese film industry will also improve along the way, thus creating a virtuous cycle," he says.
Rising China, good sci-fi
Guo says he believes that the rise of China as a nation has contributed to the success of Chinese sci-fi films.
"Sci-fi is one particular genre that really relies on the strength of the nation," Guo says.
The Wandering Earth, for example, integrated a number of elements from the aerospace industry, in which China has made considerable achievements.
Guo notes the historic landing of China's Chang'e-4 lunar probe on the far side of the moon as helping to make the film more convincing to audiences.
"Going back 20 or 30 years, even if we were presented with exactly the same clips as today, audiences would have doubted if China had the capability to achieve this," Guo says.
A latecomer to space exploration, China has made many achievements in the half-century since it launched its first satellite in 1970. It sent its first astronaut into space in 2003, and made its first soft landing on the moon in 2013.
In The Wandering Earth, China joins forces with other countries to build a highly advanced space station and becomes the savior of the Earth.
"The foundations of today's sci-fi films are the nation and the age," which made the futuristic plots believable to today's audiences, Guo says.
A powerful and influential China in the global context is a solid base for sci-fi film creators, he says.
"Self-confidence in our culture is crucial and will naturally encourage Chinese filmmakers to go global," Guo adds.
Entering the global market
"Hollywood is not American, it belongs to the world. Beijing might become Hollywood someday," he says.
Guo mentions that the Hollywood "big six" film studios (Warner Bros, 20th Century Fox, Paramount Pictures, Universal Pictures, Sony Pictures Entertainment and Walt Disney Studios) have all set up branches in Beijing in recent years.
"Five years ago, the executive of Paramount Pictures told me that the Chinese market will soon surpass the American market. He knew it was coming. And here we are- the Chinese market has topped the world."
Even though Chinese films are going global, their production needs to improve to attract even wider audiences.
Guo says The Wandering Earth is screening in just a few local theaters in the United States, and most of the audience members are Chinese.
"We didn't primarily target foreign audiences," says Guo, who hopes the buzz from the film will reach overseas moviegoers. He says his team is actively collecting feedback.
The film's huge success was noted by some major foreign players, including US online streaming service Netflix, which announced last week that it had bought the international streaming rights to The Wandering Earth.
Netflix said the movie will be translated into 28 languages on its streaming service.
"We have just started. Ten years from now, Chinese sci-fi films will be more developed, and more non-Chinese audiences will enjoy them," Guo says.
Making dreams come true
Guo says his dream of becoming a sci-fi director started when he first watched Terminator 2: Judgment Day.
"James Cameron, David Fincher, Christopher Nolan, Steven Spielberg ... they are all directors that I look up to," says Guo, who graduated from law school and has previously only directed two films. Although he has won some recognition, he is still among a handful of emerging directors born in the 1980s.
Guo hopes more children in the future will be able to step into a cinema and catch a sci-fi movie based on their own culture and have the seeds of science planted in their heads.
"Maybe in another 20 or 30 years, there will be another astronaut, engineer or sci-fi director who wants to make a great film. That's what gives my sci-fi filmmaking meaning."
Guo and his team have been traveling around the world since December to promote The Wandering Earth. Among all the audiences he has addressed, one child in particular touched his heart and made him realize the value of his efforts.
"Today I watched a film. It was very good. I want to be an astronaut in the future," the child wrote in his diary after watching The Wandering Earth, according to Guo.
"Maybe in 20 or 30 years, he will become an astronaut, just like I dreamed of becoming a director when I was watching American sci-fi films during my childhood. I always wondered why we didn't have our own Chinese sci-fi films. Now we do."
Contact the writers at nancykong@chinadailyusa.com
Most Popular