Tintin makes return journey to Shanghai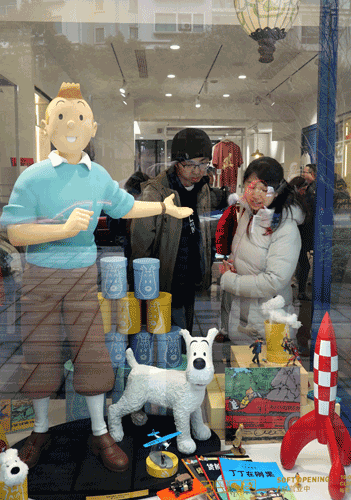 Tintin has ventured again to Shanghai with the opening of the country's first flagship shop themed on the classic Belgian cartoon character, much welcomed by its Chinese fans spanning several generations.
Created in 1929 in the comic series The Adventures of Tintin by Belgian cartoonist Georges Remi, also known by his pen name Herge, the heroic reporter character had an adventure to Shanghai in the story The Blue Lotus published in 1936.
He was able to accomplish the journey thanks to his Chinese friend Chang Chong-Chen or Zhang Chongren, then a Shanghai architectural student in Belgium, to whom Herge had turned for help to create the story.
As Tintin's adventures continued, he has grown to become one of the best known and admired cartoon characters of the 20th century, attracting hundreds of millions of fans from across the world.
One of these is Wang Yue, a representative of China for Moulinsart, intellectual property owner of The Adventures of Tintin.
"I had long planned to set up a store about Tintin in China for more than one decade," said Wang, who runs the shop in downtown Shanghai along with three partners. "Again, his friend Zhang Chongren, a Shanghai native, was the reason for the store to be opened in Shanghai."
Located on Chang'an road in Shanghai's Jingan district, the 100-square-meter loft style store sells more than 1,000 products with the iconic figure in over 50 categories.
Even though the shop is still in its trial operation, Tintin fans spread the news through social networks and swarmed into the shop.
"Unlike other cartoon characters, Tintin has a broad fan base crossing generations due to the comic series' enduring popularity," said Wang, 41, who claimed to have been a die-hard fan since he first came to know Tintin at 10 when his French teacher introduced the series to improve his French.
"A customer from Qingdao, who visited my store on opening day, was the mother of a 15-year-old boy and told me that Tintin was their emotional tie because she used to read it as bedtime stories to her son."
Fu Shuwen, 39, who visited the store on Friday, said: "I had no TV or films to watch when I was a kid and Tintin was my favorite comic as it brought me the outside world."
The character appeals to the young, too, since the Chinese version of The Adventures of Tintin was published in 2001 by the Juvenile and Children's Publishing House.
The series has since become a popular choice for bedtime stories in China, which has renewed the interest in Tintin among the young generation.
"I always read Tintin to my child and he loves it," said Shen Wei, a 37-year-old mother.
The limited-edition sculptures of Tintin and a suitcase with Shanghai and his dog Snowy printed on it has been the most popular among Tintin fans, according to Wang.
To meet customer demand, Wang said, an official online Tintin shop and a Beijing store will open soon, and a Tintin exhibition in China is in preparation.
"For me, Tintin's courage and goodness has affected and encouraged me until today," said Wang.