Moving heaven and Earth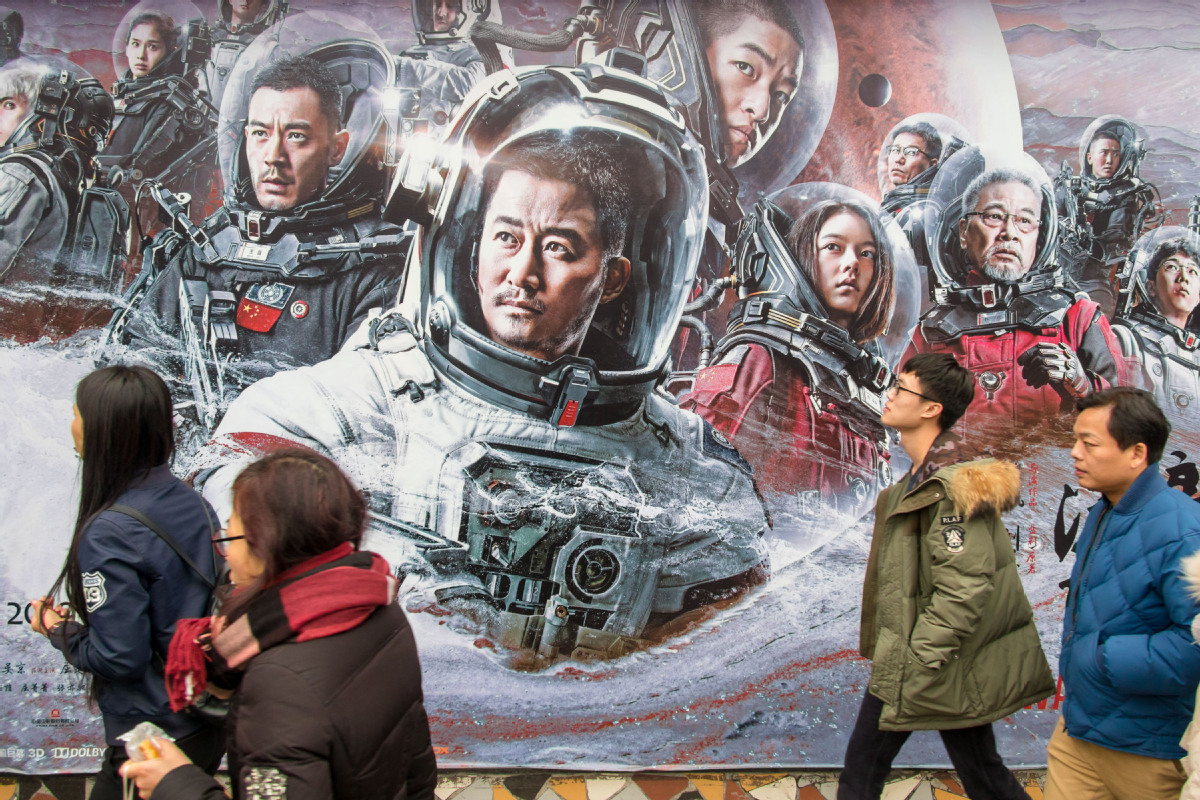 China's second highest-grossing film of all time and global sci-fi hit is already proving something of a game-changer for the Chinese movie industry, Li Yingxue reports. Li Yingxue
As one of the biggest movies of the year, Chinese sci-fi blockbuster The Wandering Earth has already caught the attention of the world-and of Hollywood.
US-based global entertainment giant Netflix announced on Thursday that it had acquired the international streaming rights for The Wandering Earth, which will be translated into 28 languages and released in 190 countries.
Adapted from a short story of the same name by Chinese writer and Hugo Award-winner Liu Cixin, the film plots a desperate mission to save Earth from being devoured by the dying sun by propelling it out of the solar system and into a new star system in the remote galaxy.
The Wandering Earth has earned more than 4.3 billion yuan ($641 million) at the box office since its opening on Feb 5, the first day of the Spring Festival holiday, which makes it the second highest-grossing film of all time in Chinese box-office history-second only to Wolf Warrior II, an action film released in 2017 which banked over 5.6 billion yuan.
With a reported budget of $50 million, the film took two years to complete in postproduction and its complex special effects scenes involved more than 3,000 conceptual designs.
The film has been on limited release in the United States, Canada, Australia and New Zealand since Feb 5, earning $3.9 million at the US box office by Feb 16, according to box-office tracker Maoyan.
Shanghai-based CMC Inc is responsible for the film's distribution in the North American market, where The Wandering Earth broke a five-year box-office record for a Chinese film in the region, according to the film's official Sina Weibo account.
It received 7.6 points out of 10 on IMDb, an online film database. One IMDb user, "westleyma", who posted that he had read the novel 20 years ago and still remembered his feelings about it, said that he was really moved by the film when he finally saw it on the big screen.
Australian film critic Travis Johnson rated the film four stars out of five. He wrote that The Wandering Earth might be the best sci-fi movie of 2019-"The Wandering Earth hits you with big, beautiful sci-fi ideas and concepts at a furious rate… if it's indicative of what's to come, the future looks sweet."
Director Guo Fan and his team flew to Los Angeles on Friday and then to New York on Sunday to promote the movie.