Crucial support for change in peninsula situation: China Daily editorial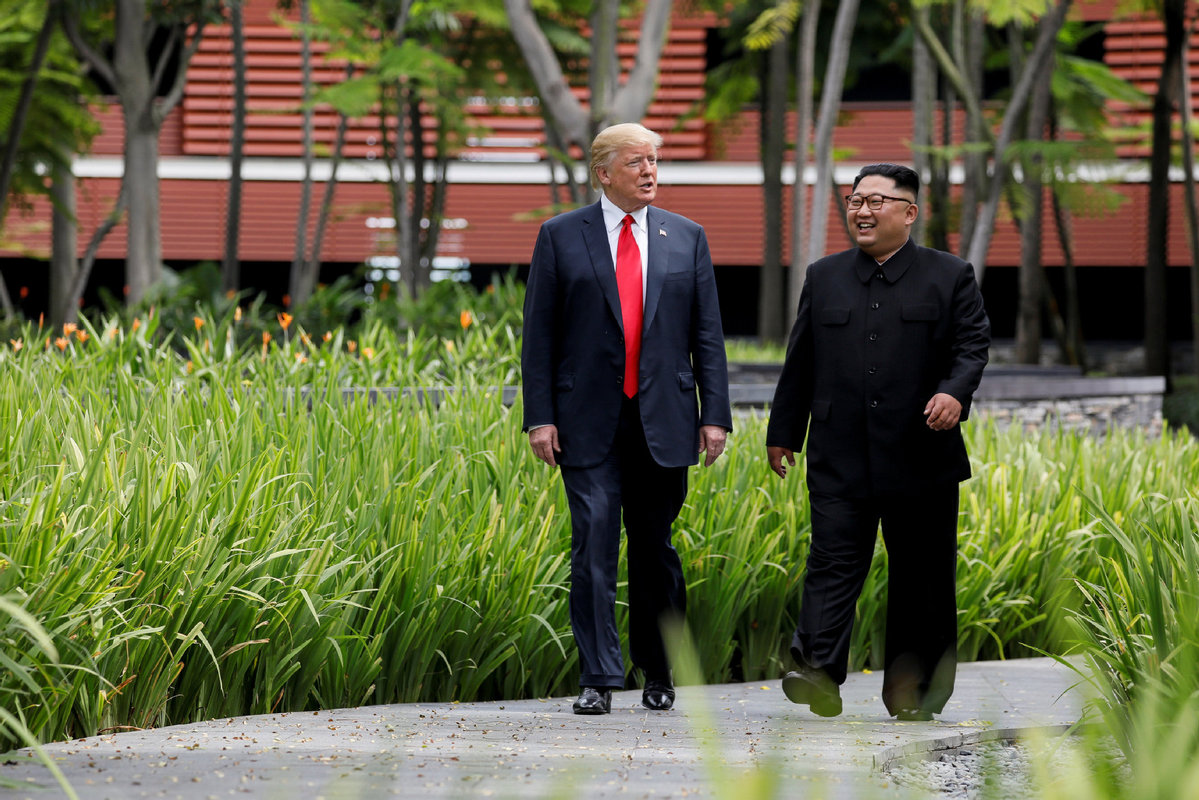 As Democratic People's Republic of Korea top leader Kim Jong-un and United States President Donald Trump prepare to meet in Hanoi on Wednesday and Thursday, it is worth reflecting on what has been achieved since Pyongyang and Seoul first broke the ice ahead of the 2018 Winter Olympics in the Republic of Korea in February last year.
Even the most skeptical would have to admit that the whirlwind series of meetings after that initial thaw in relations — which included two meetings between Kim and President Xi Jinping, and culminated in the historic first meeting between the sitting leaders of the DPRK and US in Singapore in June — was really quite remarkable.
Despite any claims to the contrary, there has been a sea change in the Korean Peninsula situation over the past year.
It is now up to Kim and Trump to keep the good momentum going and make the doomsayers eat their words by producing some end product in Hanoi.
Of course, goodwill will need to be reciprocal for that. Prior to his departure for Hanoi, Trump said he was in no rush and had no pressing schedule for Pyongyang's denuclearization, suggesting a more accommodative position on the more gradual approach that the DPRK has long favored. He has also signaled a possible softening of his stance on sanctions, saying they could be removed if there is meaningful progress on denuclearization.
Kim, on his part, said in his New Year speech that he wanted "corresponding practical actions" from the US.
All this has built up expectations that the two leaders will agree on concrete actions that can bridge the deep-rooted animosity and mistrust that have long existed between the two arch enemies.
But the crux of the Korean Peninsula nuclear issue remains the security guarantee that Pyongyang seeks and which Washington has refused to give. If that guarantee is forthcoming and the US is willing to assist the DPRK in its efforts to promote economic development, beginning with the lifting of sanctions, there is no reason for Pyongyang not to focus on needed economic development.
It has not been easy for the Korean Peninsula peace process to have got this far, and China has been making great efforts to sustain the momentum that had been threatening to stall. Trump acknowledged this in a tweet on Sunday when he said Xi has "been very helpful in his support" of the Hanoi meeting.
China hopes Pyongyang and Washington will seize this opportunity to further promote peace and stability on the peninsula.
Most Viewed in 24 Hours
China stories