Xi hails Saudi Arabia as good friend
Share - WeChat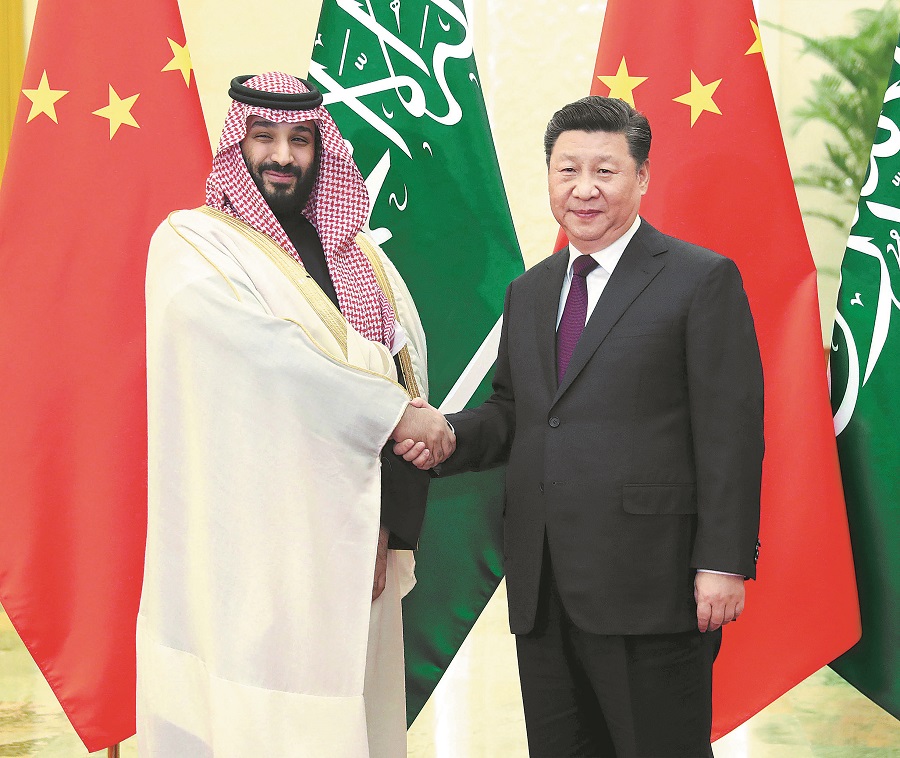 Crown Prince Mohammed bin Salman Al Saud cites good relations during visit
President Xi Jinping hailed Saudi Arabia as a good friend and good partner on Friday as he voiced China's strong support for the country's endeavors in safeguarding national sovereignty, security and stability.
Xi said during a meeting with Saudi Crown Prince Mohammed bin Salman Al Saud that China opposes any action that interferes in the domestic affairs of Saudi Arabia and firmly supports the country's efforts to push forward economic diversification and social reform.
The Saudi crown prince is on a two-day visit to China after having wrapped up his visits to Pakistan and India. He co-chaired the third meeting of the China-Saudi Arabia High-level Joint Committee with Vice-Premier Han Zheng on Friday morning.
Xi said the China-Saudi Arabia comprehensive strategic partnership has seen a new all-dimensional, multitiered and wide-ranging landscape in recent years under the high-level leadership from both nations.
China is ready to join hands with Saudi Arabia to build on the past achievements and break new ground for the bilateral friendship and strategic relationship, he said.
Xi called on the two nations to continue to offer each other support on issues related to their respective core interests and major concerns and enhance mutual political trust.
The two sides should seek greater synergies in development strategies, expand converging interests and accelerate the signing of implementation plans for the alignment of the Belt and Road Initiative and Saudi Vision 2030, he said.
The two sides should also advance pragmatic cooperation in areas including energy, infrastructure, trade, investment and high value-added sectors and jointly promote the development of the free trade zone between China and the Gulf Cooperation Council, Xi said.
China endorses the peace proposals from the Middle East and supports efforts by countries in the region for reform and transformation, he said.
China appreciates the active efforts made by Saudi Arabia to promote regional peace, stability and development, and it is willing to explore a Middle East governance path of promoting peace through development with Saudi Arabia, he said.
The foundation for regional peace and stability can be consolidated by enhancing regional development and cooperation and through the joint building of the Belt and Road, he said.
The two nations should jointly encourage and support all parties to solve hot-spot issues through political settlement, Xi said.
Xi also urged both nations to promote anti-terror cooperation in the Middle East, reinforce international cooperation in elimination of extremism and prevent the infiltration and spreading of extremist thoughts.
Prince Mohammed said relations between China and Saudi Arabia are very friendly and bilateral trade cooperation has seen rapid growth.
The two nations do not have any disagreements, he said, adding that Saudi Arabia sees China as an important strategic partner and appreciates China's support in its domestic reform and development.
Saudi Arabia supports the joint building of the Belt and Road, and is willing to seek synergies between the initiative and Saudi Vision 2030, he said.
He also voiced firm adherence to the one-China policy.
The crown prince said China is entitled to its actions to counter terrorism and eliminate extremism to safeguard its national security, and Saudi Arabia respects and supports China's endeavors and is willing to step up bilateral cooperation in this regard.