China to strengthen links with Djibouti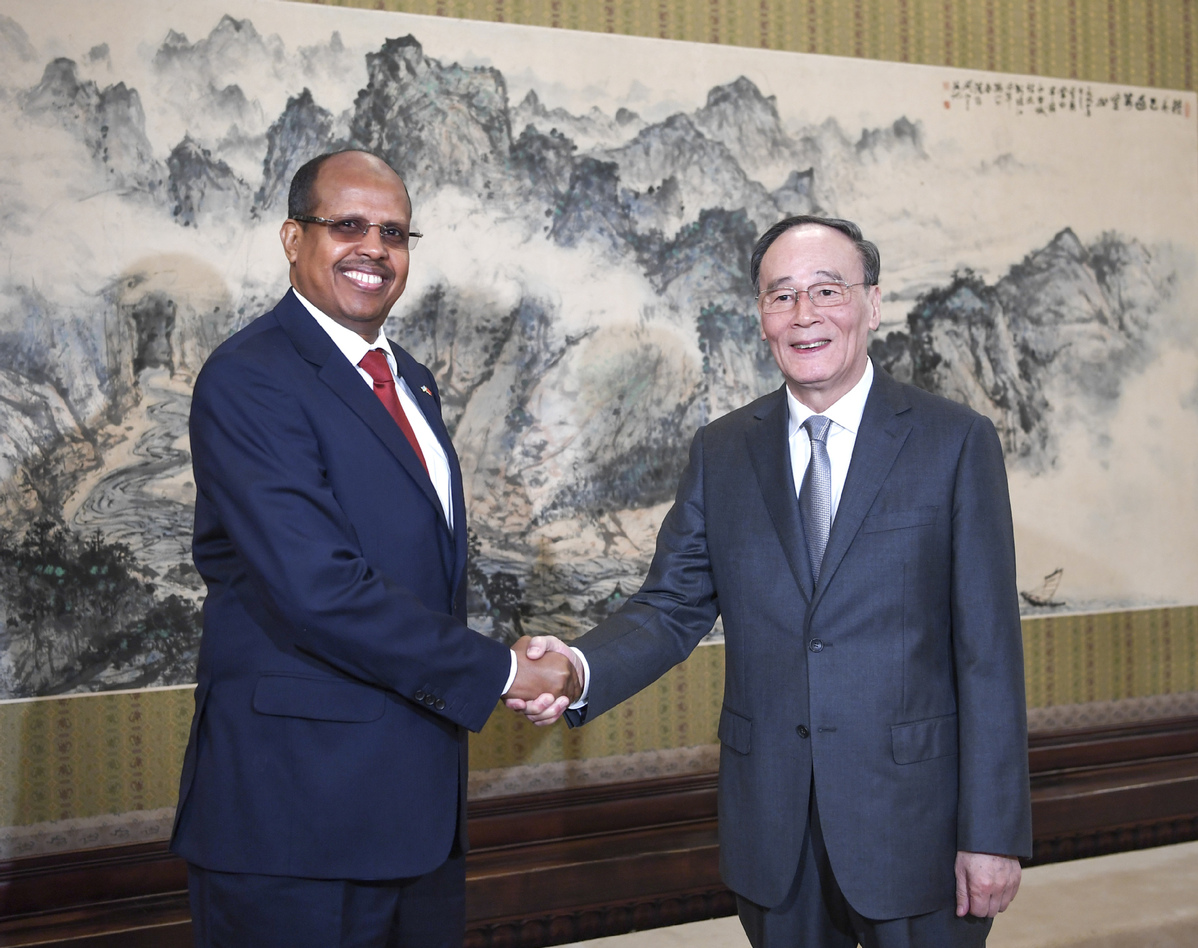 China and Djibouti pledged on Wednesday to step up implementation of the outcomes of the 2018 Beijing Summit of the Forum on China-Africa Cooperation in order to push forward the development of their bilateral strategic partnership.
In a meeting with Djibouti's Minister of Foreign Affairs and International Cooperation Mahamoud Ali Youssouf in Beijing on Wednesday, Vice-President Wang Qishan said both nations should enhance cooperation under the guidance of the consensus reached between the two heads of state during the summit in September.
Calling the African country a good friend and good brother, Wang said China stands ready to strengthen exchanges with Djibouti in state governance.
State Councilor and Foreign Minister Wang Yi said in a separate meeting with Youssouf earlier on the same day that the two countries should work together to promote cooperation on the Belt and Road Initiative.
Both sides should make efforts to take into consideration Djibouti's needs and China's strengths, and translate the consensus of the two heads of state as well as the eight major initiatives on China-Africa cooperation into tangible benefits, the state councilor said.
President Xi Jinping announced eight major initiatives to enhance cooperation with African nations at the 2018 FOCAC Beijing Summit, covering such fields as industrial promotion, infrastructure connectivity, trade facilitation and green development.
The all-around and strategic cooperation between China and Djibouti displays the friendship and political mutual trust between the two countries, and also represents the mutually beneficial and win-win results being sought, the state councilor said.
China is willing to intensify collaboration with Djibouti in maritime escort operations, peacekeeping and anti-piracy efforts so as to make even greater contributions to peace and security in Africa, he added.
Youssouf said his country welcomes the eight major initiatives that Xi announced and supports China in playing a more significant role in promoting peace and security on the African continent.
Djibouti looks forward to close cooperation with China in such areas as the Belt and Road Initiative, and peace and security operations, he said.
This year marks the 40th anniversary of the establishment of diplomatic ties between China and Djibouti.
Youssouf hailed bilateral ties between China and Djibouti as a model of China-Africa cooperation, saying his country values the solid friendship with China. He added that the African nation will continue to remain committed to the long-term relationship, support China in international bodies such as the United Nations and safeguard the common interests of both countries.
Djibouti welcomes investment and trade from Chinese enterprises to help the country achieve sustainable development, he added.