Rapeseed blooms bring beauty and lessons of resilience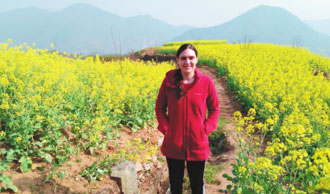 After Spring Festival holidays, there's one thing I look forward to most in March-the golden fields of rapeseed flowers that bloom across the terraced hills in my husband's hometown in rural Zhejiang province. It's a stunning display that ushers in the coming of spring, one full of beauty and resilience.
I say resilience, because rapeseed must survive some of the coldest days of the year before they flower, something I discovered one January while hiking among the snow-dusted terraced fields in the village. I was surprised to encounter neat rows of tiny green plants at that time of year, thriving in spite of the white flakes that covered their leaves and the soil around them. How could anything flourish in such frigid weather, with temperatures that hovered around and even just below zero? But, as my husband explained to me, the rapeseed must take root in winter to blossom at just the right time, which happens to fall in March in the village.
Those tiny plants eventually shoot up into sturdy rows of rapeseed around half my height. Then one day, as if by the wave of a conductor's wand, their petals gradually unfurl, painting every hillside in an exuberant shade of yellow that shines with a brilliance second only to the sun. It serves as a visual overture to the warmer spring days set to arrive, promising everyone who gazes upon these fields of gold that better times are coming.
The whole sight uplifts not only the landscape, but also the spirit within. I recall one day when, after receiving some bad news, I went on to counter it with a long walk in the hills, among these glorious rapeseed flowers. I'm certain they had something to do with the fact that I returned home with a lighter gait and a little more hope in my heart.
It's extraordinary that such a spring spectacle could arise from what is arguably one of the most common crops in China. Rapeseed gets planted in fields across the nation because it serves such a basic and critical purpose in people's lives-to provide cooking oil for the household. This is exactly the reason why my mother-in-law raises a plot of rapeseed every year, yielding enough cooking oil to last often well beyond 12 months. And while some fields of rapeseed flowers have emerged as great tourist draws, pulling in travelers from home and abroad, most are more like those in my husband's hometown, quietly performing for a local audience expecting their arrival each year, which heralds a good harvest later on. This makes rapeseed blooms one of the most easily accessible delights of the spring. Merely setting out on a countryside drive in the right area at the right time of the year could give you the opportunity to witness their great golden bow of the season.
This year, I won't have the chance to witness the blooming of rapeseed flowers in my husband's home village in Zhejiang. But as March comes, I will hold the dazzling vision of fields I've seen once before deep in my own heart as a reminder of the resilience of life-that after enduring some of the coldest and darkest days, we too can bloom into something beautiful.
Contact the writer at jocelyn@chinadaily.com.cn
Most Viewed in 24 Hours
China Views