Amazon NYC exit slams land prices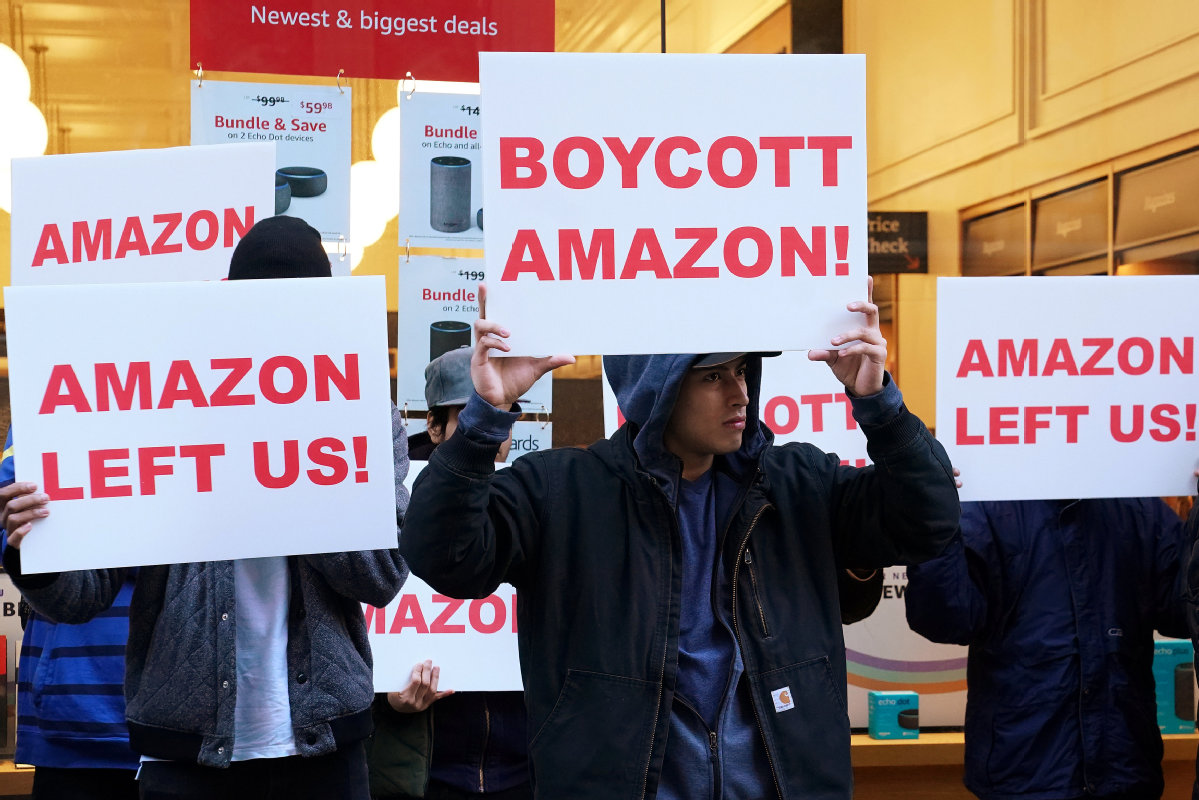 Long Island City's housing market would likely experience 'whiplash'
Activists and some politicians cheered Amazon's cancellation of its plan to build a second corporate headquarters in New York, but others said the decision will kill 25,000 new jobs, erode future tax revenue and make it difficult for the city to attract companies in the future.
The company said it will not relaunch a search for a second corporate headquarters to complement its existing office in Seattle: "We will proceed as planned in Northern Virginia and Nashville (Tennessee), and we will continue to hire and grow across our 17 corporate offices and tech hubs in the US and Canada."
Amazon cited opposition from some lawmakers as evidence that the company had no way of building "the types of relationships that are required to go forward with the project we and many others envisioned" in the Long Island City in the Queens borough of New York.
Three months ago, Amazon announced the project, part of a plan known as HQ2. City and state officials attracted the company with $3 billion in incentives. Amazon, which already employs 5,000 people in the city, had said it would spark 25,000 jobs, and the city said it would produce $27.5 billion in tax revenue over the next 25 years.
The incentives package stirred opposition to the use of public subsidies to attract a wealthy company. Even former New York mayor Michael Bloomberg, who had pushed the city as a tech center, said Amazon didn't need the incentives.
Others opposed the plan because they feared residents would face rising home prices and rents, and an overcrowded transportation system and schools.
But property developers, small businesses and others saw Amazon's project as a gold mine. After the deal was announced, prices for land, condos and coops and apartment rental rates shot up.
New York Governor Andrew Cuomo blamed a "small group of politicians" of putting political interests ahead of their constituents' needs.
New York City Mayor Bill de Blasio, who had supported HQ2, put the blame on Amazon for refusing to address local concerns.
Newly-elected US Representative Alexandria Ocasio-Cortez, whose congressional district borders the complex site, sees a victory for progressive politicians.
"Anything is possible: today was the day a group of dedicated, everyday New Yorkers & their neighbors defeated Amazon's corporate greed, its worker exploitation, and the power of the richest man in the world," Ocasio-Cortez wrote on Twitter.
Amazon's would-be boom for real estate agents, developers and speculators in Queens is now a bust.
"The reaction is shock," Justin Martinez, a real estate agent for Nest Seekers International, told China Daily on Friday. "The cancellation is terrible, it's extremely terrible for the area and New York City. A lot of potential tax revenue was lost because of political opposition. Any time you lose jobs, it's bad for the local community or city or state."
Martinez of Nest Seekers told China Daily that when Amazon announced it would build in Long Island City, a lot more developers wanted to buy land. "We know the land prices went up about 20 percent," he said.
Nancy Wu, an economic data analyst at StreetEasy, an online database of residential property listings and recorded sales in New York City, said Long Island City's housing market will likely experience "whiplash" because Amazon pulled out.
Scott Reeves, Zhang Ruinan and Kong Wenzheng in New York contributed to this story.