A new life for reused objects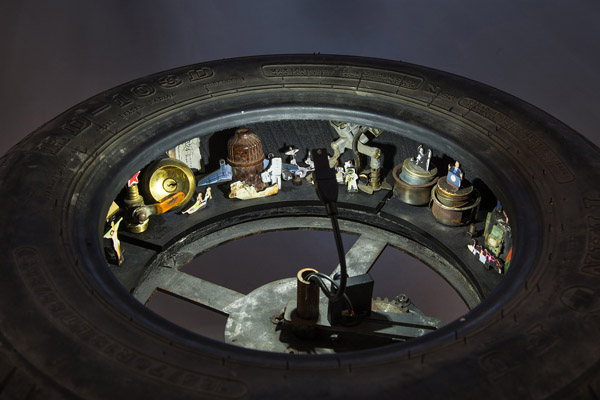 Three new media artists, who work with recycled objects, are setting their art in motion at a groundbreaking exhibition in Guangzhou, Lin Qi reports.
Despite the differences in their cultural backgrounds and ages, British artist Peter William Holden and Chinese artists Hu Weiyi and Tong Kunniao all utilize everyday objects and draw on their individual experiences to produce eye-catching works that arouse critical thought on the dramatic changes taking place in the relationship among people, technology and the material world.
Their mixed-media installations and sculptures, often grand in scale, offer viewers an enthralling audio and visual environment while hinting at the sense of unease people feel as they ponder the future landscape of human society.
Works by the three artists are being shown at an exhibition titled Dionysian Super-X| Physical Hilarity through Feb 28 at Guangzhou's chi K11 art space.
Hu Bin, the exhibition's curator and deputy director of the art museum at the Guangzhou Academy of Fine Arts, says: "The show examines how the leap from traditional media to new media has helped to reshape people's lives and alter the way we think."