Lovers have more days to spend together
Share - WeChat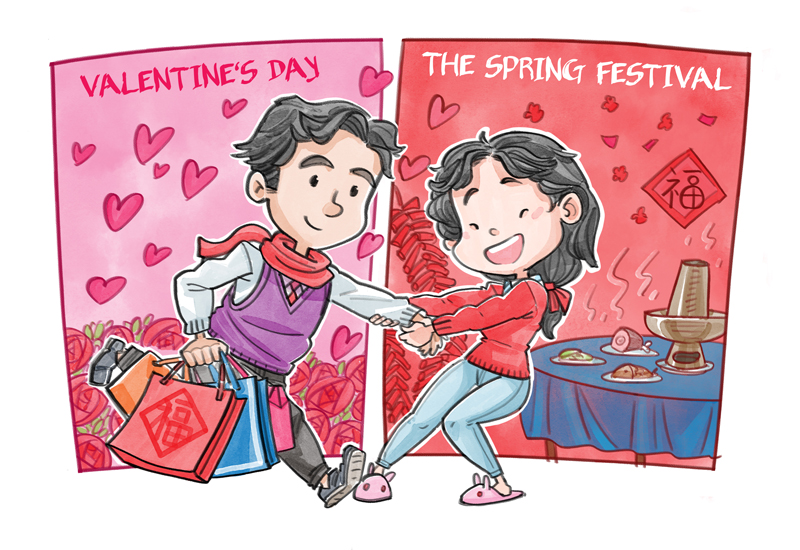 This year, Yuanxiao Jie or Lantern Festival, which marks the end of Spring Festival falls on Feb 19. It is a day of loyalty and love.
But wait a minute. A Western celebration has pushed in between the Lunar New Year and Lantern Festival: Thursday is Valentine's Day!
What is to be done in such circumstances?
China has its own day for couples
China has its own Valentine's Day for couples. It's the Qixi, or "Double Seventh", Festival which falls on Aug 7. If that's not enough opportunity for you to show affection for your love or potential love interest, you could also send him or her a gift on Nov 11, Single's Day. And for those with extra deep pockets, you could put it all on display on May 20 for "Wo Ai Ni" (I Love You) Day.
Of course people these days date whenever they want. But the commercial interests of brands and online retailers decree shopping must be done for or on those particular days.
Now, is it a good thing that China gobbles up foreign holidays like Valentine's Day or even Christmas and Thanksgiving? Well, I am going to immodestly tell you how the cookies really crumble. Globalization has carried Chinese celebrations such as Spring Festival to all corners of the civilized world, and so have Western holiday's made their way to China.
Violent origins of Western festivals
Many Western holidays, by the way, seem to have violent origins. Christmas, for example, signifies the birth of a man who was later tortured and crucified.
Valentine's Day, as it is known and celebrated in the West, got its name from St Valentine, a Roman heretic who was flailed and beheaded in the 3rd century. Actually, the Chinese name for Valentine's Day, Qingren Jie (Festival of Lovers) is much better and surprisingly politically correct.
Valentine's Day is a day of joy, but boy you need a salary to sit through the hype and price hikes. For example, roses at Zhongguancun, an IT hub near Peking University in Beijing, are up from 12 yuan ($1.77) to 30 yuan, even 50 yuan for a colored bunch. But you'll need a bigger bunch than that. And then there's the limitlessness of dining out in luxury, even if it is only to upload images of your dinner plate to your WeChat moments.
Granted, both East and West have only superficial knowledge of each other's festival holidays. For instance, the Chinese also celebrate their affection for colleagues and teachers. Westerners may buy umbrellas, watches, shoes, or perfume-all no-nos in China. Umbrella sounds like "san" which means collapse. A watch signifies time coming to an end. Shoes mean time to walk away. And perfume means you stink like a fox.
Different Valentine's Day for different people
Is it possible, in the distant future, to have one homogenized global Valentine's Day? Probably not. For example, in countries such as the Republic of Korea, Vietnam and Japan, they celebrate White Valentine's Day on March 14. It is when girls and women give boys and men chocolates, although there is a movement for change.
In Germany men buy little things for their partners. In Italy, couples go to romantic places. In Finland, they send cards-it's more like a friendship day. And in Brazil, they celebrate Love Day on Feb 12.
Even in China the preferences vary. Flower dealers in Kunming, Southwest China's Yunnan province, raise prices during Valentine's Day even if they don't really believe in the Western Valentine's Day. In Taipei and Hong Kong, shops selling imported sweets do booming business, while in Beijing and Shanghai foreign luxury bags, cosmetics and accessories are in high demand. And, of course, we have the Chinese phenomenon of couples proposing or even getting married on such "auspicious" days.
Some commentators have argued that China should celebrate only Qixi, not Valentine's Day, in order to cherish its own tradition and guard against Westernization. But guard against exactly what-wallets? The biggest profiteers of Valentine's Day are manufacturers, retailers and the e-commerce platforms. It is China that possesses the greatest wealth today when it comes to such festivals.
Beware of the 'hamster wheel'
By the time Spring Festival is over, most young people are almost broke from all the gift-giving and cash-loaded hongbao (red envelopes), only to spend their money all over again. Do you see the eternal recurrence here? The loop? The hamster wheel?
Finally, there is the moral factor. Just like with all businesses, it's strategic to set a date. We feel almost pressured to a deadline to perform the best possible romance on Valentine's Day for fear of being deemed loveless creatures or, worse, poor and penniless. Therefore, the only reason to oppose Valentines' Day should be to protect one's wallet.
The author is a German writer and cultural critic.
Most Viewed in 24 Hours
China Views