Wushu kicks on toward its Olympic goal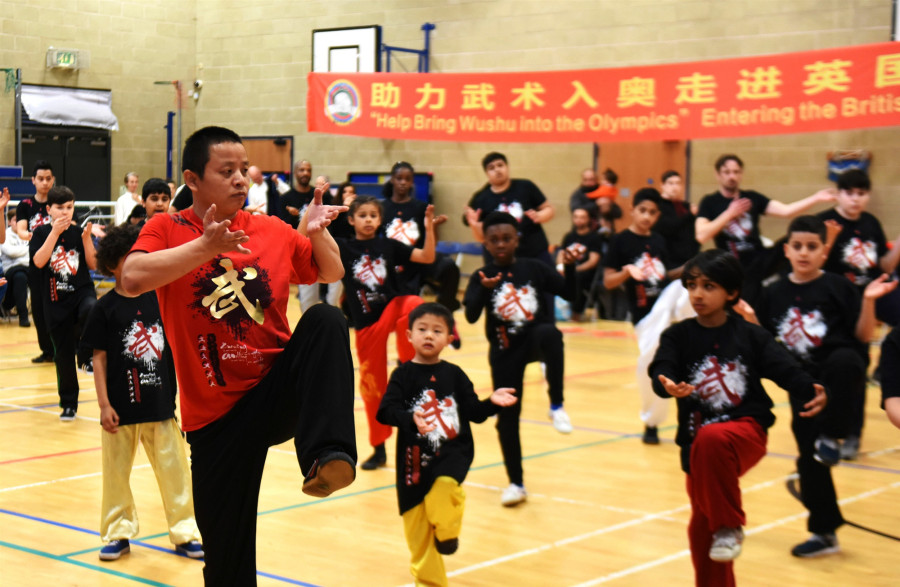 Dressed in kung fu outfits, a group of 60 children and adults from various nationalities were demonstrating powerful kicks, high jumps and fast footwork in London this weekend, in a move to help bring Chinese martial arts into the Olympics.
The event took place at Northeast London's Walthamstow Academy and was the 49th event worldwide in a series to promote Chinese kung fu and its inclusion in the 2024 Olympics.
Wushu, commonly referred to as kung fu, made its debut in the Olympics as a demonstration sport event, held parallel to the 2008 Beijing Summer Games. It was the first time that the International Olympic Committee had allowed such an event.
Then, Wushu was shortlisted among the eight sports competing for inclusion in the 2020 Olympics but failed to make the final five. However, efforts to make Wushu an Olympic sport continue as the sport has become more popular worldwide.
Speaking at the event on Saturday, Lin Cunguo, president of Sino-British Martial Arts Association, said "The practicing of martial arts does not only strengthen your body health, but also cultivates strong willpower.
"After years of development, Chinese marital arts has been recognized and loved by global citizens and become an important and meaningful way for foreigners to understand Chinese culture," Lin said.
"Such an art will be understood by more people, and the health and happiness brought by it will be enjoyed by more if it becomes an event in the Olympic Games."
Shabnam Chaudhri, detective superintendent of the Metropolitan Police Service, welcomedthe Wushu performance, stating the importance of practicing such disciplines given the challenges that London faces with growing teenage knife crime.
"Across London, we see young children aged 14-15 involved in knife crime and sadly some even lost their lives," Chaudhri said. "Sports such as martial arts, which combine discipline, resilience, and working together, is all this is about – to try to stop young people from being involved in any form of crime and have a goal that they could focus on as they grow up."
Wushu's popularity has grown worldwide since film star Bruce Lee performed martial arts in various Hong Kong and Hollywood-produced films in the 1970s.
Li Shengqiang, who gained fame by emulating Bruce Lee, is now an ambassador for Chinese martial arts to be part of the Olympics.
Li said:"Bruce Lee, an international kung fu star being the first man promoting Chinese kung fu around the world, has best embodied the concept of no boundary for martial arts.
"Being inspired by Bruce Lee's excellent skills and self-improvement spirit, I have been imitating him since I was little, and my goal is to continue his legacy so that more people can remember him," said Li, who believes everyone should be a "Bruce Lee" to some extent, for the perseverance and morals he possessed.
Although Wushu originated in China, it now is practiced in more than 150 countries, according to the International Wushu Federation. In the UK, it also has a strong fan base.
Tony Childs, a 59-year-old Londoner who has been engaging in kung fu for more than twelve years, said he supports Wushu becoming an Olympic sport so more people can benefit from it.
"Wushu, it is like in the UK when we had the Olympics six years ago with cycling. Recreational cycling, or the use of travelling to and from work, was not so much utilized before 2012," Childs said, "but since our big success with cycling in the London Olympics, it has become much more popular and people are benefiting from the health and the environment, same for kung fu."
Contact the writer at wangmingjie@mail.chinadailyuk.com