Cincinnati and China building deeper exchanges
Share - WeChat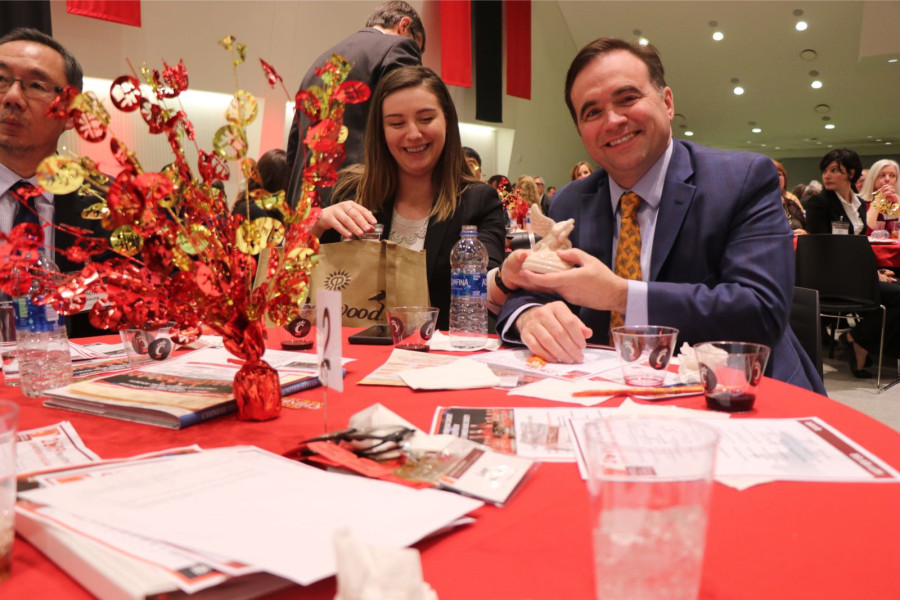 The bond between Cincinnati and China is growing stronger than ever.
Cincinnati Mayor John Cranley's trip to China at the end of 2018 not only resulted in the signing of a memorandum of understanding on a partnership between Chongqing and Cincinnati, but also strengthened his desire for mutually beneficial business ties between the US and China.
Cranley said he also gained a better understanding of the Asian country.
"Although it's the second-largest city in the world, I think most Westerners, myself included, didn't even know anything about it before planning the trip to China," he said of Chongqing, a major city in Southwest China.
The mayor made the comment Saturday during the 2019 Chinese Lunar New Year Gala, an event organized by the Greater Cincinnati Chinese Chamber of Commerce and attended by around 300 Chinese and American representatives across different sectors of society.
Cranley said he was "absolutely blown away" by the development of Chongqing's infrastructure and technology, as well as the beauty of Chongqing University.
"As I said, in some ways, we are underestimated here in the Midwest, and they may be underestimated in the Middle Kingdom, but we are all looking to grow together," Cranley said. "It's important that we strengthen the ties of commerce and trade to the extent that we can."
The delegation also visited Beijing, Guangzhou, Hangzhou and Hong Kong.
Cranley said one thing that struck him was how alike American and Chinese people are.
"Similar in the pursuit of excellence, success and fortune," he said. "These really are two countries with people that have similar ambitions."
He said the Chinese e-commerce giant Alibaba, headquartered in Hangzhou, is equally impressive, if not more impressive, than any Silicon Valley enterprise.
The third-largest city in Ohio with just over 300,000 people, Cincinnati is also home to several Fortune 500 companies, including Kroger, Macy's and Procter & Gamble, which have already established offices in China.
The mayor re-emphasized his desire to have more Chinese companies invest in Cincinnati.
"Just as P&G went to China 30 years ago, what we want here in Cincinnati is for investment and companies to relocate to Cincinnati," he said.
Yumin Zhao, deputy consul general of China in New York, said Cincinnati has long been at the forefront of technological and historical progress.
"When people were using boats on the Ohio River, you adopted steamers from Europe, when Southern states were protecting their slavery system, you built underground railroads to save those people who needed help," he said.
Cincinnati, which sits on the north bank of the Ohio River, is known as the "Queen City" or "Queen of the West", after the introduction of steamboats helped position it as the chief port of the Ohio River. It also was the largest city in the Midwest prior to the Civil War.
"I cherish the close relationship between China and Cincinnati," Zhao added.
He also praised Ohio as a pioneering state in promoting US-China relations, citing former Ohio governor James Rhodes, who led the first Ohio trade mission to China in the 1970s, visiting Beijing and Hebei province.
"That visit set a record for the first-ever sister state relationship between China and your state," Zhao said.
The delegation's visit to China also led to the signing of a memorandum on the establishment of a sister city between Shandong's Jiaozhou City and West Chester Township, an affluent area north of Cincinnati.
US Congressman Warren Davidson, who represents Ohio's 8th Congressional District, said President Xi Jinping and US President Donald Trump share a close friendship.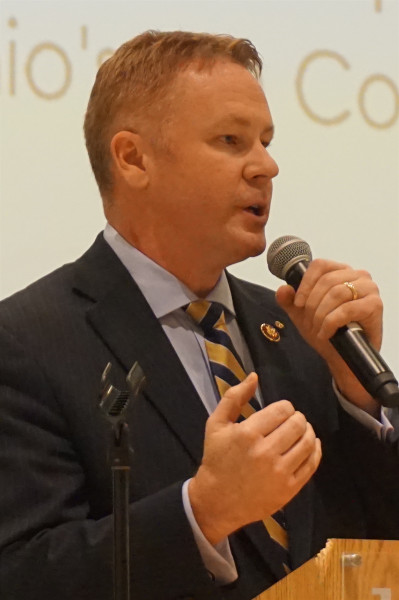 "I've heard about this directly from President Trump," he said. "I think we are all very optimistic that we can find a way to do more businesses together, that we build our friendship and minimize the areas that we have conflict by doing peaceful negotiations."
Davidson said he has taken many trips to China as a businessman.
"Much of the US' new product development takes place in partnership with China, and it's been a great pleasure to do business," he said.
He even gave a nod to a famous saying by China's former leader Deng Xiaoping, calling him a pragmatist.
"I don't care that a cat is a white cat or a black cat, if it catches mice, it's a good cat. I think we can use a little bit more of that pragmatism in today's politics in America," he said.
Contact the writer at teresaliu@chinadailyusa.com