Spring Festival fun at Kennedy Center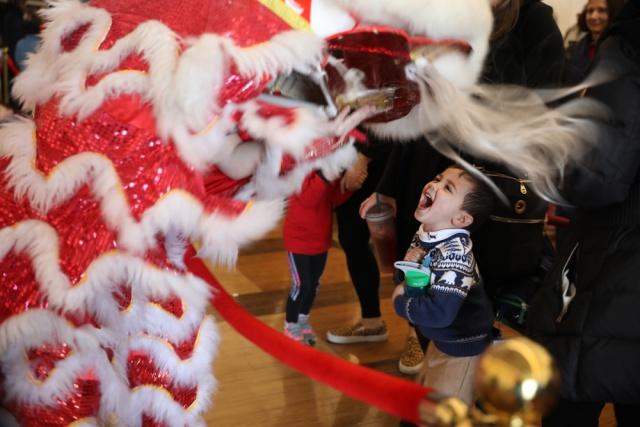 At annual event in Washington, symbols of the Year of the Pig abound, delight
Pigs can't fly, but they were all over the place at an annual event marking the Lunar New Year at the John F. Kennedy Center for the Performing Arts.
The pigs, symbolizing the 2019 Year of the Pig, showed up in stickers and face paint at the performing arts center, which on Saturday celebrated Chinese New Year Family Day with opera costumes, folk music and a lion dance for some 7,000 patrons on the last of three days of festivities.
The center offered free parking for strollers at its Nations Gallery while deploying at least 100 volunteers, according to Alicia Adams, vice-president of the center's International Programming and Dance.
Last year's event showcased the arts and culture from Chengdu, Sichuan province – the hometown of pandas. The 2019 event featured activities and entertainment from Guangdong, home to the "best mooncakes in China" and famous for the lion dance, Adams said.
The event was supported by the Department of Culture and Tourism of Guangdong, and the Administration of Culture, Radio, Film, Television, Press and Publication of Guangzhou city.
Long queues formed hours before the 10 am start of the event.
At the calligraphy demonstration near the entrance, an 8-year-old was using an app on his mobile phone to translate his and his pet's names into Chinese, so that he could get the characters written on slips of red paper.
Far across the calligraphy desk, a little girl was having her forehead painted with tiger skin matching her Chinese zodiac sign.
Nearby, a woman let out a cry of joy as she discovered her zodiac animal and got a pig sticker.
"I think they keep coming, so they enjoy it — sometimes it's little too crowded, so it's hard for people to get in," Adams told China Daily. "But we managed to deal with the traffic flow a little bit better."
Adams, who has been to China 25 times, said, "I think people are very industrious in China, very interested in other people and learning."
She said that she was fascinated by Chinese culture, and praised the "fantastic" discipline of the Chinese artists and the quality of the works they produced and presented at the center, including performances of the National Ballet of China scheduled for this week.
Paula Beck, from Loudoun County, Virginia, was busy in the Kennedy Center's Atrium, where she taught young children how to make red lanterns and decorate paper opera masks. "We learned a little bit about the Chinese New Year in volunteer orientation, and that's one of the beautiful parts about volunteering for Kennedy Center," Beck said.
"It's so important, now maybe more than ever, for all of us to get more involved in each other's backgrounds and to celebrate the happy connections that we all can share because of the differences that we have with one another," she said.
"It's really nice that children get an opportunity to celebrate each other and learn a little bit about each other," Beck said.
Randy Tripp of Omaha, Nebraska, was trying on the traditional Cantonese Opera costumes with his granddaughters.
He said both Chinese and Americans want to have a happy life and the ability to share their lives with others, which is a "common trait".
His wife, Barbara Tripp, said her daughter-in-law was from Vietnam, where Lunar New Year is also celebrated. She also said she liked the turquoise color and the floral arrangements on the outfit she was trying on.
Heather Willis, also from Virginia, was attending the event for the second time. She spoke Chinese while taking a photo of her daughters in traditional Chinese costumes.
"The girls take Chinese classes, and I try to speak to them as much as I can in Chinese at home," Willis said. "When they get a little bit older, we want to take them back over a summer."
Contact the writer at huanxinzhao@chinadailyusa.com