Grand Chinese New Year celebration held in London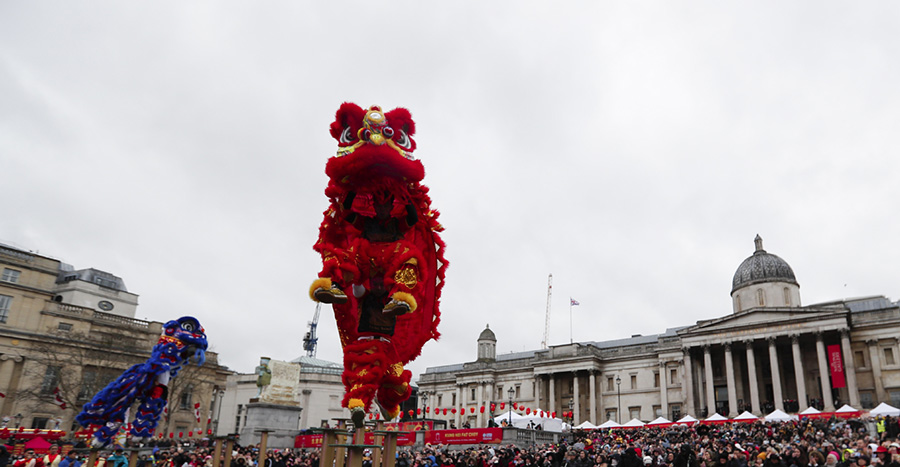 Mayor of London Sadiq Khan, who was among the audience in Trafalgar Square, told Xinhua that London and China enjoy a strong friendship with "huge link in business, tourism, and students (education)," and London remains open to the Chinese and other communities despite Brexit uncertainties.
"We see everyday, Chinese community and young people coming to our city making a massive contribution. It's really important that carries on going forward and my message is London is open," said Khan.
"China has made a massive contribution to world civilization for centuries. And I'm pleased to see London benefiting from the contribution of the Chinese community as well," the Mayor added.
Chinese ambassador to Britain Liu Xiaoming said the Brits' enthusiasm for the Chinese Spring Festival has been very high, which shows increasingly close ties between China and Britain and greater eagerness of British people to know about China.
"The Spring Festival is a miniature of China-Britain cultural exchanges. I expect even more fruits to be reaped from China-Britain cultural and people-to-people exchanges in the Year of the Pig," Liu said.
The Chinese New Year celebrations in London, organized by the London Chinatown Chinese Association (LCCA), began as a small community event in Chinatown more than 20 years ago. The festivities have now become the largest of their kind outside Asia, attracting tens of thousands of people to the capital each year.