Enjoying the pursuit of perfection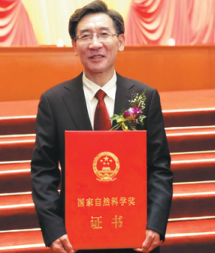 Xue Qikun, vice-president of Tsinghua University and winner of first prize in the State Natural Science Award
As a physicist, it is always a great joy to cross fresh frontiers and offer new directions for research. My scientific accomplishments have made me very proud and I am highly respected, but what makes me most happy is tutoring many excellent students.
In 1999, I returned to China after studying in Japan for eight years. Since then, I have trained more than 20 postdoctoral fellows and 72 doctoral students, many of whom are now professors. I am happy to know they are passing on my research philosophies and traditions when teaching their students.
I am not a good speaker, sadly. My oral English used to be terrible and my heavy accent certainly did not help.
However, in 1996 I was invited to give a 20-minute speech at one of the biggest physics meetings in the United States.
It was a huge challenge for me. So I got a room, and practiced my speech more than 80 times, not just to perfect my pronunciation, but also to practice my hand gestures and interaction with the audience.
The speech was a success, and many physicists I admire came to congratulate me. It was a huge moment for a young fellow like me who comes from humble origins. The feeling was like drinking a glass of cool water on a hot day - so satisfying.
The incident gave me the mental fortitude to pursue perfection in the face of challenges and a willingness to enjoy the rigorous process.
After all, no one's journey to success is smooth sailing. I took my graduate school entrance exam three times. I also took seven years to complete my doctorate, whereas nowadays my students typically take five.
I am a professor at one of China's leading universities, and my job is to train top talent. I once had a very talented student, but his written English was terrible. Almost every sentence in his scientific papers had errors.
Then again, if students could write a perfect paper at the first attempt, they wouldn't need professors. I asked him to correct his paper 10 times, each time focusing on one aspect of writing, such as grammar or sentence structure.
This pursuit of a perfectionist mentality eventually helped him to overcome his shortcomings in English, and now he is a professor at a top university in China. It is my duty as a teacher to nurture my students to become scientists who can tirelessly pursue perfection.
Xue Qikun spoke with Zhang Zhihao.