'Forever migrant worker' devoted to rights protection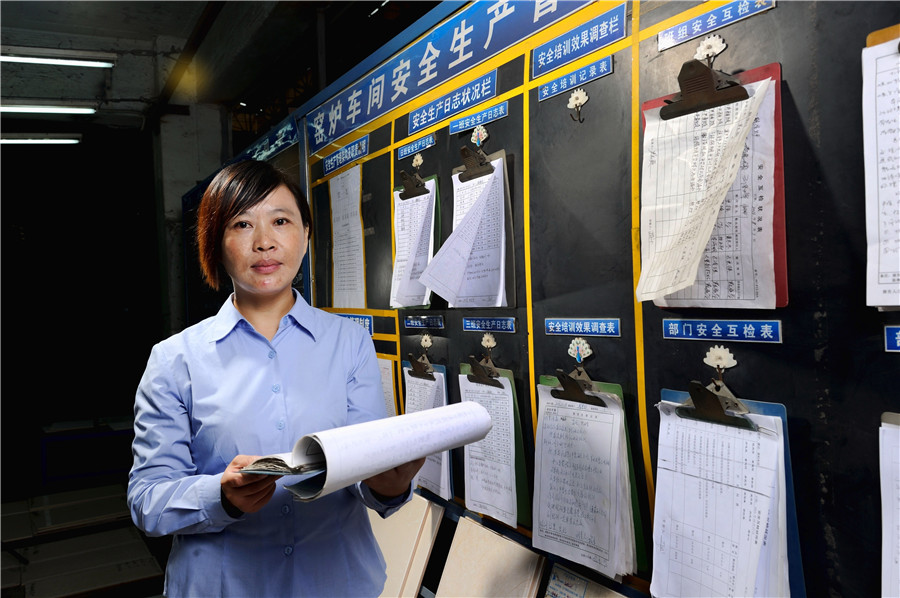 Ex-farmer Hu Xiaoyan vows to do her best to speak up for trade union members
In a career that has taken her from ordinary worker to lawmaker and now deputy head of a trade union, ex-farmer Hu Xiaoyan has seen migrant workers gain a stronger voice in Chinese society.
There were 45 migrant worker deputies elected to the National People's Congress last year, compared with just three - one of them Hu - in 2008.
She made 20 proposals during her five years as an NPC deputy. Her suggestions, based on her experiences, included enhancing the education of migrant workers' children and providing affordable housing for workers.
Hu left Guang'an, her hometown in southwestern China's Sichuan province, in 1998 to move to Guangdong province, in the south of the country, in search of work. She found a job in a ceramics factories in Foshan and settled there.
After realizing her dream, she said she was fortunate to be elected an NPC deputy 10 years later because she was able to help more workers like herself.
The train trip from Guang'an to Guangdong took 38 hours in 1998, but Hu, a farmer, needed to find better-paying work after borrowing 20,000 yuan to pay her own medical fees and those of her father-in-law.
"Though I was worried about my twin daughters, who were just 2 years old, I had to go out and leave them with my parents," Hu, 44, said. "At that time, there was a very popular saying, 'Here we go, there we go, Guangdong is the place to go.'"
The province was recognized as the front line of reform and opening-up, with a flourishing job market. Hu said the train was so cramped there was no space to put her feet on the floor, and she was unable to stand still.
She found a job at a ceramics factory as a kiln worker with the help of a friend. In the first month, she earned a salary of 800 yuan -which was equivalent to one year of farming income at home.
Unlike most workers who chose easy jobs, Hu picked difficult but profitable ones. She worked eight hours a day, and learned extra skills like ceramics printing and applying glaze during her spare time for another eight hours.
"If I knew what others did not know, I would become someone who cannot be replaced in the job market," she said. "It would be easier for me to raise my salary."
Hu changed jobs frequently, working at five factories in four years. In 2002, she was hired by the Newpearl Ceramics Group in Foshan. After two years, she was promoted to manager of a workshop. In 2007, she was named one of the city's Top 10 Outstanding Migrant Workers.
That same year, a draft came out for the first time at the fifth meeting of the 10th National People's Congress - migrant workers were to be included as deputies to the NPC since the group had grown to become a major part of the workforce.
Hu and two other migrant worker deputies, who worked in Shanghai and Chongqing, were elected to represent and speak for their group of about 200 million people in 2008.
Rapid urbanization and industrialization saw the number of migrant workers rise to 286 million by the end of 2017, according to the National Bureau of Statistics.
Hu said she felt honored but under pressure because being an NPC deputy was such a big responsibility.
"I was very lucky (to be elected) because I am just an ordinary worker who is not that excellent," she said. "The new role pushed me to learn more."
Hu's work included making suggestions and dealing with complaints from workers. She found it strange and challenging.
After the NPC session in 2008, Hu's mobile phone number and email address were published on the internet. Posting the contact details of deputies online was recognized as a creative and effective way of encouraging interaction with the public.
"My life had no more peace after that," she said. "My phone kept ringing and I received about 2,000 emails every day. They were all about migrant workers' troubles such as unpaid wages and children's education. I tried replying to each of them, one by one, but could not handle them all."
Some of those who did not receive feedback from her or did not get solutions to their problems even hurled abuse at her.
"I am not omnipotent, my duty was to propose," she said. "I didn't have the power to intervene in the government's affairs directly. When they wanted to protect their legal rights, I would recommend they ask the trade union for help."
In 2012, Hu was elected vicepresident of the trade union federation in Foshan's Sanshui district, in charge of economic and rights protection.
"No matter what titles I am given, I am forever a migrant worker and will never forget my roots," she said. "I am of this group and it's more useful that I speak about their troubles than people from other groups. I will try my best to help them as much as possible in the future."
Li Wenfang in Guangzhou contributed to this story.