Stargazing passion becomes big business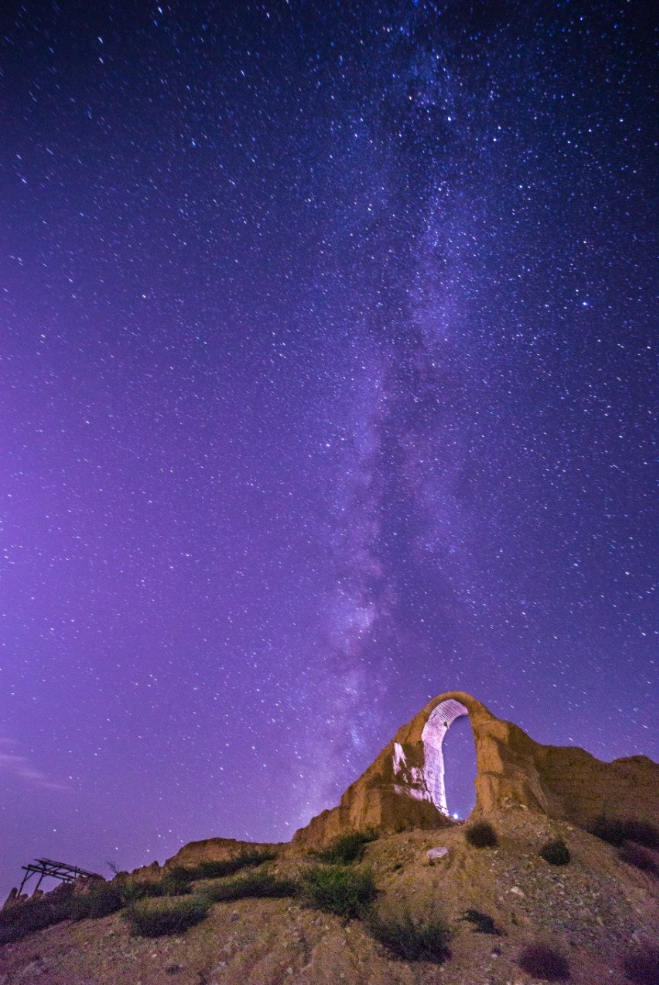 Liu Pushun's childhood passion for stargazing began with him counting stars in his courtyard, has evolved into a lucrative business.
Now 38, Liu is a successful stargazing tour guide in northwestern China's Ningxia Hui autonomous region, running a company that brings tourists to areas where they can view constellations in the night sky throughout the year.
"The average cost for each person to participate in the stargazing tour is about 10,000 yuan ($1,470)," he said. "It is not cheap, but all my customers enjoy it."
Behind this enthusiasm for astronomy tours is a rise in tourism and its related industries in China.
Thanks to rising incomes and better transportation services, more Chinese people now travel during their holidays, making tourism an increasingly significant driver of the economy.
Liu has brought thousands of tourists to see the stars over the years. A stargazing tour usually includes eating good food, seeing beautiful landscapes and, most important, viewing stars under Liu's professional guidance and taking photos of stars in areas more than 170 kilometers from the center of the regional capital, Yinchuan.
"To look at the stars clearly, we need days with good weather and when the moon cannot be seen," he said.
Liu grew up in Yinchuan, where the thin clouds, high altitude and frequent clear days are perfect for stargazing.
"When I was younger, I lived in the suburbs of Yinchuan, and whenever I looked to the sky, I could see the bright stars and even the Milky Way," Liu said. "It was so mysterious that I was mesmerized."
Liu began to learn about astronomy from a young age. In 2011, he bought his first telescope and started taking photos of the constellations. He also worked as an instructor at a local science museum, where he discovered the public's lack of astronomical knowledge.
"China is where astronomy developed the earliest, but many people cannot even find the North Star," Liu said.
He quit his job in 2016 and ventured into the stargazing tour business in cooperation with a Shanghai company. Liu was in charge of planning the tour itineraries and taking tourists to see the stars.
"The response was overwhelming," Liu said. "In a little more than two years, I took more than 1,000 tourists to experience stargazing. Each tour lasted five days and four nights."
Liu became quite confident in the emerging sector and later launched his own stargazing project. Under the stars, Liu would explain about the constellations, and each tourist would have time to share their own stories about the stars.
"Some people would laugh and some would cry when recalling their stories," Liu said. "These are not just average tours - they are a chance for urbanites to relieve stress from their hectic lives."
When Liu started the business, he would bring professional telescopes so that people could see the stars more clearly. Gradually, he realized that "the best equipment is the human eye".
"The telescopes might help people see the galaxy more visibly, but the naked eye can help them reach their souls," he said.
Li Min, a tourist from Shenzhen, in southern China's Guangdong province, took her son on Liu's tour last year.
"It was not only my son's first time looking at the stars so clearly and professionally, but it was also my first time doing so," she said. "Mr. Liu taught us how to find different constellations with a telescope. He also taught us how to take professional pictures and even create our own sundials."
While tasting the sweet success of his business, Liu is also trying to disseminate astronomical knowledge. He is considering building a "science base" where observatories will be built.
"I hope the public will have more opportunities to connect with astronomy," Liu said. "In my eyes, the sky and the stars are the most beautiful scenery in the world."
Xinhua