Care for elderly provides path to success
Share - WeChat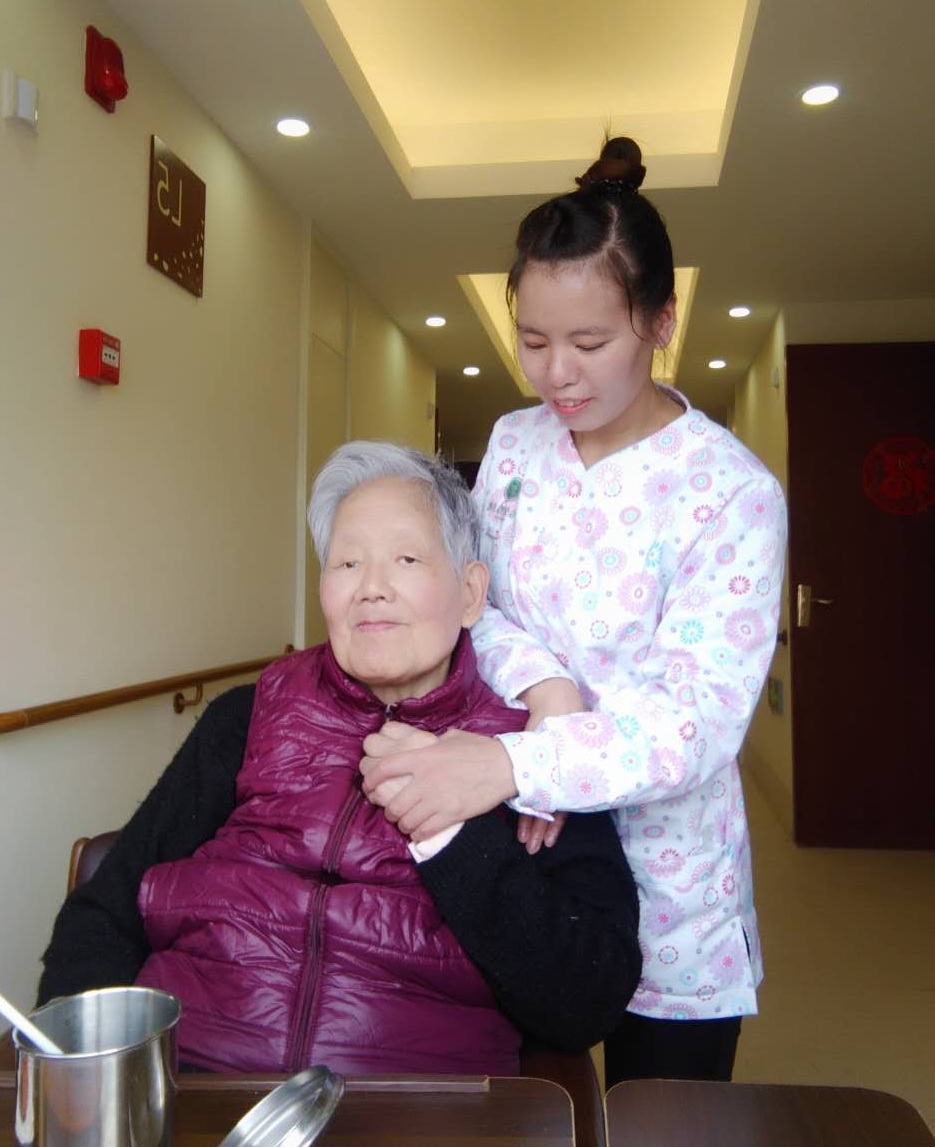 Shu Jilan from Wuchuan Gelao and Miao autonomous county in northeastern Guizhou province has become a professional assistant for elderly people after six months of training and an internship, plus one year of work experience in Shanghai.
The 35-year-old, who works at the Fuyu Nursing station in Shanghai's Hongkou district, can expertly and gently transfer an elderly person in and out of bed-one hand around the waist and the other holding the legs.
She helps with daily tasks, such as preparing meals, bathing and arranging medical appointments, and she is qualified for emergency nursing, including cardiopulmonary resuscitation and other first-aid assistance.
Whether the assignment is big or small, Shu can handle it.
"I've obtained practical skills through my training, including practice at nursing homes in Shanghai," Shu said.
"For example, I know that sticky glutinous rice is not digestible for most seniors. So tangyuan, a Chinese dessert made from glutinous rice flour and water, is not provided at nursing homes," she said. "Instead, porridge and dumplings are preferred for seniors."
Knowing each senior's personality and health status also facilitates communication and professional care, she added.
Shu's work was praised by elderly residents at another nursing home where she worked. They called her "a kind, patient and attentive caregiver".
Significantly, she has lifted her family back in Guizhou out of poverty through her monthly salary of more than 10,000 yuan ($1,500).
Shu's success is the result of a training program for caregiving skills launched by the Shanghai government in 2017 for women in Guizhou. They are also assisted in finding employment.
The program is a response to a pledge by the Ministry of Commerce in 2017 to lift 500,000 people from 10,000 villages out of poverty within three years. It aims to train people to work in 100 cities that urgently need domestic helpers.
Shanghai, a pilot city in the initiative, has taken the effort to 33 poverty-stricken areas in provinces such as Guizhou and Gansu.
"I never pictured myself living in Shanghai before," said Shu, who once worked in a factory in Guangdong province with her husband.
Four years ago, her husband was diagnosed with diabetes and needed long-term medical treatment. Her troubles were deepened by the death of her elder brother, whose three children were left for Shu and her parents to care for. Shu also has two children of her own. The family fell into extreme poverty.
But things started to get better in late 2017, when Shu went to Shanghai as one of the first 13 people from Guizhou to join the poverty alleviation program.
She completed her caregiving training, as well as an internship with the Shanghai Fuyu Housekeeping Service Co, which is responsible for poverty alleviation in Guizhou province and has trained around 600 caregivers from the area.
Shu earned 4,500 yuan per month during her internship in the city, 50 percent more than what she earned as a worker in Guangdong. Now her income has more than doubled. She sends most of the money back to Guizhou.
"I love the work here, which supports my family. The program is also impressive and delightful, as it offers a window to the development of Shanghai," she says. "The elderly at nursing homes are my friends and they give advice on the problems I meet in life."
Before heading back to Guizhou for the Spring Festival holiday, Shu's mind was filled with thoughts of family.
"I miss my family and I look forward to offering them professional home care after a whole year of long-distance separation," she said.