People's welfare focus of Li's trip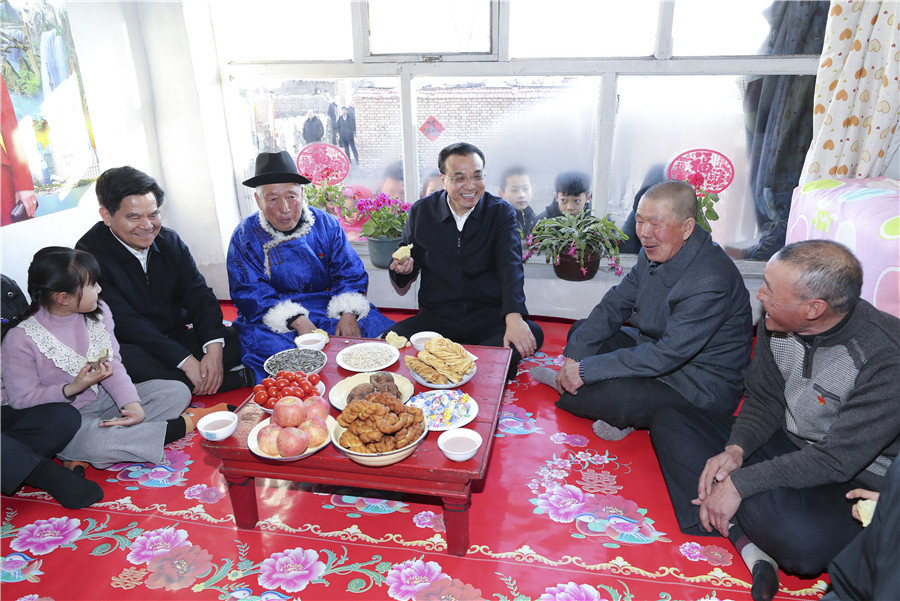 More measures to reduce taxes and fees for small businesses expected this year
Premier Li Keqiang called for further improvement in people's livelihood, including employment, education, heating and transport, during a two-day inspection tour to Ulaanqab city in the Inner Mongolia autonomous region on Friday and Saturday.
Li presented New Year gifts and his best wishes to a poverty-stricken family in the village of Shierzhou in Qahar Right Wing Front Banner. He sat on a heatable brick bed with local families and had some roasted potatoes.
The premier spoke highly of the taste and encouraged the locals to grow high-quality potatoes and help lift economically disadvantaged families out of poverty.
At a marketplace in downtown Ulaanqab, the premier stopped at booths selling couplets, bread and other products and talked with vendors. He asked about supplies, consumption and food safety. Li said the State Council had released supportive measures to reduce burdens for small businesses, and this year would move to further reduce taxes and fees.
The premier also asked about preschool education and elder care. He asked about which kindergarten local children are going to and how much they pay. He said the government will support all kindergartens that offer good and affordable preschool education, no matter public or private.
The premier checked the Spring Festival travel rush at a railway station in Jining district. He stepped into an old-fashioned green train and asked some passengers whether they had received their wages and their prospects of employment after the festival. When hearing that the train stops at 26 stations, Li said that diverse demands should be met by running the low-cost trains and as well as bullet trains.
Local officials reported to Li on Inner Mongolia's plan to develop a high-speed rail network. The premier urged relevant departments to offer their support to boost balanced regional development and improve people's livelihood.
At the Wolongshan shantytown in downtown Ulaanqab, locals expressed their willingness to move into new buildings. Li said shantytown renovation should be accelerated to relocate poor families to cozy and safe apartments as early as possible. Li also told local officials to ensure the basic necessities for all residents in the shantytown.
At his last stop, Li visited the Jingning Thermal Power Company. He stressed that a heating system is basic but key for people living in the north, and thanked workers on duty during the festival for ensuring safe and stable heating services.