Festival fare: Imported food gains ground
Purchases of imported food products set to see rapid growth during the extended family-reunion period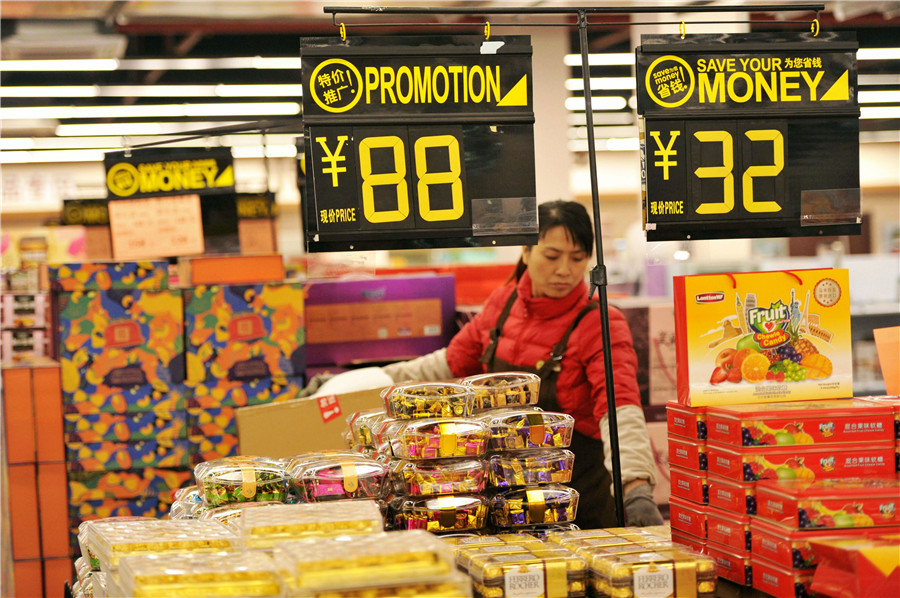 Nianhuo purchases by Chinese consumers, especially imported food products, have been increasing steadily as Spring Festival approaches.
Nianhuo refers to special products often bought around Spring Festival, including not only gifts but also essentials needed for the holidays such as fresh produce, local delicacies, spirits, clothing and other wares.
Though tastes of nianhuo have changed over the years with the rapid development of the retail sector, it is the advent of mobile internet technologies that has triggered demand for imported food products. Alaskan crab, French lobster, Argentine beef, Chilean cherries, fresh milk from Australia … these are just some of the items that are now popular choices for special family dinners during the festival season.
To cash in on growing demand for such products, an array of retailers and firms are offering special incentives and discounts to lure customers.
Hou Enlong, president of online-to-offline retailer Suning Co that is based in Nanjing, Jiangsu province, believes rising demand for imported fresh produce will be one of the bright spots for retailers during this year's Spring Festival.
"Suning is adopting a direct purchase system globally to cater to the growing demand and has already teamed up with large farms and suppliers of agricultural products from abroad," Hou said.
The retailer has also strengthened its supply chain efforts to ensure adequate supplies of products, he said. Suning has formed alliances with more than 100 overseas production bases and has buyer teams in over 100 countries and regions to source and supply a wide range of imported fresh food products, including fruits, vegetables and seafood.
It also has 45 cold-chain warehouses to serve 179 cities across the nation. The company said it will offer one-day delivery service in more than 300 cities in China in the future.
In addition, Suning's nianhuo shopping festival will last longer than previous years, from Jan 18 to Feb 12, and will feature deep discounts and promotions to attract more shoppers.