Key areas for Saudi economic reform
Share - WeChat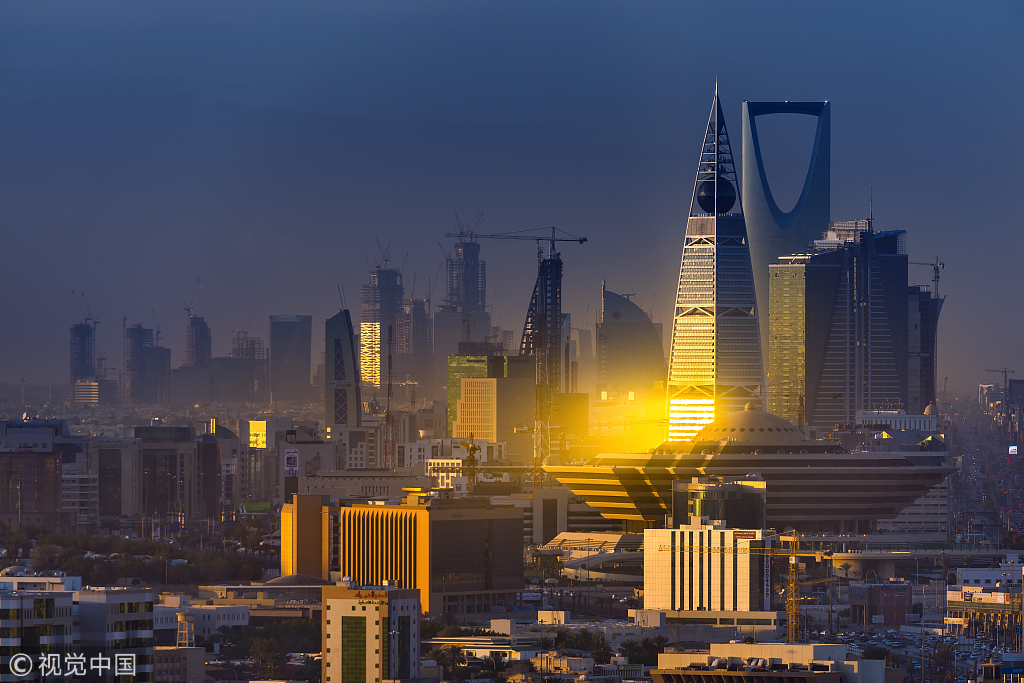 On Monday, Saudi Arabia launched a national industrial development and logistics program, hoping to attract more than $426 billion in investment by 2030 in order to diversify its economy. As part of "Vision 2030", the program is aimed at building the Middle East country into a leading industrial power and logistics hub in the world, by promoting industrial upgrading and integrated development of the industrial, mining, energy and logistics sectors.
Dependence on oil revenue main problem
The kingdom's economy is heavily dependent on oil revenue. However, due to the continuous decline in international oil prices in recent years, it has been hit by a huge fiscal deficit and its foreign exchange reserves have dropped.
To hasten the pace of economic transformation, Riyadh launched Vision 2030 in April 2016, an economic upgrading blueprint aimed at diversifying the economy by creating new sources of economic growth.
Yet the progress of Vision 2030 has not been smooth. For example, some of Riyadh's major plans, such as the initial public offering of Saudi Aramco, have achieved limited results.
Hastening the pace of transformation
The national industrial development and logistics program is Saudi Arabia's latest move to accelerate its economic transformation through new industrial investment and infrastructure construction.
It is also an extension of the broader Vision 2030 initiative. However, like Vision 2030, the latest plan also faces financial, technological and external constraints, and its prospect remains not so optimistic.
Financing is the main problem facing the Saudi government, which has announced that it will continue to increase fiscal spending and launch large-scale industrial revitalization and infrastructure projects. But its fiscal spending space and public investment capacity remain in doubt.
In recent years, Riyadh has been under ever-increasing financial pressure, as its fiscal budget is based on the international price of oil being $70-$80 per barrel.
But the current international oil price hovers around $60 per barrel. Owing to insufficient funds and the lack of a necessary technology foundation, such a large-scale investment and industrial revitalization plan means Saudi Arabia has to rely on the injection of international capital and technologies into its economy to boost its economic growth.
Fierce competition from other Gulf countries
However, Saudi Arabia's investment environment and capacity to attract foreign capital are not that promising. Its private economy doesn't appear rosy, and its main industries and investment projects are state-owned. And Riyadh has not been able to eliminate management hurdles and corruption. All this means Saudi Arabia will face fierce competition from other Gulf countries when it comes to developing logistics and other industries.
In recent years, Saudi Arabia's economic growth has been around 2.5 percent annually, and its economic outlook remains dim. Foreign direct investment in the country has continued to decline, from $39.4 billion in 2008 to $7.4 billion in 2016, and further slowing to $1.4 billion in 2017. In 2018, its FDI was estimated at $3.5 billion, far from enough to support its investment plan.
The global economy is facing increasing downside risks, and the outlook for global economic recovery and growth is not optimistic. This is not good news for Saudi Arabia, which relies heavily on oil exports and is struggling to attract foreign investment.
Saudi Arabia's economic reform plan is greatly influenced by the domestic political and social environment, and policy changes. So how to reduce the impact of non-economic factors remains a big test for Riyadh.
Problems in carrying out economic plan
Maintaining economic growth and fiscal expenditure is important for Saudi Arabia's political and social stability. Due to this fact, economic reform constitutes a core part of Vision 2030. The newly launched national industrial development and logistics program is a necessary step the country has to take to stabilize domestic growth and political atmosphere.
But Saudi Arabia's domestic obstacles to social reform, as well as ambition to build itself into a global industrial and logistics hub will create problems for its economic transformation plan.
Saudi Crown Prince Mohammed bin Salman, who attended the launch ceremony of the new program in Riyadh, and his ambition to transform the country's economy will come under greater pressure if Saudi Arabia fails to continuously advance economic reforms and achieve the expected results.
The author is an assistant professor at the Middle East Studies Institute, Shanghai International Studies University.
Most Viewed in 24 Hours
China Views